Walmart Israeli soldier Halloween costume for children sparks outrage
The US retailer was also criticised for selling a laxtex 'Sheikh Fagin nose' and 'Arab' costumes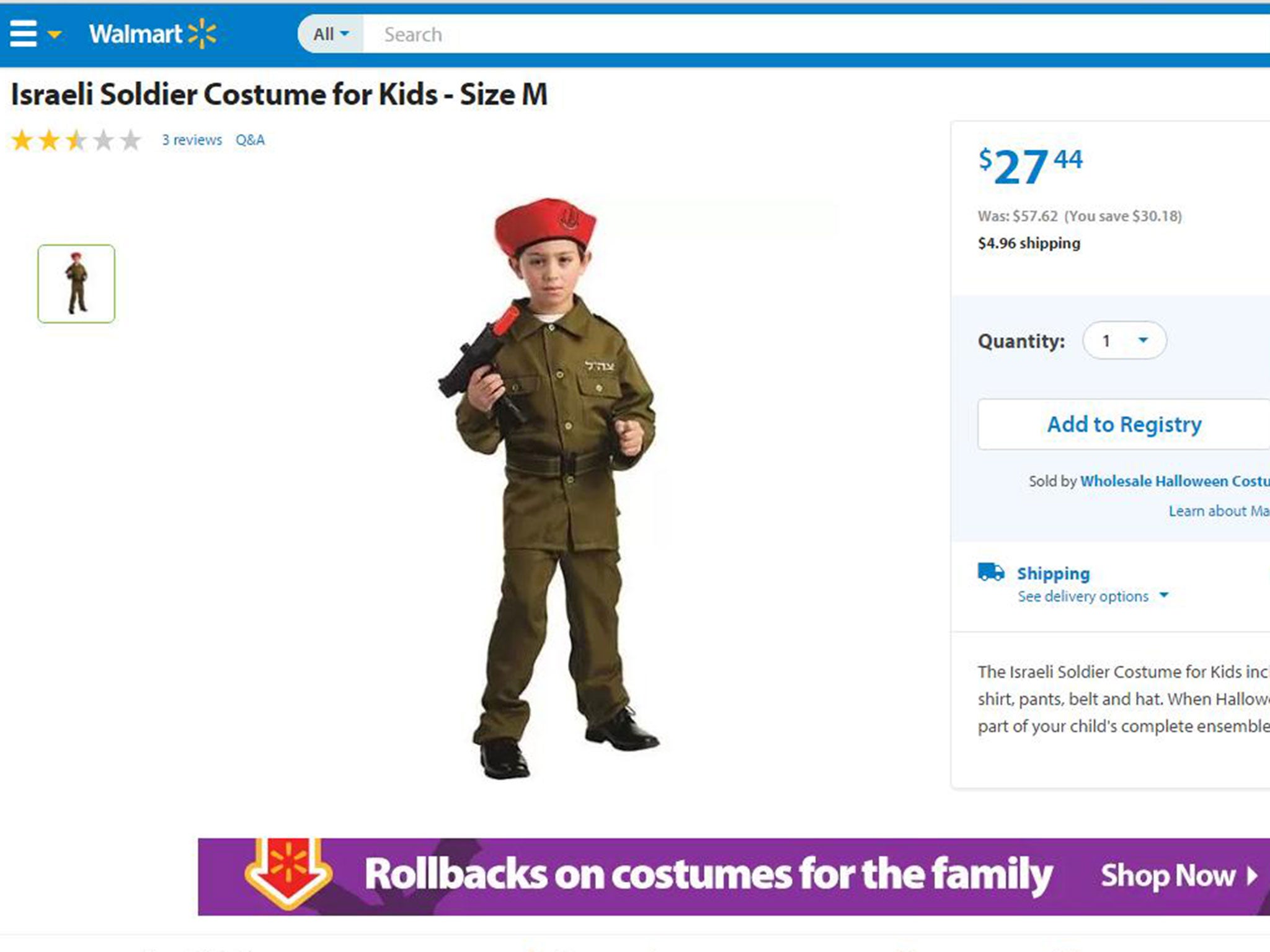 America's largest supermarket chain has sparked controversy with Halloween costumes including an "Israeli soldier for kids" and "sheikh Fagin nose".
The soldier costume, including a shirt, trousers, belt and hat, carries Hebrew writing and appears to resemble uniforms worn by Israeli Defence Forces (IDF) paratroopers and elite units.
A photo showed a young boy wearing it and posing with a toy gun, while pointing at the camera.
It is being sold at the reduced price of $27.44 (£17.90) with the description: "When Halloween time rolls around, make this item part of your child's complete ensemble."
But reviewers were quick to voice their disapproval. "Might as well sell a Hitler outfit for children as well!" wrote one commenter, who called the costume "utterly insensitive" and gave it one star.
The comments were echoed by critics on social media, with Saudi-owned Al Arabiya news quoting pro-Palestinian Twitter users accusing Walmart of "supporting killing and occupation".
A description of the costume on another website, Wholesale Halloween Costumes, read: "Defend your Jewish heritage proudly by wearing the Israeli Soldier Boy's Costume! The Israeli Defense Forces have a mission to protect the land and the people of Israel from outside threats with low casualties, and to avoid waging war if at all possible."
Walmart also sells an Israeli police officer costume for children, as well as an array of military outfits representing different US forces.
The chain was additionally being criticised for an accessory by Morris Costumes being sold on its website under the title: "Sheik Fagin Nose (sic)".
"Latex prosthetic nose perfect for an Arab Sheik," reads the description of the item, which is also sold by several other outlets.
A photo showed it being worn with a beard and headdress but its name also alluded to Fagin, the Jewish antagonist in Oliver Twist, whose characterisation provoked allegations of anti-Semitism during Charles Dickens' lifetime and ever since.
Full "Arab Sheikh" and "Arab Knight" costumes are also available on Walmart's website.
It is not the first time the supermarket's Halloween outfits have provoked outrage.
Last year, Walmart withdrew a costume labelled "Pashtun Papa" after social media users branded it "racist" and "offensive"
"Represent the Middle East," the description read. "Nothing is sacred this Halloween. Shock your friends with this Islamic costume."
The 10 Best Halloween costumes for kids
Show all 10
A Walmart spokesperson said at the time that the costume was sold by a third-party retailer and had not been vetted.
In 2013, it was also one of several retailers to remove an Osama bin Laden-themed costume.
Walmart has not responded to The Independent's request for a comment.