The little-known Midwest town carrying America's vaccine hopes: 'Everyone is working day and night'
Portage, Michigan, is helping manufacture the Covid vaccine, but it hasn't been able to escape the pandemic's toll. Josh Marcus writes
Thursday 10 December 2020 16:50
comments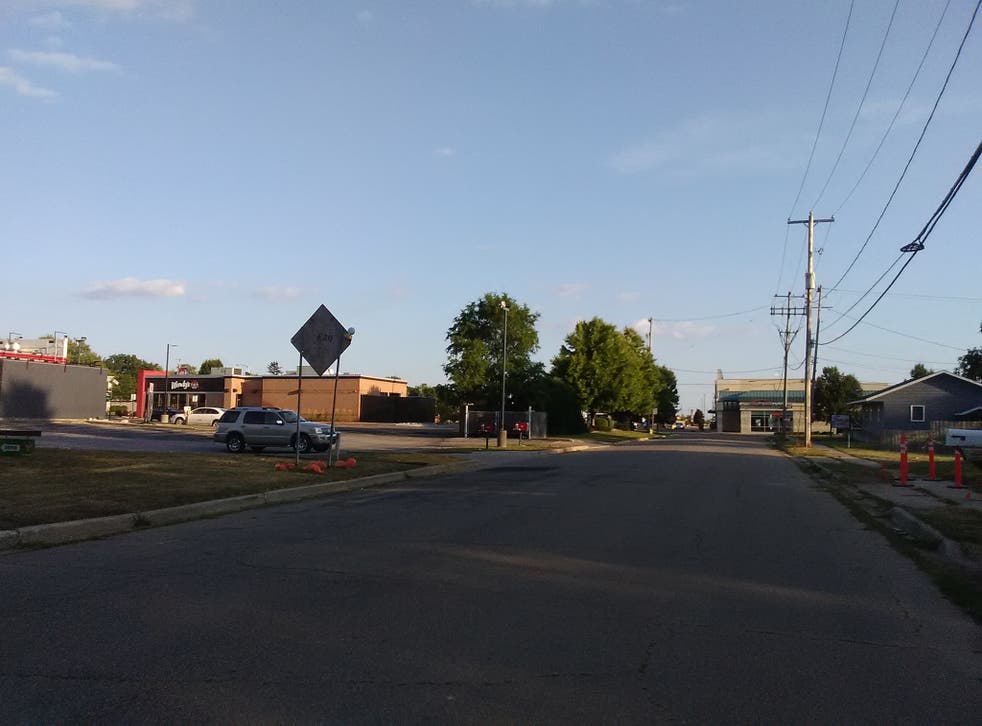 T
he small town of Portage, Michigan, represents the many ways America's Covid-19 response has gone very right and very wrong.
It's where a state-of-the-art Pfizer factory is churning out the company's coronavirus vaccine, part of 50 million total doses it hopes to manufacture this year, and 1.3 billion the next. And it's where, despite the proximity to the next stage of pandemic relief, the virus has continued to wreck lives and livelihoods all the same.
A mile-and-a-half down Portage Road from the Pfizer complex sits D&R's Daily Grind Cafe, a small, house-like building with red awnings. The owner, Dave Morris, 59, bought the business 12 years ago and fixed it up, hoping it would help set him up for retirement. In the last few months, state shutdown orders have nearly driven him to ruin.
He says he's proud of Portage's contribution to fighting the global pandemic—his son-in-law works at Pfizer—but he kept the restaurant open in defiance of November stay-at-home orders  from the state. It's his way of protesting for the working people he feels have been left out of the pandemic recovery. A banner outside reads, "If divided we fall…close them all!"
"Certainly it makes you proud it can come out of Portage, Michigan, and we can start simmering this thing down in the next few months," Mr Morris told The Independent. "I'm just really frustrated they're leaving people hanging and not giving people any kind of financial help in this country."
He's already had to take $20,000 out his retirement account to support his family, and his sense of vulnerability is shared across the state. Since he decided to stay open, he's had customers come from more than 80 miles away to eat at the restaurant in support, which Mr Morris says is implementing socially distanced tables and mask-wearing.
"The emotions, believe me, when you do something like this you think, 'Have I lost my mind? Where is this gunna go?'" he said. "You start thinking, 'Is this the end of me? Is this where I'm going to end my life? Is this what's going to happen?'"
Pfizer manufacturing the coronavirus in Portage, Michigan

Show all 4
In a year marked by spectacularly bad pandemic planning and poor timing, Portage offers a study in the opposite. When the pandemic broke out, Pfizer was already two years into a $465 million expansion in the town which included building high-tech manufacturing facilities. The future of people like Mr Morris, and the rest of us, depends on how soon what they're making there reaches everyone else.
Portage, a suburb of Kalamazoo with of about 53,000 people, is the final link in a vaccine production chain that's been planned since nearly the moment the pandemic began and stretches across the world.
Pfizer and BioNTech, its German partner, have been laying the groundwork to make and distribute their vaccine globally since March. In the US, the vaccine begins its journey at a raw material facility in St Louis, Missouri, before being purified in Andover, Massachusetts, then arriving Portage for final assembly. (The partnership has another final-assembly factory in Puurs, Belgium.)
The sprawling two-square mile factory complex on the border of Portage and Kalamazoo, Pfizer's biggest globally, then pipes doses of the vaccine into sterilized vials and inspects them for quality. After that, they go into hundreds of massive freezers, where they're stored at ice-cold -109.3 degrees F. Due to the nature of what's being made inside, the factory has heightened security surrounding it, according to city officials.
In late November, United Airlines began flying charter flights full of vaccines, plus 15,000  pounds of dry ice to maintain them, around the world. Hundreds of thousands of doses are already waiting in warehouses across the US and Europe for eventual distribution.
"It's the biggest-ever vaccination campaign," said Tanya Alcorn, Pfizer's supply-chain vice president, told the Wall Street Journal. "If we get the [Food and Drug Administration] approval, we will be able to ship the vaccines very shortly after."
 The coronavirus hasn't hit the town hit as hard as big metropolitan areas like Detroit, according to state data. Still, it's a small place, in the middle of an unprecedented stage of an unprecedented pandemic, so everyone knows someone who has been impacted.  
"We've had just a half a dozen or so members [get Covid], and everybody got through it, but then there's a lot of family members of members—parents and grandparents and such—and there's been several hospitalized and on ventilators, and some that have died," Paul Naumann, pastor at Portage's St. Michael Luterhan Church, said.
Arun Tandon, a local pharmacist who conducts Covid testing in the area, has signed up to help distribute the vaccine. He was horrified to see how the virus spread through nursing homes where he was helping out.
"It was very important to me that we be one of the pharmacies who could provide this care to our patients," he said. "I went to a couple nursing homes, and what I saw there was was horrific, these elderly people sitting and falling sick, and the Covid positivity percentage was much, much higher. I knew that when I come next week, some of those patients weren't there—they were hospitalized."
The area is home to a number of biomedical companies like Pfizer and Stryker, and residents said most everyone has been wearing a mask, though a few pockets of resistance persist.
"Everybody is very careful around here," said Billy Martin, a member of the local Kiwanis club, a civic organization. "There's always the anti-maskers, super conservative, that's everywhere in Michigan."
Other parts of the state have seen furious armed protests against Democratic governor Gretchen Whitmer's shutdown orders, some of which boiled over into a foiled plot from a vigilante group to kidnap her.
But in Portage, this hasn't been the case. The medical community is tied deeply to the town, and it's a point of pride for many that the area is helping make the vaccine.
"Everybody is so excited to be a part of the solution," said Mr Tandon, the pharmacist. "It's a small community, but a huge effort, and everybody's working day and night that this gets approved, that this thing is safe, that this vaccine could potentially save hundreds of thousands of people's lives all around the world."
Pfizer is the town's largest employer, counting more than 2,200 people, so most everyone has ties to the vaccine effort in one form or another.
"There's a tremendous amount of pride. Everybody knows somebody," Portage mayor Patricia Randall said. "We have ordered banners in our city to be flown on our streets. We have restaurants that give free takeout to Pfizer employees for lunch."
Mr Tandon's landlord let him use an adjacent building for free to expand his testing operations as the cold winter months set in.
That kind of medical civic pride has deep roots here. In nearby Kalamazoo, a group of anonymous donors funded the "Kalamazoo Promise," which offers local students free college tuition. Many speculate that the people associated with the medical companies with big local footprints like Stryker, founded in Kalamazoo, and Pfizer, which absorbed a local medical company called Upjohn, helped fund the program.    
Still, despite that spirit of looking out for each other, some are feeling left behind, especially small business owners and low-income people who lack the resources—or the billion dollar government contracts—of a place like Pfizer. 
"I know people who are so poor they cannot afford not to miss work, whether they're sick or not," said Mr Martin, the Kiwanis member. "They're not doing anything here. Because we have a lame duck Congress. The representatives are kind of holding off. That's just a shame."
Mayor Randall said state revenues, some of which are distributed out to towns like Portage, have taken a big dive during the pandemic, and some businesses haven't been able to last.
"They made it through the first wave and decided they weren't going to hang on—or couldn't," she said.
She's been heartened, however, to hear that some local businesses have loyal customers who have paid in advance for services they can't use yet, waiting for a day when things reopen.
Whether Congress embraces a similar spirit of paying it forward remains to be seen. Legislators still haven't passed a second major round of coronavirus relief, and further stimulus checks are reportedly off the table as momentum builds around a $908 billion spending bill.
If they can't figure out a new relief deal soon, federal eviction and unemployment aid programs supporting millions of people will expire at the end of the year, and the government will shut down on 11 December.
The day before that, the Food and Drug Administration will meet to consider granting Pfizer's vaccine emergency use authorization, which would kickstart distribution in the US. If approved, they could start distributing the vaccine to high-priority individuals like medical workers and nursing home residents this month. 
Moderna and AstraZeneca, who have both also produced promising vaccine candidates, are seeking emergency approval  as well. On  30 November, Moderna asked the FDA for emergency authorization, and could begin delivering shots as early as 21 December. Earlier that month, AstraZeneca, which is partnering with Oxford University on its vaccine, said it would submit preliminary data from its massive clinical trials in the UK and Brazil to the FDA as part of its own emergency bid. 
President Trump is expected to sign an executive order on Tuesday restricting international vaccine assistance until Americans get the shots first.  
Whenever approval comes, it will be right on schedule, as relief can't come soon enough. Hopefully, Portage has good timing once again.
Join our new commenting forum
Join thought-provoking conversations, follow other Independent readers and see their replies