White House lawyers order Donald Trump aides to preserve Russian election hacking evidence
Kremlin denies involvement in hacks that damaged Hillary Clinton during the campaign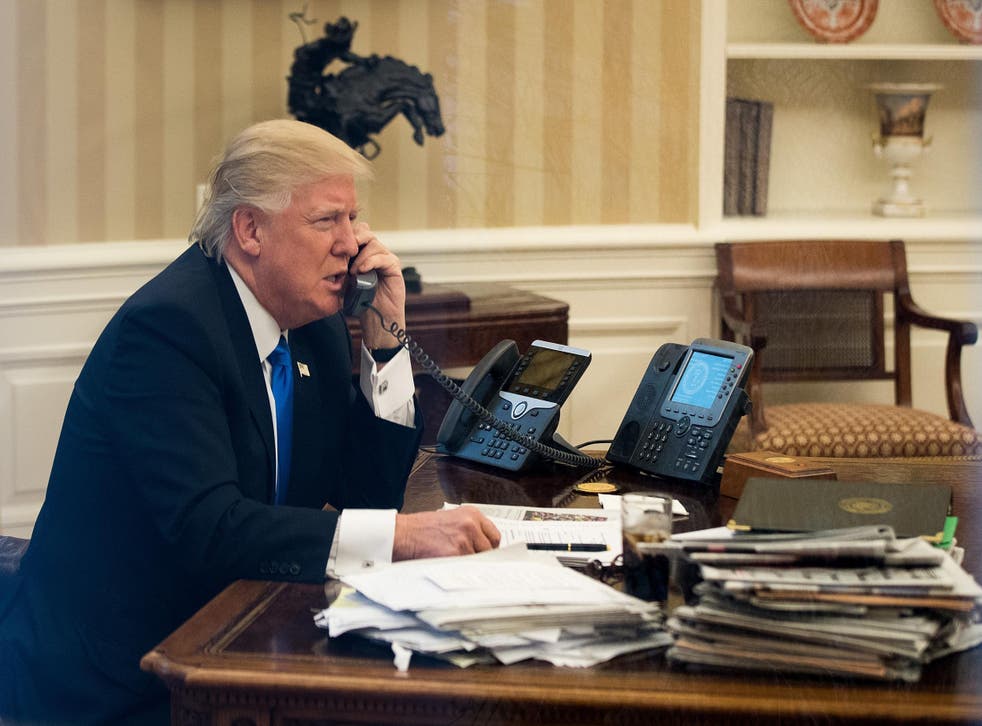 Lawyers have ordered Donald Trump's administrations to save any potential evidence of alleged Russian interference in the US election.
Instructions were sent to White House staff after Democrats in the US Senate requested the administration and security agencies to keep all material on links between Mr Trump's aides, campaign or transition team and the Kremlin.
As part of its investigation into Russia's possible role in the presidential election, the Senate intelligence committee has also asked more than a dozen groups, agencies and individuals to preserve relevant records.
Trump denies team had contact with Russia during election campaign
Officials told the Associated Press Mr Trump's staff in Washington were "ordered to comply" with a memo from White House counsel Don McGahn on Tuesday.
One source said McGahn's memo instructs current staff to preserve material from Mr Trump's time in office, and for those who worked on the campaign, relevant material from the election.
Chuck Schumer of New York, the leader of Democrats in the Senate, said he was worried about the potential destruction of data last week.
"There is real concern that some in the administration may try to cover up its ties to Russia by deleting emails, texts and other records that could shine a light on those connections," he claimed.
"These records are likely to be the subject of executive branch as well as congressional investigations and must be preserved."
A spokesperson for Mr Trump said the administration was "simply taking proactive steps" and called the accusations of nefarious ties between the President and Russia "false and politically motivated attacks".
Mr Trump has defended Russia against his own intelligence agencies' allegations of involvement in the Democratic National Committee cyber attacks and other leaks and "fake news" spread to damage Hillary Clinton.
In pictures: Protests, pomp and Donald Trump

Show all 30
"We assess Russian President Vladimir Putin ordered an influence campaign in 2016 aimed at the US presidential election," said a report released before Mr Trump's inauguration in January by the Office of the Director of National Intelligence.
"Russia's goals were to undermine public faith in the US democratic process, denigrate Secretary Clinton and harm her electability and potential presidency.
"We further assess Putin and the Russian Government developed a clear preference for President-elect Trump."
He dismissed the findings, supported by all three main American intelligence agencies, and has repeatedly insisted he has no links with Russia and dismissed the scandal as "fake news" generated by his opponents and the "dishonest media".
But Mr Trump has been continually dogged by questions about his advisers' ties to Russia since the campaign, which are being probed by federal investigators, while congressional committees are investigating Russia's role in political cyber attacks.
He has denied having any knowledge that aides were in touch with Russian intelligence agents during the election, as reported by the New York Times.
A new scandal was brewing on Thursday over revelations that the President's pick for Attorney General, Jeff Sessions, met the Russian ambassador twice in the run-up to the election but did not disclose the meetings at his confirmation hearing.
The White House has already acknowledged that Michael Flynn, Mr Trump's former national security adviser, misled top officials about the nature of his contacts with the same ambassador, Sergei Kislyak.
Mr Flynn initially told Vice President Mike Pence he did not discuss sanctions with the envoy during the transition, though it was later revealed that he did.
The FBI interviewed him about the contacts days after the inauguration but he was not forced to resign until the discrepancies in his account were publicly revealed.
Democratic politicians have been leading calls for a special prosecutor to investigate Russia's links to the election and Mr Trump's administration.
The Russian government has repeatedly denied interfering in the election, or allegations its intelligence agents had been in contact with Mr Trump's campaign team.
He and Mr Putin have vowed to repair tis between Russia and the US, which have been damaged by the Ukrainian conflict, escalation with Nato and the Kremlin's backing for Syrian President Bashar al-Assad.
Join our new commenting forum
Join thought-provoking conversations, follow other Independent readers and see their replies