'White Lives Matter' protesters wield guns and confederate flags outside Houston NAACP office
The demonstrators were soon outnumbered by a spontaneous counter-protest in the Texas city's largely black third ward
Tim Walker
US Correspondent
Monday 22 August 2016 18:46 Comments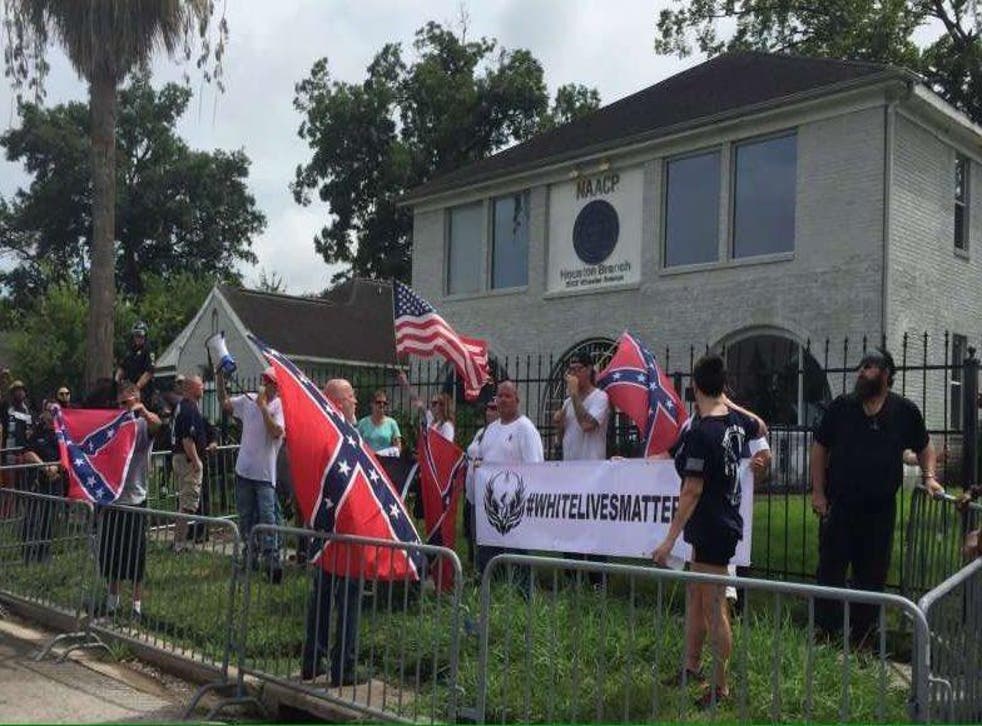 A small group of so-called "White Lives Matter" protesters waved confederate flags as they staged a rally outside the Houston office of the National Association for the Advancement of Coloured People (NAACP) on Sunday.
Around 20 members of White Lives Matter, which was formed in response to the civil rights movement Black Lives Matter, demonstrated outside the NAACP office in the Texas city's largely African-American third ward. Some wore body armour and toted assault rifles, others carried signs and banners bearing white supremacist slogans.
One of the protesters, Scott Lacy, told KPRC-TV that the NAACP was "one of the most racist groups in America."
The organiser of the rally, Ken Reed, told the Houston Chronicle that his group was protesting the civil rights organisation's "failure in speaking out against the atrocities that organizations like Black Lives Matter and other pro-black organizations have caused the attack and killing of white police officers, the burning down of cities and things of that nature."
Mr Reed, who was wearing a Donald Trump 2016 campaign hat, said the confederate flags were symbols of Southern heritage that had "nothing to do with racism". Of those protesters who were carrying firearms, he said: "We have to defend ourselves… Their organisations and their people are shooting people based on the colour of their skin. We're not."
Mr Reed was apparently referring to the recent shootings of police officers in Dallas and Baton Rouge by gunmen who apparently harboured black nationalist beliefs, but who killed non-white officers in both cases. The NAACP and Black Lives Matter leaders both condemned the attacks.
The demonstrators in Houston were soon outnumbered by a spontaneous counter-protest. In an Instagram post, Andre Smith, the son of the Houston NAACP's executive director, Yolanda Smith, revealed that it was his mother's birthday. "So we spent the day celebrating a black life that did matter and will continue to do great work at this place you protest," he wrote.
Register for free to continue reading
Registration is a free and easy way to support our truly independent journalism
By registering, you will also enjoy limited access to Premium articles, exclusive newsletters, commenting, and virtual events with our leading journalists
Already have an account? sign in
Join our new commenting forum
Join thought-provoking conversations, follow other Independent readers and see their replies