The future of groceries: shopping at the world's first 'budget' Whole Foods store
Targeted at millennials, 365 by Whole Foods Market offers rosemary truffle popcorn, Chardonnay thyme turkey jerky and... free air guitars?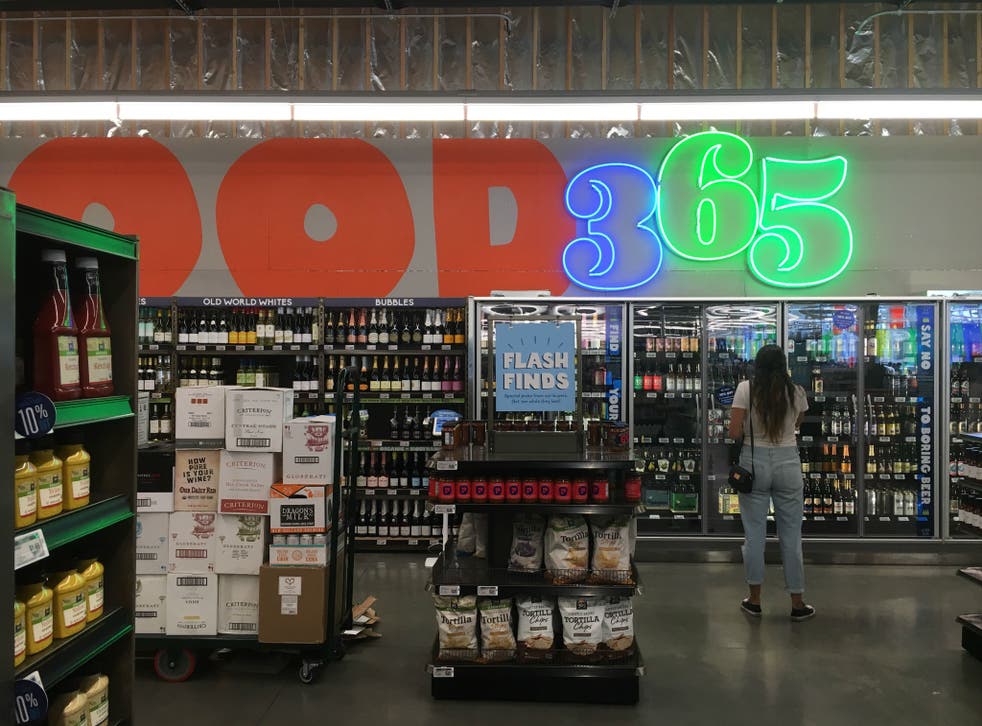 Last September, when Silver Lake residents learned that Whole Foods was about to open its first ever "value-oriented" store in their neighbourhood, many of them were outraged. Not because the presence of a major chain would threaten small, independent grocers, but because Los Angeles's signature hipster zip code had been crying out for an expensive organic supermarket for years – and now they were being forced to make do with the budget version.
A local music exec launched an online petition, claiming the company had "misidentified" the Silver Lake demographic as "fiscally concerned youth" and insisting the neighbourhood was sufficiently gentrified to sustain a full-blown Whole Foods. She needn't have worried. The store, the first of the brand's new low-cost chain, "365 by Whole Foods Market", opened last week – and while it is cheaper than Whole Foods, it still sells plenty of Whole Foods-y products, like truffle popcorn and "artisanal" Chardonnay-thyme turkey jerky.
What's on the shelves at 365 by Whole Foods

Show all 8
The 365 stores are named after Whole Foods' value product range and aimed at budget-conscious, tech-savvy millennials, whose custom the company hopes to poach from competing US chains including Trader Joe's, which already has a branch in Silver Lake. A second 365 store is opening near Portland next month, followed closely by locations in Santa Monica, Houston and Seattle, plus a further 14 more nationwide in the not-too-distant future.
The Silver Lake site was swarmed on its opening day and, a week later, finding a spot in the car-park is still no easier than finding pre-spiralised zucchini at Safeway. The first indication that 365 is aimed squarely at millennials sits just outside the entrance: an empty rack offering "free air guitars" and directing customers to a specially curated Spotify playlist, peopled with such fashionable-yet-inoffensive artists as LCD Soundsystem, Bon Iver and TV on the Radio.
The store's interior is a cool, cavernous hangar with low-slung shelves and wall-mounted iPads, where shoppers can order quinoa bowls and bánh mi hot-dogs to be picked up later from an order window, or scan bottles of wine to see Amazon-style, crowd-sourced tasting notes. There's an in-store "Juicero", a kind of Nespresso for fruit and veg, which turns pouches of fresh produce into 8oz of cold-pressed juice and has been endorsed by Gwyneth Paltrow.
An imposing contraption called a Teabot instantly blends customised cups of tea for $3 a pop. The friendly sales associate explained that it's the world's first consumer-facing Teabot, and that the only other working Teabot is at Google's office in Chicago. Using another iPad, he said, I can choose which teas to mix – from a selection including Amaretto Cherry, Gunpowder Green and French Lavender – pick the ratios of each tea and my preferred temperature and strength, then the vast, automated apparatus will blend and pour it for me.
"You can blend up to three different types of tea," the sales associate told me.
"But I'm British," I replied. "I'm not sure that's really the done thing where I come from."
"Hm," he said, nodding sagely. "Well, if you want, you could just have 100 per cent English Breakfast."
365 stores will reportedly stock approximately 7,000 items, around a third of what a normal Whole Foods offers, but at a significantly more reasonable price point. The Los Angeles Times compared 365's prices for a handful of basic foodstuffs such as bread and milk, and found that it matched, approximated or undercut two other comparable US supermarket chains. Kale bunches – a California staple – are currently two for a dollar. It's a kale sale.
Even the in-house vegan café, "by CHLOE." [sic], is reasonably priced. Run by chef Chloe Coscarelli, a native Angeleno and erstwhile winner of the Food Network's Cupcake Wars, it offers tempeh-lentil-chia-walnut burgers with beetroot ketchup for just $8.95, washed down with a lemon-and-activated-charcoal juice for $9.95. OK, fine, the juice is kind of expensive. How about a coffee instead, from the Allegro "craft-brew" coffee bar?
It's this opportunity to linger with a latte or a beetroot kombucha that sets the chain apart, according to Jeff Turnas, president of 365, who has described his stores' USP as the "hangout" factor. After all, there's no craft coffee bar at Trader Joe's. Some of the petition's signatories and at least one recent Yelp reviewer have complained that 365 lacks some key elements of the traditional Whole Foods experience: a fishmonger, a cheese counter.
But the millennials at the check-out appear unperturbed. Architect Jeff and his fiancée Erica, a copywriter, both 34 and from Silver Lake, came away carrying bags stuffed with fresh veg, salad ingredients and gluten-free pizza. "I was actually glad that the neighbourhood got a more price-friendly store than a regular Whole Foods," said Jeff. "The asparagus was cheap."
Samantha, a 25-year-old waitress with a designer handbag, said it was her first visit to 365 and she was impressed by both the quality of the produce and the prices. "I think most people in the area are on a budget," she said, contrary to the petition's claims. What was her best purchase? She thought about it for a moment. "I got some organic flax-seed tortilla chips that look pretty darn good," she said.
Join our new commenting forum
Join thought-provoking conversations, follow other Independent readers and see their replies