Women rescued after five months at sea had unused emergency beacon
They had a chance to make dock in Hawaii and Kiribati before being rescued near Japan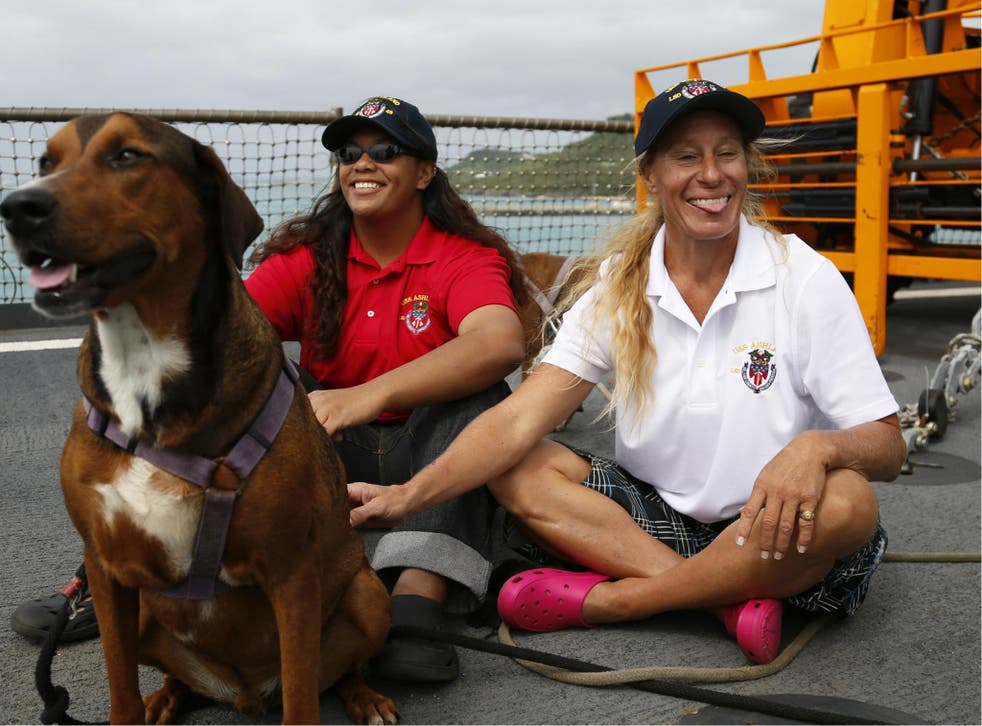 Officials have raised a number of questions about the rescue of two women stranded at sea for nearly five months, particularly about how an emergency locator beacon on board was never activated.
US Coast Guard spokesman Lieutenant Scott Carr told the Associated Press that after the agency reviewed the details of the incident through interviews with the Tasha Fuiava and Jennifer Appel, authorities found that an Emergency Position Indicating Radio Beacon (EPIRB) was on board but never used.
This type of device can be turned on manually, but usually activates a satellite signal when submerged under water.
The pair were sailing on what was supposed to be a one-month trip from Hawaii to Tahiti.
The Hawaii residents claimed a three-day tropical storm in May threw them off course when they were finally rescued by the US Navy off the coast of Japan on 25 October.
Alleged inconsistencies began to arise almost immediately.
The National Weather Service has no record of a storm on or near 3 May, the night the women claim they were first thrown off course.
Ms Appel and Ms Fuiava also claimed that they did not turn back towards any Hawaii islands after the initial storm because there were no places to dock their sailboat despite only being 50 feet long.
Their next possible landing point, part of the island nation of Kiribati, was deemed "uninhabited" and with a reef that "was too shallow" to dock by Ms Appel.
Man lost at sea for two months
Christmas Island has about 2,000 residents and well-used port for large vessels
The women did not use flares on board or somehow make it to land, where help would have been a day's hike away.
In initial media interviews, neither Ms Appel or Ms Fuiava mentioned the EPIRB device but did say they had several communications devices which were all non-functioning or had been thrown overboard in the storm.
Phillip R Johnson, a retired Coast Guard officer who was responsible for search and rescue operations, told CBS News that "if the [EPIRB] was operational and it was turned on, a signal should have been received very, very quickly that this vessel was in distress."
Though Mr Johnson said failure of a device like that is rare, improperly functioning batteries may cause a problem.
World news in pictures

Show all 50
Coast Guard spokeswoman Petty Officer 2nd Class Tara Molle told the Associated Press that they "asked why during this course of time did they not activate the EPIRB. She had stated they never felt like they were truly in distress, like in a 24-hour period they were going to die."
There is also the instance of contact with the Sea Nymph vessel, which was made off the coast of Tahiti in June.
The captain of the vessel said they were not in distress and expected hit land the next morning.
The timeline of that contact did not match up with the women's story, however.
By the date contact was made with the vessel that identified as the Sea Nymph the women reportedly had lost use of engines and the rigging and mast of the boat suffered severe damage.
Both women and their dogs appeared in good physical health at the time of rescue.
There is no criminal investigation at this time.
Register for free to continue reading
Registration is a free and easy way to support our truly independent journalism
By registering, you will also enjoy limited access to Premium articles, exclusive newsletters, commenting, and virtual events with our leading journalists
Already have an account? sign in
Register for free to continue reading
Registration is a free and easy way to support our truly independent journalism
By registering, you will also enjoy limited access to Premium articles, exclusive newsletters, commenting, and virtual events with our leading journalists
Already have an account? sign in
Join our new commenting forum
Join thought-provoking conversations, follow other Independent readers and see their replies