World Cup 2014: 60 arrested in Buenos Aires riots as Argentina takes final loss badly
Police dispersed vast crowd with tear gas, rubber bullets and water cannon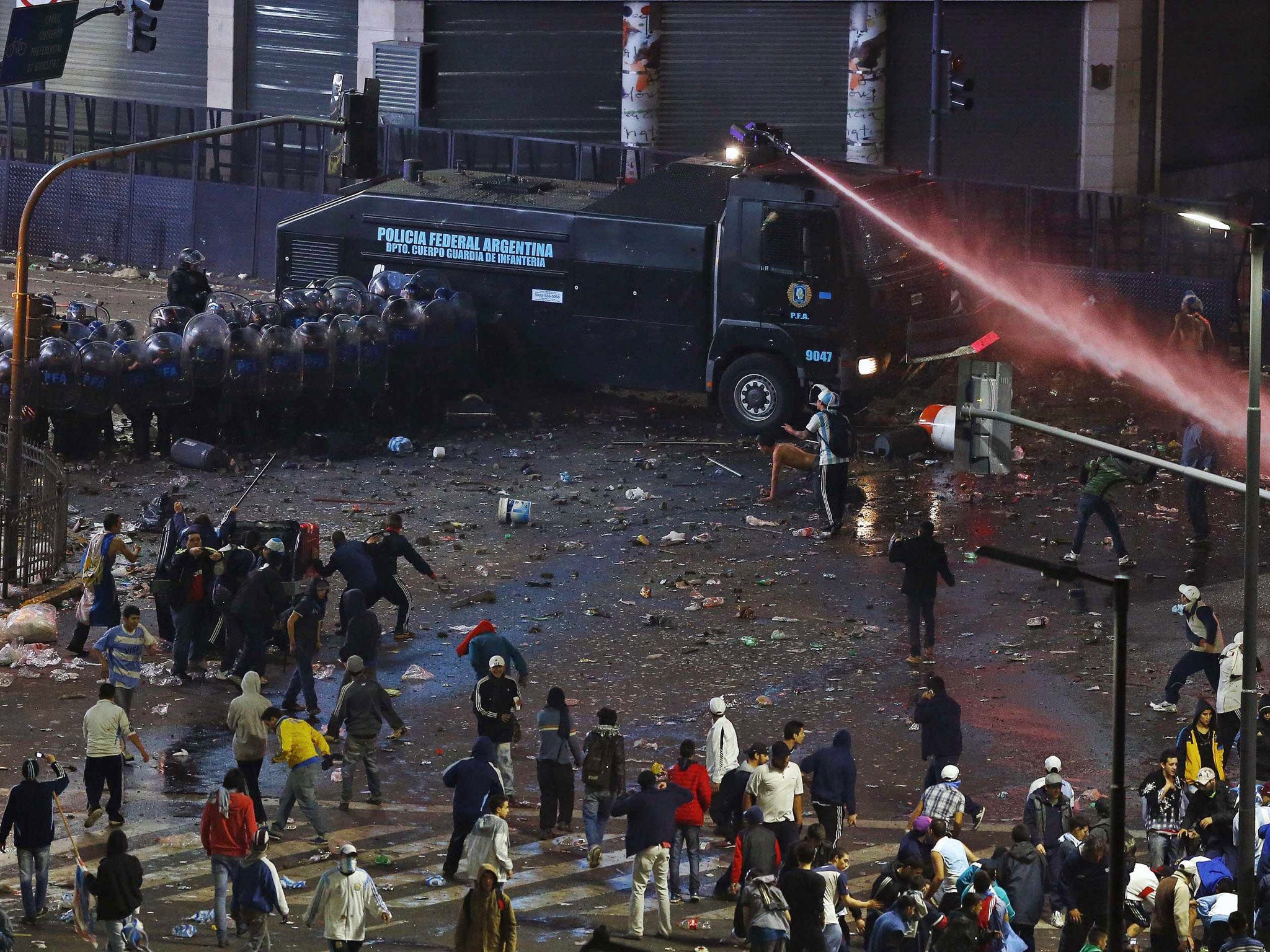 Police in Buenos Aires have arrested at least 60 people and turned water cannon, rubber bullets and tear gas on crowds after a show of support for Argentina's defeated World Cup final team quickly turned violent last night.
Tens of thousands of fans had gathered around the capital's central Obelisk structure to watch the match on big screens, and many stayed long after the last ball was kicked in the 1-0 loss to Germany.
Police initially watched from the sidelines as fans slowly dissipated into downtown Buenos Aires, but moved in late at night as the supporters' dejection turned to anger.
As officers in riot gear tried to clear the streets, the fans - many with their faces covered and having been drinking heavily - responded by hurling rocks, destroying store fronts, tearing down street lights and at one point breaking into a theatre.
Police said 20 officers were injured in the riots, while 60 fans were arrested.
The ugly scenes marred what had been a powerful display of support at the Obelisk, where earlier there had been fireworks and fans of all ages uniting in chants of "Argentina! Argentina! Argentina!"
Amid the outpouring of defiance in the face of defeat there was a hint of frustration that Messi, the four-time world player of the year, didn't put in a stronger performance.
"Messi still isn't Maradona," said 31-year-old Eduardo Rodriguez after the game. "But this here is a party. We're all proud of our warriors."
The chance to be crowned World Cup champions had united Argentines otherwise exasperated by one of the world's highest inflation rates, an encroaching debt crisis and a corruption scandal at the highest level of President Cristina Fernandez's government.
World Cup 2014: 60 arrested in Buenos Aires riots as Argentina takes final loss badly
Show all 15
Fernandez, whose approval rating has plunged in recent months, kept a low profile during the tournament. She declined an invitation to attend the final, preferring instead to rest ahead of a summit Tuesday, also in Brazil, with leaders from Brazil, Russia, India and China.
She didn't comment on the team's loss but local media reported she had called head coach Alejandro Sabella to offer her support and is planning to welcome the team home on Monday morning.
Despite the pride over their team's performance, many Argentines couldn't hide the pain.
In Rio de Janeiro, more than 70,000 fans cheered on their team, many having travelled upward of 40 hours by car to be near their idols.
Joao Cuenca, who has an Argentine father and a Brazilian mother, said from Rio: "This was a trauma. We were going to be able to leave singing songs in victory with the glory of the Cup. What happened is nothing short of a disaster."
Additional reporting by The Associated Press
Join our commenting forum
Join thought-provoking conversations, follow other Independent readers and see their replies