New York's Covid exodus in full – which zip codes lost the most residents?
Who moved and where did they go?
Oliver O'Connell
New York
Saturday 10 April 2021 20:27 Comments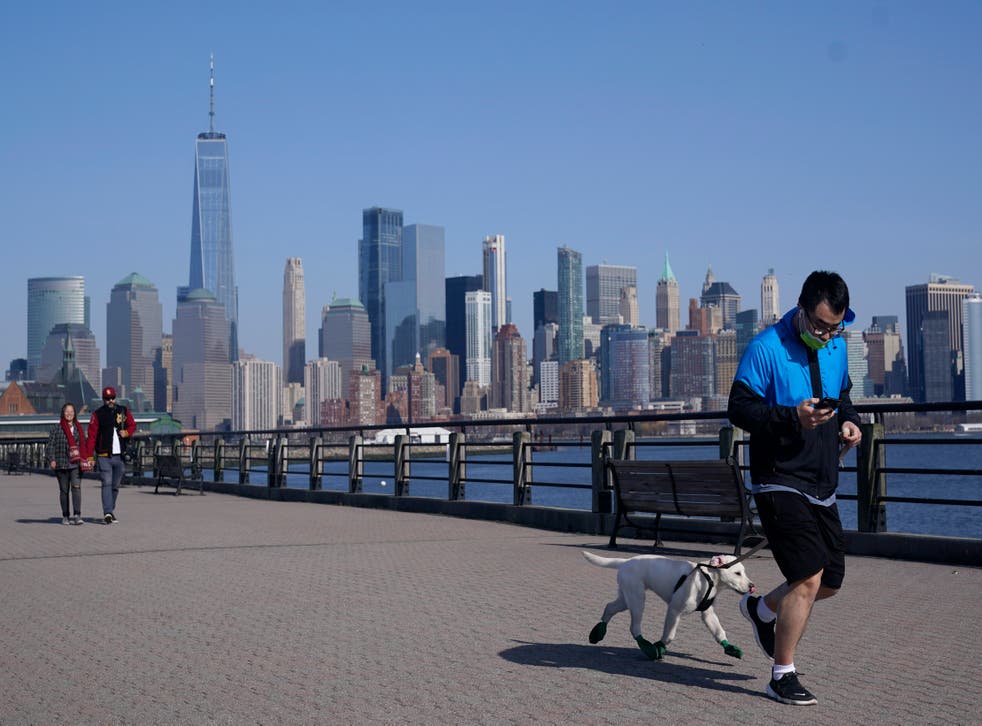 Leer en Español
A new study puts figures to anecdotal evidence of an exodus from New York City in the year since it became the global epicentre of the Covid-19 pandemic.
An investigation of national trend data by real estate firm CBRE shows which New Yorkers left, and where they went.
By analysing US Postal Service address changes over the last 12 months, the study reveals the greatest out-migration of people is, as expected, from Manhattan, with nine of the 10 zip codes with the largest outflows of residents in the city located in the borough.
The neighbourhoods are the most central ones, characterised before the pandemic as being more gentrified, with wealthier, younger populations in professions that could more easily work remotely.
In Manhattan, the list includes zip codes in both the Upper East Side and Upper West Side, Midtown, Hell's Kitchen, Murray Hill, Kips Bay, Chelsea, SoHo, and the Financial District. All of these areas lost approximately two per cent of their population according to the data.
Across the East River in Brooklyn and Queens, the neighbourhoods of Greenpoint, Dumbo, Williamsburg, Crown Heights, and Long Island City also saw significant drops in the number of residents.
Net move-outs increased by 51 per cent across the city in 2020 than in 2019. In Manhattan, the figure was as high as 62 per cent.
In terms of hard numbers, the four zip codes in Manhattan from the Hudson to the East River between 42nd Street and 59th Street lost more than 12,000 residents in 2020. In 2019 that figure was less than 3,000.
The worst affected zip code was 10019, the northern part of Hell's Kitchen abutting Times Square and the Theater District, which lost just under 4,000 residents in 2020 compared to 763 in 2019.
US Census data shows that the city's population was already slowly declining before Covid, but in 2020 across the five boroughs, the population fell by approximately 2.4 per cent, or 200,000 people out of a total of 8.3 million.
CBRE's report looked at 29 million address changes across the US. New York City saw the second-largest jump in net out-migration in 2020, behind only San Francisco.
The streets may have felt even emptier than the data implies, as the study only looked at permanent address changes – the total number of those who left the city for significant portions of the pandemic is likely much higher. Many more people temporarily left to stay with family or at seasonal rentals.
Eric Willett, CBRE's director of research, told Gothamist that the biggest shift was amongst young, affluent, childless city dwellers, who moved dramatically more than the rest of the population. 
"About 33 per cent of them moved in 2019. That increased by 10 percent in 2020. That's the real driver of these migration patterns," he said.
Talk of an exodus from New York may be a little exaggerated as 41 per cent of Manhattan residents who moved in 2020 stayed in the borough, presumably taking advantage of cheaper rents to upgrade their living space. Prior to Covid, this figure was just below 50 per cent.
Those who moved to suburbs in the counties of Westchester, Nassau, or Suffolk, or further into New Jersey or Connecticut, are thought likely to be people at the stage of starting families who saw their decision-making process hastened by the new realities of the pandemic.
Mapped out for the wider tri-state area, CBRE's data shows population increases in several suburbs still within easy commuting distance of the city.
Of those that migrated further afield, the top destinations were Los Angeles, Miami, Palm Beach, Chicago, and the northern suburbs of Boston, including Cambridge.
In the less wealthy parts of the city – those hit hardest by Covid-19 – there was also an uptick in out-migration, but nothing near the numbers seen in Manhattan.
Residents in those areas tend to have less or no ability to work remotely, lower job security, lower incomes, and therefore lower mobility – simply put, they had nowhere to go and no means with which to make a move happen.
As to the future of the five boroughs, vaccination rates are up, Covid cases are falling from the latest surge, rents down, and the city is steadily reopening and lifting restrictions.
The real estate industry is hopeful that the worst has passed and is enthusiastically promoting a glut of apartments for rent at a lower cost than just over a year ago.
However, uncertainty remains about what businesses will do next when it comes to office space that many companies have decided they no longer need. Manhattan's forest of office towers may be difficult to fill.
Given the push towards more remote working provided by the pandemic, will people come back if they don't need to?
New York is known for its ability to bounce back, but the city may have to confront a whole new reality for which there is no playbook.
Register for free to continue reading
Registration is a free and easy way to support our truly independent journalism
By registering, you will also enjoy limited access to Premium articles, exclusive newsletters, commenting, and virtual events with our leading journalists
Already have an account? sign in
Join our new commenting forum
Join thought-provoking conversations, follow other Independent readers and see their replies