Wyoming considers death by firing squad as Tennessee brings back electric chair, following lethal drugs shortages
A botched execution in Oklahoma last month has seen US states reassessing their death penalty procedures
Antonia Molloy Comments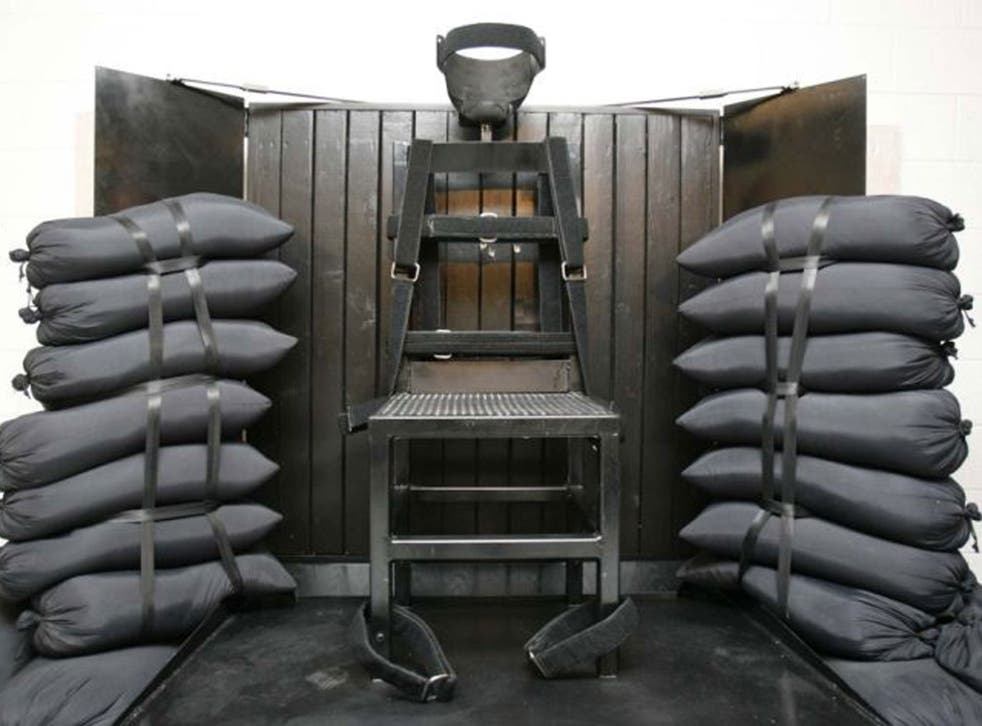 The state of Wyoming is considering allowing death row inmates to be executed by firing squad, while Tennessee has signed a bill to bring back the electric chair, following a nationwide shortage of the drugs used to administer lethal injections.
A Wyoming legislative committee has directed its staff to draft a firing-squad bill for consideration ahead of next year's legislative session starting in January.
And in Tennessee the electric chair, last used in 2007, is now an option for executions in the state if lethal injection drugs are unavailable, following a bill that was signed by the governor on Thursday.
Meanwhile, lawmakers in Utah are also considering a return to the firing squad, which was outlawed in the state in 2004.
Bob Lampert, director of the Wyoming Department of Corrections, told members of the Wyoming Legislature's Joint Interim Judiciary Committee last week in Rawlins that drugs for lethal injection have become increasingly difficult to obtain - they are often withheld by pharmaceutical companies in Europe who disapprove of the death penalty.
"In the event that we had an execution scheduled and we couldn't carry it out as a result of lack of substances, I suggested to the Joint Judiciary that we may want to consider having an alternate means of execution, such as the firing squad," Mr Lampert said.
Wyoming state law mandates that it would execute condemned inmates in a gas chamber, which the state doesn't actually have, as a backup to lethal injection only if lethal injection were found to be unconstitutional. Existing state law doesn't address how the state should proceed in response to a drug shortage.
Wyoming has no execution drugs on hand, Lampert said.
Wyoming has only one inmate on death row - Dale Wayne Eaton, 69, who was given the death penalty in 2004 for the murder of 18-year-old Lisa Marie Kimmell.
Lethal injection is currently the primary execution method in all states that have capital punishment, but some states allow inmates the option of electrocution, hanging, firing squad or the gas chamber.
Last month, Oklahoma death row inmate Clayton Lockett convulsed on the execution table and died of a heart attack 40 minutes after the lethal drugs were injected, in a botched execution that prompted an external review.
The injection contained a triple-drug cocktail in dosages that had never previously been used for a US execution.
President Barack Obama called the Lockett incident deeply troubling and said he had asked his attorney general to review the way in which the death penalty is carried out.
Following the passing of the new law in Tennessee, the bill's House sponsor Representative Dennis Powers, who confirmed the bill was signed by Governor Bill Haslam, said: "It gives us another option out there. We've had so many problems with lethal injection."
But Richard Dieter, executive director for the Death Penalty Information Centre, which tracks executions, said that court battles would likely erupt if an inmate were sentenced to the chair.
"There certainly have been some gruesome electrocutions in the past and that would weigh on courts' minds," he said.
Tennessee Attorney General Robert Cooper Jr. issued an advisory opinion stating that electrocution is constitutionally defensible as an execution method earlier this year.
Tennessee last executed an inmate in 2009 and the next execution is scheduled for October. The state corrections department has said it is confident of being able to secure drugs when needed. It has also said its electric chair is operational.
Additional reporting by agencies
Register for free to continue reading
Registration is a free and easy way to support our truly independent journalism
By registering, you will also enjoy limited access to Premium articles, exclusive newsletters, commenting, and virtual events with our leading journalists
Already have an account? sign in
Join our new commenting forum
Join thought-provoking conversations, follow other Independent readers and see their replies