Puerto Rico reports first death from Zika-linked paralysis
'What does this tell us? That all of us are susceptible,' says epidemiologist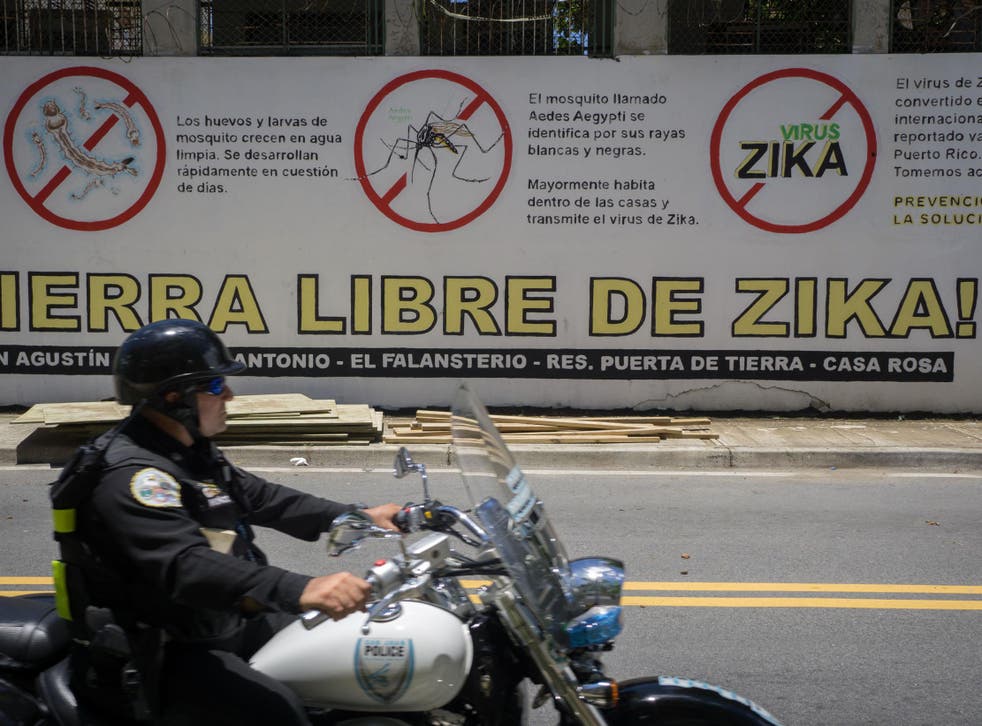 Puerto Rico has reported its first death caused by paralysis relating to a Zika infection.
The US territory in the Caribbean has been grappling with an epidemic of the virus, which has spread to 13,000 people on the island.
The victim, aged between 35 and 45 years old and from the San Juan area, died from Guillain-Barre syndrome.
Around 34 cases of Guillain-Barre, a condition linked to Zika, have been reported on the island since the epidemic took hold.
The victim was obese, but had no other health conditions. State epidemiologist, Brenda Riviera, said it was rare for the condition to kill someone who was relatively young. The first death related to the virus in the US was in Utah in July.
Ms Riviera told the Associated Press: "What does this tell us? That all of us are susceptible."
There have been 13,186 cases of Zika on the island, with 1,106 involving pregnant women. More than a hundred infections have resulted in hospitalisation.
The virus was spreading rapidly, with dozens infected by the day. By the end of 2016, a quarter of the island's population is expected to be infected with Zika, according to the Centers for Disease Control (CDC).
President Barack Obama has declared a public health emergency on the Caribbean island.
Previously thought to only pose a threat to unborn children and their mothers, research has uncovered the mosquito-transmitted infection can have a profound impact on the adult brain.
It can "wreak havoc" on brain stem cells, according to a study by Rockefeller University and La Jolla Institute for Allergy and Immunology.
"Based on our findings, getting infected with Zika as an adult may not be as innocuous as people think," Joseph Gleeson, a professor at Rockefeller University, said in a statement.
The Zika virus - in pictures

Show all 5
Owing to its link with severe birth defects, future generations are likely to be affected by the Zika virus.
The CDC predicts between 5,900 and 10,300 pregnant women in Puerto Rico with be infected with Zika during the initial outbreak.
Officials predict as many as 270 babies will be born with the severe birth defect, microcephaly, as a result of the infection.
"Based on the limited available information on the risk of microcephaly, we estimate between 100 to 270 cases of microcephaly might occur" between the summer of 2016 and of 2017, Dr. Margaret Honein, chief of the birth defects branch at the CDC, said.
"It's going to be very important to follow up on these infants," she added.
Register for free to continue reading
Registration is a free and easy way to support our truly independent journalism
By registering, you will also enjoy limited access to Premium articles, exclusive newsletters, commenting, and virtual events with our leading journalists
Already have an account? sign in
Register for free to continue reading
Registration is a free and easy way to support our truly independent journalism
By registering, you will also enjoy limited access to Premium articles, exclusive newsletters, commenting, and virtual events with our leading journalists
Already have an account? sign in
Join our new commenting forum
Join thought-provoking conversations, follow other Independent readers and see their replies