Turkish newspaper depicts Angela Merkel as Hitler amid diplomatic crisis
The mock-up front page comes after German Chancellor told Turkey to 'stop making Nazi comparisons'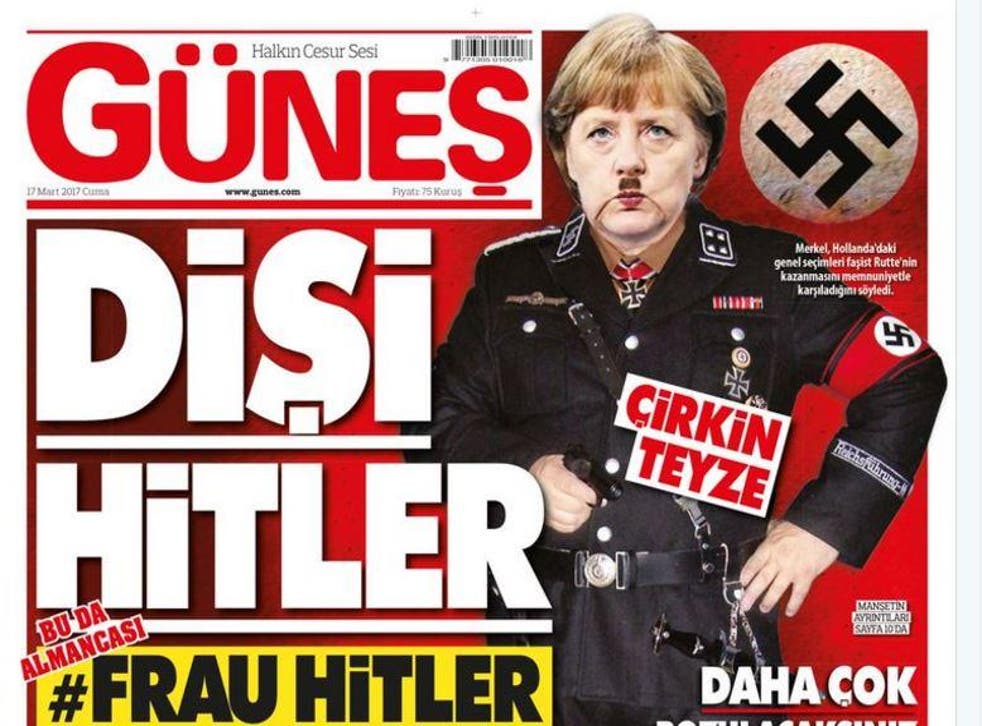 A Turkish pro-Government newspaper has caused outrage after depicting German Chancellor Angela Merkel as Hitler on its front page, branding her "Mrs Hitler" and an "ugly aunt".
Right-wing tabloid daily Gunes ("Sun") depicted Ms Merkel in a Nazi uniform with a Hitler-style moustache in a furious war of words over Germany's refusal to allow rallies in support of Turkish President Recep Tayyip Erdogan.
The mocked-up image has Ms Merkel holding a gun with a swastika on her uniform and another next to her.
Germany and the Netherlands are at loggerheads with Turkey after both countries barred Turkish ministers from holding rallies to campaign for a "yes" vote in next month's referendum on vastly expanding Mr Erdogan's powers, following a failed coup against him last year.
Mr Erdogan and his supporters are anxious to hold rallies in Germany because the country is home to 1.4 million Turkish immigrants who are eligible to vote in the referendum.
The tabloid accused Ms Merkel of attempting to lead a fascists movement against Turkey and of using Austria, the Netherlands and Belgium to stir up enmity in Germany's "back yard".
The Turkish President has accused both countries of supporting terrorism and acting "like Nazis", provoking an angry response from Europe, with Ms Merkel and French President Francois Hollande branding the comments "unacceptable".
The offensive front page was published two days after German biggest-selling newspaper, Bild, attacked Mr Erdogan for threatening the stability of Europe through his "lust for power".
"Bild tells the truth to Erdogan's face — you are not a democrat! You are hurting your country! You are not welcome here!" the German newspaper said.
Bild's front page provoked an immediate backlash from Ankara, with the Turkish foreign ministry describing the article as "mind-boggling" and "hinging on hatred".
Relations between the two Nato partners deteriorated markedly following the failed coup against Mr Erdogan when Ankara accused Berlin, along with other European governments, of failing to condemn the military element of the organisers.
Mr Erdogan has accused Germany of harbouring enemies of Turkey, including Kurdish militants and the organisers of the coup.
Turkey's Government has reportedly called on expats living in Germany to spy on schools and report any criticism of Mr Erdogan to Turkish authorities.
Ankara has also suspended top-level diplomatic ties with The Netherlands until The Hague meets its conditions to allow the pro-Erdogan rallies.
Mr Erdogan has dominated Turkish politics for 14 years and is attempting to rewrite the country's constitution by expanding his own powers in a move that could see him remain President until 2029.
Gune's front page is not the first time Ms Merkel has had the racial stereotype used against her. A senior figure in the Leave.EU campaign was condemned after posting a mock-up movie of The Great Escape featuring Nigel Farage, Boris Johnson and Michael Gove as prisoners of war and Ms Merkel as the Nazi dictator.
Ms Merkel has not responded to the front page, but recently urged the Turkish media and Government to stop making Nazi comparisons.
"We will not allow the victims of the Nazis to be trivialised – these comparisons of Germany with Nazism must stop," she said.
"They are unworthy of the close ties between Germany and Turkey and of our peoples."
Join our new commenting forum
Join thought-provoking conversations, follow other Independent readers and see their replies