2,592 for, 1 against: so who DIDN'T vote Xi Jinping for President?
In only the second peaceful transition since the Communist Party took power, the 59-year-old becomes China's Premier for the next 10 years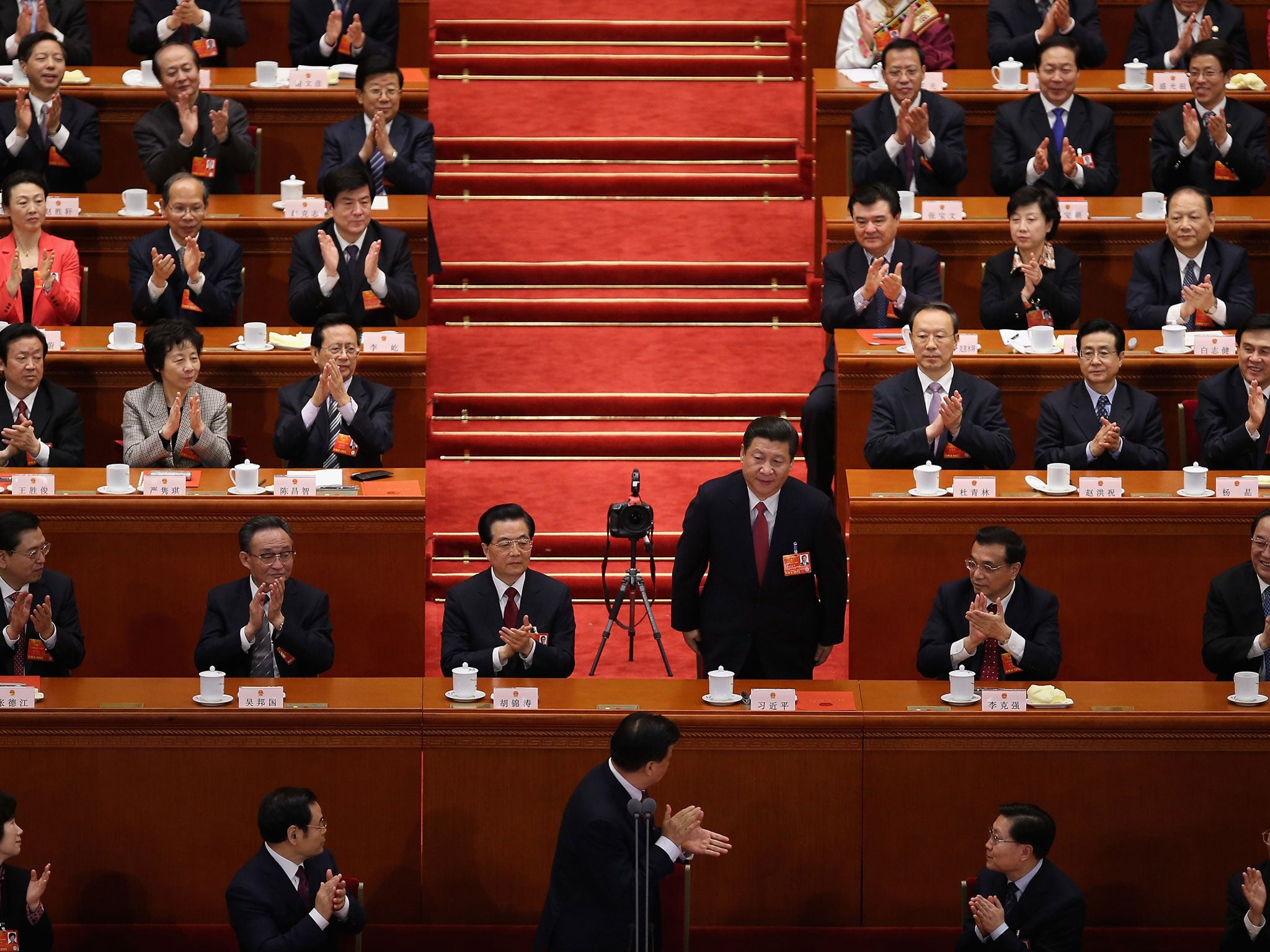 Xi Jinping was today duly elected as China's President for the next 10 years, a result that was never in doubt. As his name was announced he rose from his chair, bowing as the National People's Congress applauded its new leader. But someone, somewhere in the Great Hall of the People, may not have been clapping as loudly as the others. For the result was not unanimous – the final tally read 2,952 for, three abstentions – and one against.
Weibo, China's version of Twitter, immediately came alive with speculation about who the courageous (or foolhardy) dissenter was. Qin Dayuan asked: "Who voted against him? This person must be very brave."
Another online commentator with the username "MC-Mark_Flghter", seemed almost incredulous. "I believe someone's slipped and made a mistake," he wrote. But soon the speculation fell silent as their posts were deleted.
Small margins of dissent are not unheard of, and Mr Xi did better than the outgoing President Hu Jintao. When he was elected at the 10th National People's Congress in 2003, he got a total of 2,937 votes – four delegates voted against him, four abstained, and 38 did not vote.
If his 99.8 per cent approval rating gave him any pleasure Mr Xi barely showed it. A smile flickered across his face as he shook hands with Mr Hu, and signed an autograph as the room slowly emptied. No speech was given – that can wait for another day.
The son of the veteran revolutionary and guerrilla leader, Xi Zhongxun, 59-year-old Mr Xi is one of the "princelings" of the Communist Party's political dynasties. When Mr Xi was just nine years old, Mao Zedong sent his father into political exile, accusing him of leading an anti-Party clique in one of Mao's regular purges of the upper echelons of power. The family ended up in the dustbowl of Shaanxi, and the young Xi spent seven years living in a cave in Liangjiahe village.
His predecessor Mr Hu, 70, handed over the presidency after serving the maximum two five-year terms. Today was only the second peaceful transition since the Communist Party took power in 1949, with previous administrations' handovers being marked by turmoil and disorder, from the Cultural Revolution (1966 to 1976) to the 1989 Tiananmen crackdown on pro-democracy demonstrators.
In the run-up to the NPC, Mr Xi spoke of his aim of realising "the Chinese dream… of the great rejuvenation of the Chinese nation". Mr Xi has followed a low-profile path to the very top, and now the world is watching to see how he delivers on this vision.
Those also watching to find out whether the mystery naysayer is unmasked are likely to be disappointed. Every NPC ballot of this kind is secret – and some have even speculated that, as a sign of humility, Mr Xi may have voted against himself.
Join our commenting forum
Join thought-provoking conversations, follow other Independent readers and see their replies