'Mother of all bombs' death toll rises to 94, Afghan authorities say
Officials near site of blast maintain no civilians were killed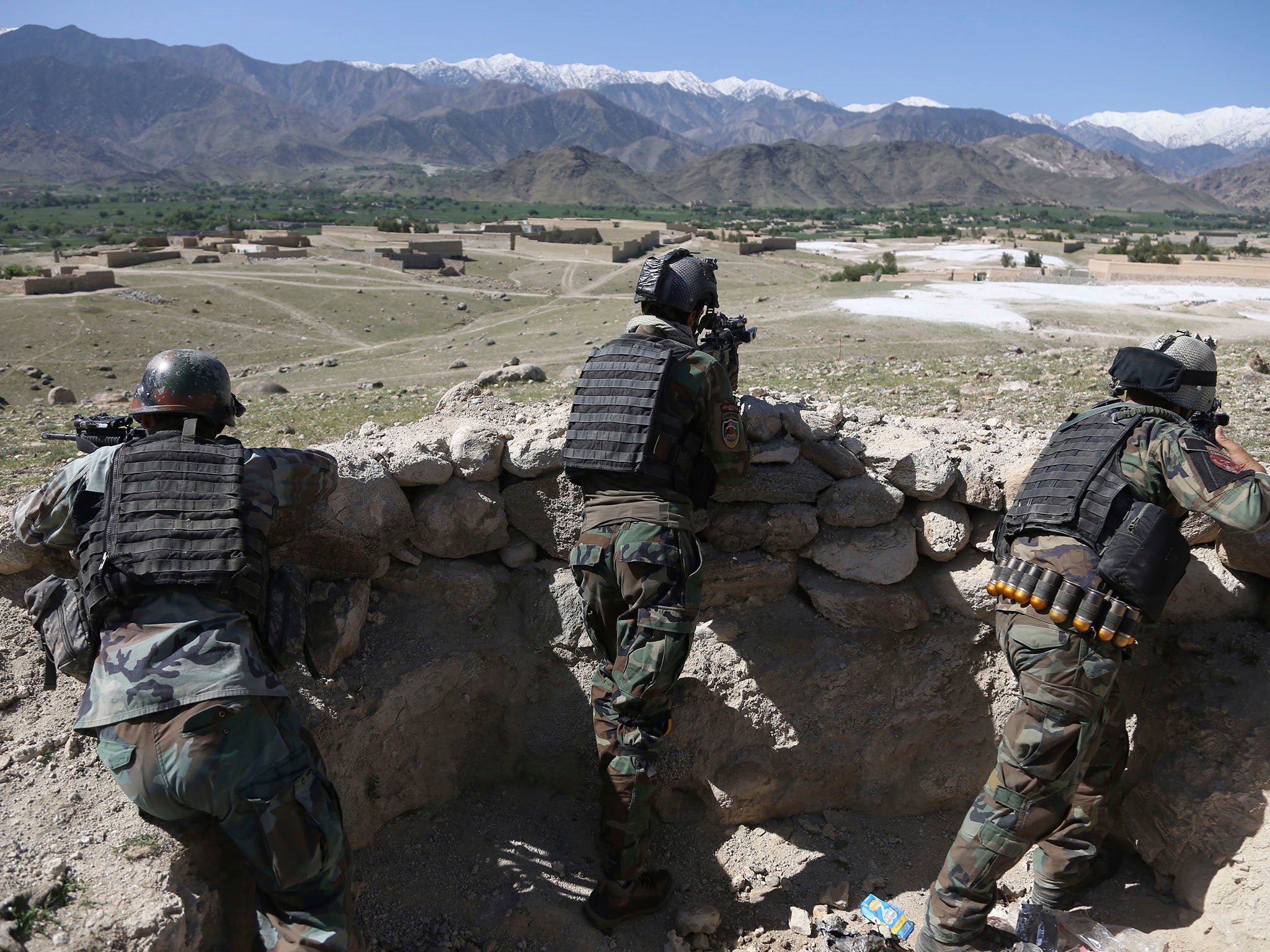 At least 94 Isis militants have been killed in an attack that saw the US military drop the largest non-nuclear weapon it has ever used in combat, Afghan officials say.
Ataullah Khogyani, spokesman for the provincial governor in Nangarhar, where the bomb fell, said the number of Isis members dead was up from the 36 reported a day earlier.
"Fortunately, there is no report of civilians being killed in the attack," Mr Khogyani said.
The US dropped the GBU-43 massive ordnance air blast, also known as the "mother of all bombs" – or MOAB, for short – on an area of eastern Afghanistan known to be populated by Isis militants.
The Pentagon said the strike was the first time the 21,000lb weapon had been used in combat operations.
The ordnance was aimed at a tunnel complex in the remote eastern Nangarhar province near the Pakistan border, where it is believed to have killed at least four Isis leaders, Mr Khogyani said.
He said a clearance operation to assess the site of the attack was still under way.
Yesterday, the US commander in Afghanistan said the bomb had "achieved its intended purpose".
"This weapon was used against Isis-K and their sanctuary inside Afghanistan," General John Nicholson, commander of Nato forces, told reporters.
"The purpose of this operation was to eliminate their sanctuary inside Southern Nangarhar... The weapon achieved its intended purpose."
Isis released a statement on Friday denying that any of its fighters were killed or injured by the massive bomb.
The MOAB is a GPS-guided munition that had not been used in combat since its first test in 2003, when its blast created a mushroom cloud that could be seen from 20 miles (32km) away.
World news in pictures
Show all 50
The bomb's power is equivalent to 11 tonnes of explosives – which can be compared to the 15,000 and 20,000 tonnes of TNT packed into the atomic bombs dropped on Japan at the end of the Second World War.
The office of Afghanistan President Ashraf Ghani said on Friday there was "close coordination" between the US military and the Afghan government on the MOAB operation and that they worked carefully to prevent any civilian casualties.
The US government estimates there are at least 600 to 800 Isis fighters in Afghanistan – and that most are in Nangarhar.
The US has concentrated on fighting them, while also supporting Afghan forces against the Taliban.
The MOAB strike came as US President Donald Trump gets ready to dispatch his first high-level delegation to Kabul, amid uncertainty around his future plans for American troops stationed in Afghanistan.
More than 8,000 US troops are still in the country training local forces and conducting counter-terrorism operations.
Additional reporting by AP
Join our commenting forum
Join thought-provoking conversations, follow other Independent readers and see their replies