As deaths in Afghanistan rise, so does the growth of opium
The Taliban, bankrolled by drugs production, have the upper hand over coalition forces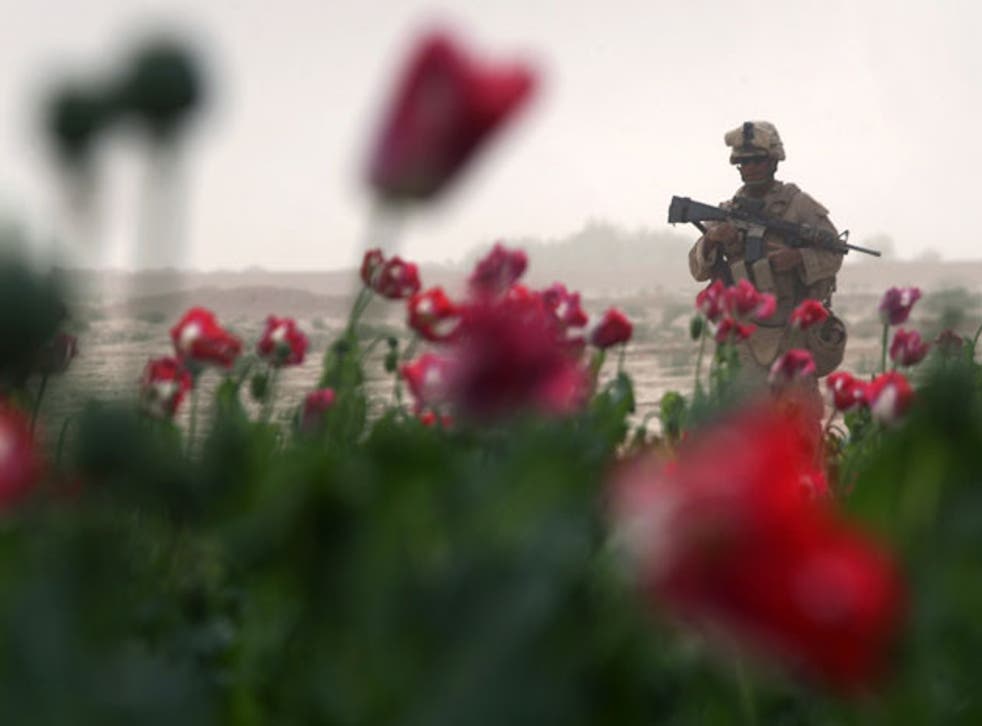 Attacks on coalition forces in Afghanistan are at record levels and threaten to derail efforts to rebuild the war-torn country, while an unholy alliance of Taliban drug dealers and corrupt government officials has made a mockery of coalition forces' attempts to stem the export of heroin.
The findings, from new reports looking at the current situation in Afghanistan, highlight key areas in which, contrary to the assurances of Western military leaders, the war is being lost.
A series of secret Government documents have also laid bare the "appalling" errors that contributed to Britain's failure in Iraq. On the eve of the Chilcot Inquiry into the operation to remove Saddam Hussein, The Sunday Telegraph claimed it had hundreds of pages of documents setting out "significant shortcomings" at all levels of the mission.
The papers are believed to reveal that Tony Blair was planning for an invasion more than a year before it took place, and detail supply problems which left some troops going into action with only five bullets each, while others had to travel to the war-zone on commercial airlines.
In Afghanistan, there were nearly 13,000 attacks between January and the end of August this year – more than two-and-a-half times the number experienced during the same period last year and a fivefold increase on the total in 2005. "The most recent data available, as of August 2009, showed the highest rate of enemy-initiated attacks since Afghanistan's security situation began to deteriorate," according to a new study published by the US Government Accountability Office this month.
The ferocity of the fighting has seen almost 100 British service personnel killed and more than 400 wounded since the start of this year. According to the report, distributed to the US Congress and senior Pentagon officials, security has "deteriorated significantly" since 2005, "affecting all aspects of US and allied reconstruction". A resurgent Taliban, weak Afghan security forces, a thriving drug trade and threats from safe havens in Pakistan are all cited as factors.
The worsening situation is resulting in reconstruction projects being delayed or abandoned. In some areas, supplies cannot be transported by road and have to be flown in. Colonel Richard Kemp, a former commander of British forces in Afghanistan, said yesterday: "Since 2006 we've seen increasing Taliban action. The situation has got worse. We're finding it hard to do much more than just hold the situation."
The conflict has cost the lives of 235 British troops since they were sent on what was supposed to be a short-term mission in 2001. After months of prevarication, Prime Minister Gordon Brown recently committed 500 extra troops in response to calls by army commanders for more "boots on the ground". But the US President, Barack Obama, is yet to decide on General Stanley McChrystal's call for another 40,000 troops.
Two weeks ago, The Independent on Sunday became the first national British newspaper to call for British troops to be pulled out from a war that is "ill-conceived, unwinnable and counterproductive". This stance is mirrored by public opinion: a ComRes poll for the IoS had 71 per cent agreeing that there should be a phased withdrawal.
The opium issue remains a central part of the Government's argument for Britain's presence in Afghanistan. But the war on drugs is failing, with Afghanistan now holding a virtual monopoly on the world's opium supply in a trade that is "a well-funded threat to the health of nations" and has flourished due to "benign neglect, incompetence and corruption", according to the latest report on the drug problem in Afghanistan by the UN Office on Drugs and Crime (UNODC).
It reveals that opium production – which is bankrolling the efforts of the Taliban – has rocketed from 200 tons in 1980 to 6,900 tons in 2009. During that time, Afghanistan's share of the world market has risen from 20 per cent to more than 90 per cent.
Distinctions between the Taliban, crime gangs and corrupt government officials "have become blurry", said Antonio Maria Costa, the executive director of UNODC. "The Afghan drug economy generates several hundred million dollars per year into evil hands – some with black turbans, others with white collars," he said.
This will not be easy. One-and-a-half million Afghans are involved in growing opium, according to the Afghan government. The problem is exacerbated by efforts to improve the lot of farmers that end up helping opium growers, said Col Kemp. "If you have irrigation projects that help farmers to grow legitimate crops, they are also using that same land at other times of year to grow opium."
Join our new commenting forum
Join thought-provoking conversations, follow other Independent readers and see their replies