Attack on workers by 'cow vigilantes' spark clashes in India
Demonstrations across Gujarat state after attack on four Dalit villagers accused of skinning a cow
Rupam Jain
Delhi
Wednesday 20 July 2016 16:31 Comments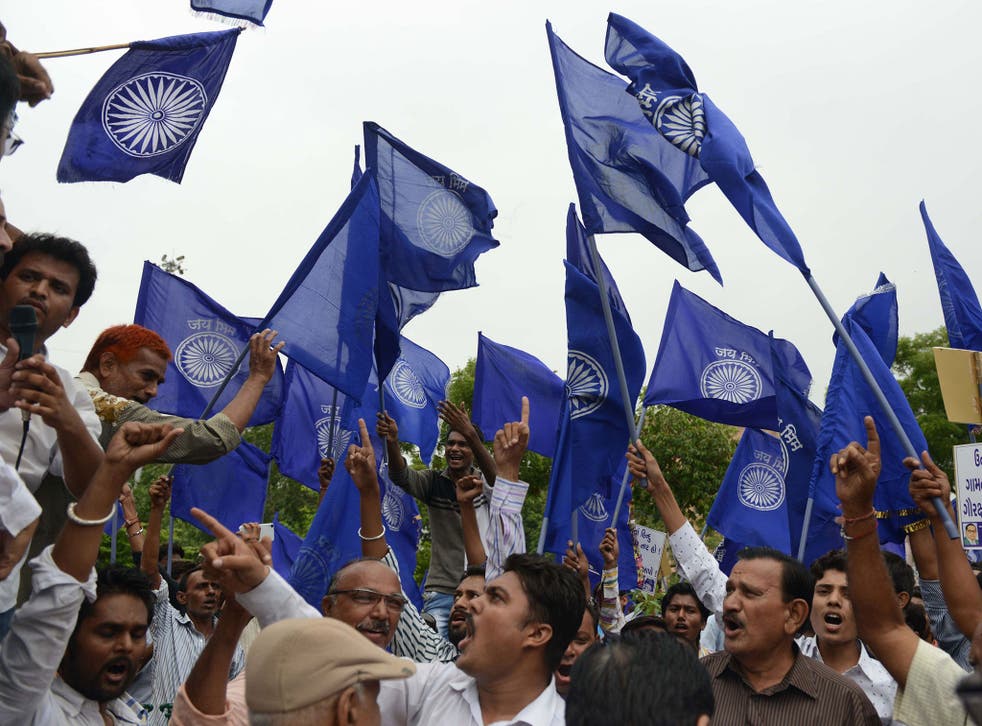 Protesters from India's low-caste community attacked government buses and blocked roads in Prime Minister Narendra Modi's home state on Wednesday in demonstrations over the flogging of four men accused of skinning a cow.
The four members of the Dalit community were last week tied to a car in Gujarat state, stripped and flogged with sticks by self-styled hardline Hindu cow protectors who then published a video of the attack as a "warning" to others.
Hindus consider cows to be sacred, and the slaughter of cows is banned in many parts of India, including Gujarat, where Mr Modi ruled as chief minister for a decade and spearheaded a 2011 ban. Dalits usually carry out undesirable tasks such as skinning dead animals, and many work in tanneries and in the leather industry.
The four men who were attacked by vigilantes in Una town last week worked in a tannery. In the video, they were seen pleading that they were tannery workers who were only skinning the dead animal. Dalits in the state say they earn their livelihood from skinning cows that die naturally, buffalos and other animals, and vowed to fight anyone trying to stop them from doing so.
"We are the poorest but we are not cowards," Mayur Dabhia, a leader of the Dalit campaign group in Ahmedabad.
The beatings sparked the most serious protests by Gujarati Dalits in years, with seven youths trying to kill themselves in protest by taking pesticide in different parts of the state, an act that further inflamed emotions.
A police officer was killed on Tuesday during clashes in Una, 210 miles from Gujarat's main city, Ahmedabad, where the tannery workers were attacked.
Dalits are at the bottom of India's ages-old social hierarchy, making them vulnerable to attacks perpetrated by self-styled cow-protecting vigilantes.The vigilantes chase trucks transporting cattle and raid slaughter houses.
Several people accused of eating beef have also been attacked, including a Muslim man who was last year beaten to death by a mob in a town near Delhi.
India's Parliament was in an uproar on Wednesday over the attacks, with MPs from the opposition parties shouting slogans while accusing Mr Modi's government and his Bharatiya Janata Party (BJP) of failing to protect the Dalits.
Home Minister Rajnath Singh told MPs that the victims were attacked by a group of men who hit them with metal pipes and wooden rods. Mr Singh said nine people involved in the attack had been arrested.
On Tuesday, Gujarat's top elected official, Chief Minister Anandiben Patel, promised that her government would take strict action against those involved in the attack. Four police officers who failed to take action have been suspended for dereliction of duty, she said.
Several towns in Gujarat have been rocked by protests since last week's beating incident. "Dalits are being oppressed in Gujarat and we have to raise our voices to get the government to act," said Derek O'Brien, an MP from West Bengal state. "This is an organised crime that is happening in Gujarat."
Although caste discrimination was banned soon after India's independence from Britain in 1947, the practice persists. Successive governments have set quotas for jobs and university spots to level out disadvantages faced by lower castes, but it has been difficult to change social attitudes.
In Parliament, Mr Singh condemned the attacks and called on all political parties to help end discrimination against Dalits.
"Atrocities against Dalits are a social evil," he said. "I appeal to all political parties to take this as a challenge and wipe out this problem."
Reuters with Associated Press
Register for free to continue reading
Registration is a free and easy way to support our truly independent journalism
By registering, you will also enjoy limited access to Premium articles, exclusive newsletters, commenting, and virtual events with our leading journalists
Already have an account? sign in
Join our new commenting forum
Join thought-provoking conversations, follow other Independent readers and see their replies