Amnesty strips Aung San Suu Kyi of human rights award for 'shameful betrayal of values' in Myanmar
'We are profoundly dismayed that you no longer represent a symbol of hope, courage, and the undying defence of human rights,' group tells Myanmar's civilian leader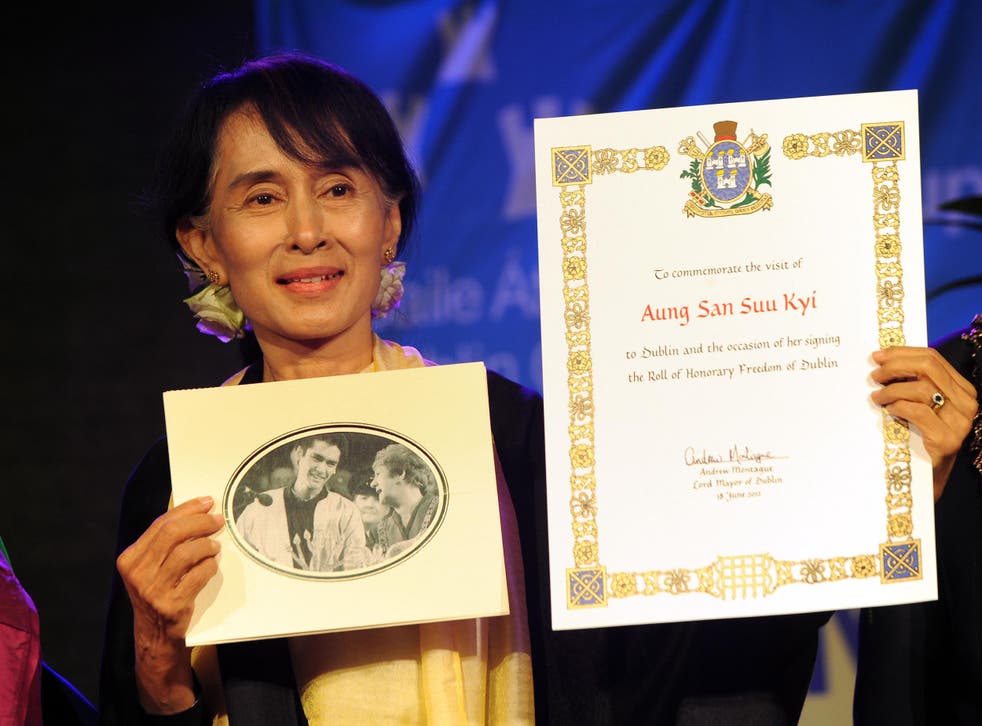 Amnesty International has announced it is stripping Aung San Suu Kyi of a prestigious human rights award over her "shameful betrayal of the values she once stood for".
The Ambassador of Conscience Award is the latest in a series of accolades to be withdrawn from Myanmar's de facto leader, who has been criticised for failing to intervene to stop a campaign of violence against the country's Rohingya Muslims.
Amnesty said it was withdrawing the award "with great sadness" because of Ms Suu Kyi's "apparent indifference to atrocities committed by the Myanmar military and increasing intolerance of freedom of expression".
While living under house arrest in 2009, Ms Suu Kyi was named as Amnesty's Ambassador of Conscience "in recognition of her peaceful and non-violent struggle for democracy and human rights".
Interview with Keya, who is working in Cox's Bazar refugee camp where Rohingya people are living in temporary shelter
But now, half way through her term in office and eight years after being released from custody, Amnesty said it was disappointed she had not safeguarded human rights, justice or equality in Myanmar.
The secretary general of the human rights group Kumi Naidoo said in a letter to Ms Suu Kyi: "Our expectation was that you would continue to use your moral authority to speak out against injustice wherever you saw it, not least within Myanmar itself.
"Today, we are profoundly dismayed that you no longer represent a symbol of hope, courage, and the undying defence of human rights."
He continued: "Amnesty International cannot justify your continued status as a recipient of the Ambassador of Conscience award and so with great sadness we are hereby withdrawing it from you."
Amnesty has been a vocal critic of Ms Suu Kyi, and has previously accused her of failing to speak out about military atrocities committed against the Rohingya population in the country's Rakhine state.
The Rohingya have been persecuted in the former British colony for decades, with the government denying them citizenship and excluding them from the 2014 census.
Rohingya crisis one year on – Myanmar camps in pictures

Show all 30
Since a fresh wave of violence began last year, the security forces are accused of having killed thousands, raping women and girls, detaining and torturing men and boys, and razing hundreds of homes to the ground in what a UN fact-finding mission has called it a textbook example of ethnic cleansing.
More than 720,000 Rohingya have fled over the border to Bangladesh, but the government there have since struck a deal with Myanmar to send them back.
Mr Naidoo wrote: "Aung San Suu Kyi's failure to speak out for the Rohingya is one reason why we can no longer justify her status as an Ambassador of Conscience.
"Her denial of the gravity and scale of the atrocities means there is little prospect of the situation improving for the hundreds of thousands of Rohingya living in limbo in Bangladesh or for the hundreds of thousands of Rohingya who remain in Rakhine State.
"Without acknowledgement of the horrific crimes against the community, it is hard to see how the government can take steps to protect them from future atrocities."
Ms Suu Kyi has also been stripped of the US Holocaust Museum's Elie Weisel award and Freedom of the City awards, which were withdrawn by Dublin, Edinburgh, Oxford, Glasgow and Newcastle.
Join our new commenting forum
Join thought-provoking conversations, follow other Independent readers and see their replies