Lawyers for Rohingya community want to prosecute Myanmar leader Aung San Suu Kyi for crimes against humanity
The application requires the approval of the attorney general of Australia
Peter Stubley
Saturday 17 March 2018 17:15 Comments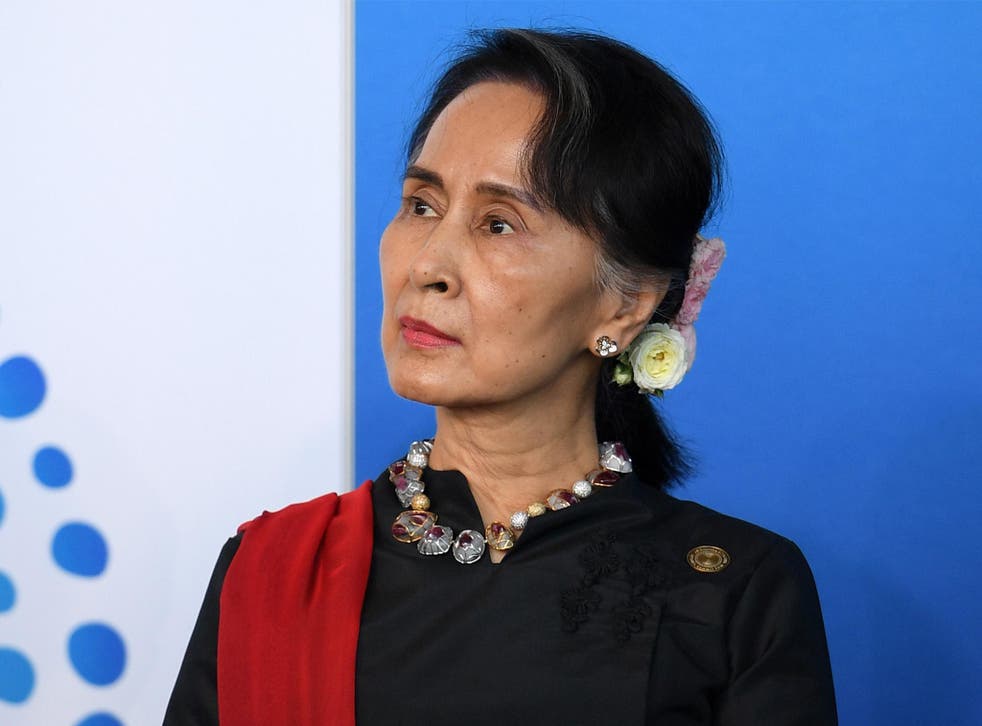 Nobel laureate Aung San Suu Kyi faces an attempt to privately prosecute her in Australia for crimes against humanity.
Lawyers lodged an application at a court in Melbourne to charge the 72-year-old civil leader of Myanmar with forcing more than 650,000 Rohingya Muslims out of their homes.
The prosecution - which requires the consent of the Attorney General to go ahead - alleges Ms Suu Kui is criminally responsible for the military attacks on the Rohingya since 25 August last year.
Ms Suu Kyi is in Australia to attend a three-day summit of the Association of South East Asian Nations (ASEAN) which has been marked by protests against the regimes of Myanmar and Cambodia.
Australian Prime Minister Malcolm Turnbull has said he will raise the issue of Rohingya persecution with Ms Suu Kyi, who has been widely criticised for failing to address allegations of ethnic cleansing.
The application for a private prosecution was filed in Melbourne Magistrates Court on Friday by solicitor Daniel Taylor, who represents members of the Rohingya community in Australia.
"Forces under her effective authority and control attacked the Rohingya population, forcing them to flee," according to the charge sheet.
"She failed to take all necessary and reasonable steps within her power to prevent or repress the actions of those forces, or to submit the matter to any competent authority for investigation and prosecution."
The military are said to have burnt villages, gang-raped women and murdered babies in response to attacks on Burmese border posts.
In a statement, the legal team behind the application said: "The Australian Rohingyan community have requested legal advocates to petition the Australian Attorney-General, the Hon. Christian Porter, to bring a prosecution against Daw Aung San Suu Kyi for the crime against humanity of deportation and forcible transfer of population.
"Widespread and credible eyewitness reports tell of extensive and systematic crimes against the Muslim Rohingyan population by the Myanmar security forces, including extra-judicial killings, disappearances, violence, rape, unlawful detention, and destruction of property and whole villages. Ms Kyi has denied these events have occurred.
"Governments from around the world have condemned the Myanmar Government and its security forces, as well as Ms Kyi, for these crimes which have been equated to ethnic cleansing.
"The Rohingya are effectively stateless (despite being indigenous to Myanmar), and have been denied citizenship rights including the right to register births, to hold a passport, to medical treatment, to attend school and own property."
Leading barrister Ron Merkel QC is working on the legal bid with Mr Taylor and Alison Battison, a solicitor from law firm Human Rights for All.
Ms Battison described it as a "text book case of crimes against humanity" based on Australia's universal jurisdiction under the Criminal Code Act 1995.
World news in pictures

Show all 50
A spokesman for the attorney general Christian Porter said Ms Suu Kyi had "complete immunity" from prosecution.
"Under customary international law, heads of state, heads of government and ministers of foreign affairs are immune from foreign criminal proceedings and are inviolable," he said.
"They cannot be arrested, detained or be served with court proceedings."
Register for free to continue reading
Registration is a free and easy way to support our truly independent journalism
By registering, you will also enjoy limited access to Premium articles, exclusive newsletters, commenting, and virtual events with our leading journalists
Already have an account? sign in
Join our new commenting forum
Join thought-provoking conversations, follow other Independent readers and see their replies