Aung San Suu Kyi 'should have resigned' over Rohingya Muslim genocide, says UN human rights chief
'She was in a position to do something,' says Zeid​ Ra'ad al-Hussein. 'There was no need for her to be the spokesperson of the Burmese military'
Chris Baynes
Thursday 30 August 2018 15:44 Comments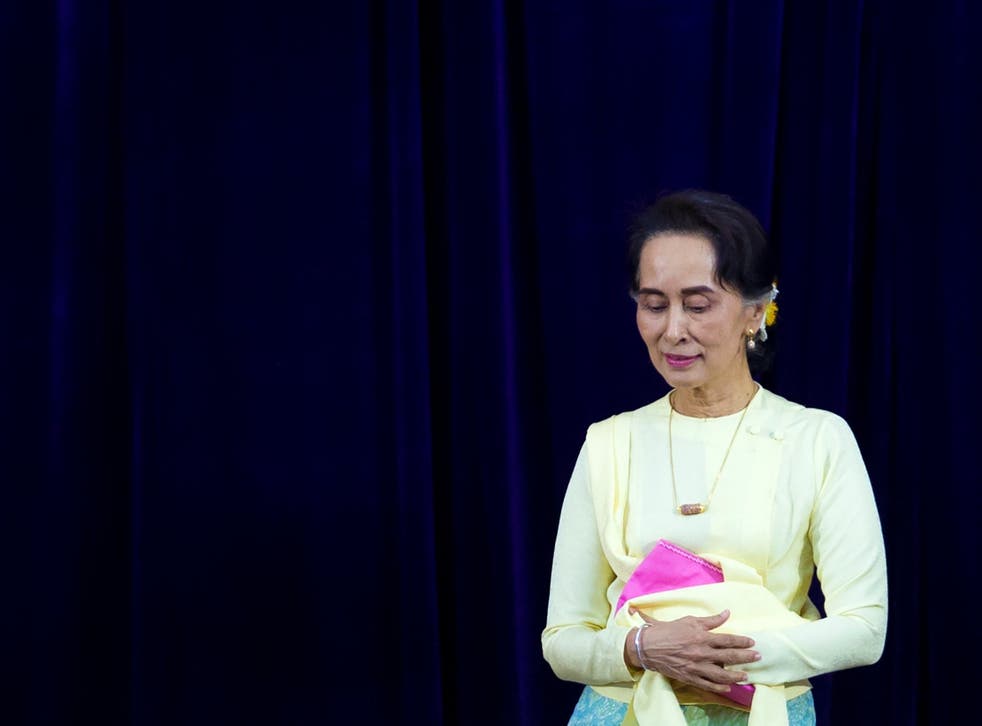 Aung San Suu Kyi should have resigned as Myanmar's de-facto leader over the army's mass killings of Rohingya Muslims, the UN's human rights chief has said.
Zeid Ra'ad al-Hussein said the Nobel Peace prize winner should have risked returning to house arrest rather than being a "spokesperson of the Burmese military".
His comments come after the Nobel committee said Ms Suu Kyi would not be stripped of the prize she was awarded in 1991 for campaigning for democracy, despite a UN report concluding Myanmar's army had carried out genocide against the Rohingya people.
The Buddhist-majority country's military, which has been accused of systematic ethnic cleansing, has rejected the report.
Ms Suu Kyi last year claimed an "iceberg of misinformation" was fuelling allegations of Rohingya persecution.
Her silence over the mass killings has previously been likened by researchers to "legitimising genocide".
"She was in a position to do something," Mr Hussein told the BBC. "She could have stayed quiet – or even better, she could have resigned.
"There was no need for her to be the spokesperson of the Burmese military. She didn't have to say this was 'an iceberg of misinformation'. These were fabrications.
"She could have said, 'Look, you know, I am prepared to be the nominal leader of the country but not under these conditions.
"Thank you very much, I will resign, I will go back into house arrest – I cannot be an adjunct accessory that others may think I am when it comes to these violations'."
Ms Suu Kyi spent 15 years under house arrest because of her campaign to bring democracy to Myanmar, which was ruled by a military junta for 49 years.
Her efforts made her an international symbol of courage and peaceful resistance to oppression, and following her release she led the National League for Democracy to victory in 2015, in the nation's first openly contested election for decades.
But she has been strongly criticised for failing to speak out against the persecution of Rohingya, more than 700,000 of whom have fled the Myanmar's Rakhine state for neighbouring Bangladesh since the military began a violent persecution of the ethnic minority in late 2016.
Rohingya crisis one year on – Myanmar camps in pictures

Show all 30
Ms Suu Kyi is yet to publicly comment on a UN Human Rights Council declaration on Monday that Myanmar's army had committed genocide against the nation's Rohingya.
In the damning final report of a UN fact-finding mission, investigators said Myanmar's commander-in-chief and five other named generals should face prosecution for crimes against humanity and war crimes.
Myanmar's government has dismissed the report, accusing the international community of "false allegations", and said its army had been responding to a legitimate threat from Rohingya militants.
"Our stance is clear and I want to say sharply that we don't accept any resolutions conducted by the Human Rights Council," Zaw Htay, the government spokesman, said.
He suggested the UN's conclusions could not be trusted because Myanmar had blocked investigators from entering the country.
Register for free to continue reading
Registration is a free and easy way to support our truly independent journalism
By registering, you will also enjoy limited access to Premium articles, exclusive newsletters, commenting, and virtual events with our leading journalists
Already have an account? sign in
Join our new commenting forum
Join thought-provoking conversations, follow other Independent readers and see their replies