Bangladesh murders: Hindu monastery worker hacked to death
Police are investigating but the attack has not yet been confirmed as Islamist related
Will Worley
Friday 10 June 2016 12:55 Comments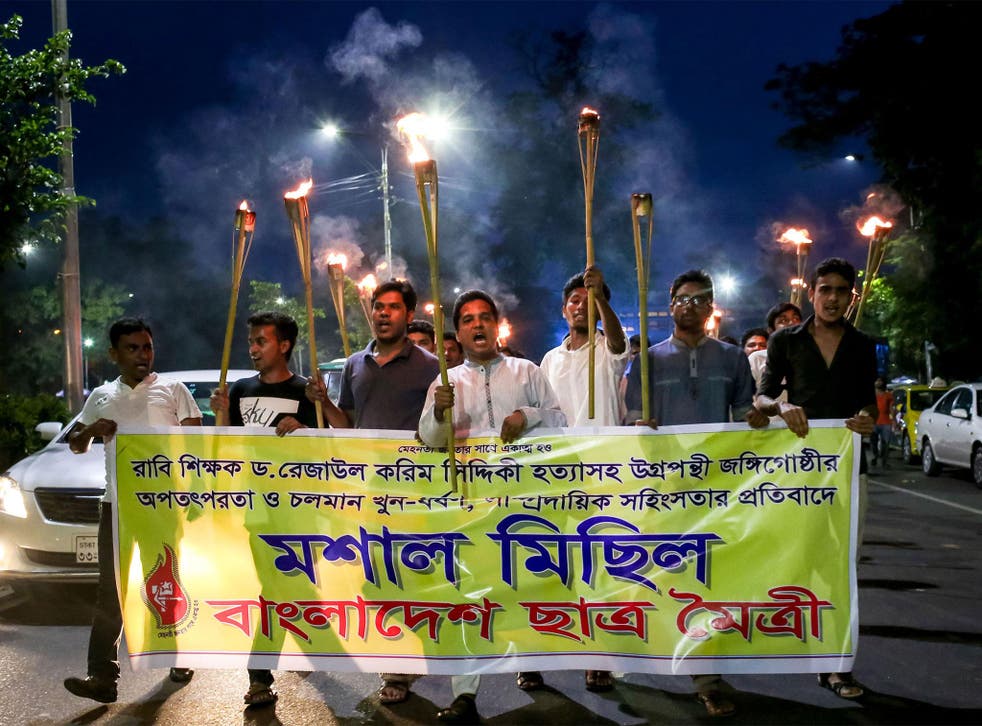 A Hindu monastery worker has been hacked to death in Bangladesh, in what is apparently the latest attack in a series of targeted killings on religious minorities and liberal-leaning activists.
Nityaranjan Pande, a resident of the Thakur Anukul Chandra Satsanga Paramtirtha Hemayetpurdham ashram, was murdered on Friday as he took his regular morning stroll in the northwestern district of Pabna.
"As a diabetic, every day he walked early in the morning. Today as he was walking, several attackers hacked him in the neck... He died on the spot," Abdullah Al-Hasan, a local police station chief, told AFP news agency.
"He lived here for a long time," Naresh Madhu, a local NGO worker, told bdnews24.com. "He became one of us. He was a simple man. He had no enemies."
Police are still investigating the murder, which has not yet been confirmed as Islamist-related and no one has yet claimed responsibility.
Almost 50 people, ranging from Shia Muslims to gay rights activists, have been killed by suspected Islamist extremists in Bangladesh the last three years – many hacked to death.
Several days earlier, another Hindu was also murdered, in an attack which has been blamed on Islamist militants, in the Jhenaidah district. Ananda Gopal Ganguly, 70, a priest, was found almost decapitated in a field near his place of worship. Militant group Isis later claimed responsibility but the government later said domestic extremists were responsible for the attack.
World news in pictures

Show all 50
Some have claimed the attacks are linked to local politics, rather than international terrorism, after disputes between local political parties have become more intense.
Bangladesh is a Muslim-majority country but Hindus compromise up to 10 per cent of the population.
Register for free to continue reading
Registration is a free and easy way to support our truly independent journalism
By registering, you will also enjoy limited access to Premium articles, exclusive newsletters, commenting, and virtual events with our leading journalists
Already have an account? sign in
Join our new commenting forum
Join thought-provoking conversations, follow other Independent readers and see their replies