Bangladesh flies in emergency shipments of onions after fury over shortages
Country's largest opposition party calling for nationwide protests over record prices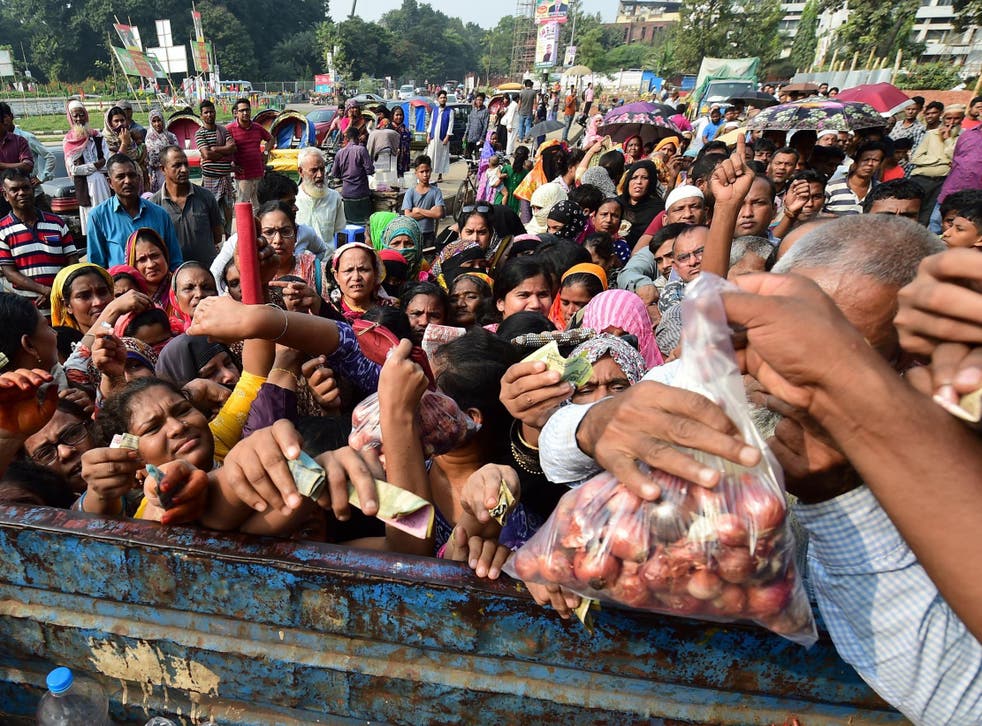 Bangladesh is having emergency supplies of onions flown-in amid a national shortage which has seen prices rise to record levels, with the prime minister claiming she has even been forced to stop eating the vegetable.
The cost of the staple cooking ingredient rocketed after neighbouring India imposed a ban on exports following drought and heavy monsoon rains which reduced the country's own stock levels.
People in Bangladesh have since struggled to afford the bulb, prompting the country's largest opposition party to call for national protests over the high prices, which they blame on the government.
Such is the centrality of the vegetable to daily cooking habits in South Asia that shortages have been known to trigger political fallouts and widespread discontent within the region.
A kilo of onions usually costs 30 taka (27p) but has risen to 260 taka (£2.37) after India's ban was enforced.
World news in pictures

Show all 50
Hasan Jahid Tusher, the deputy press secretary for prime minister Sheikh Hasina, said onions were being imported in planeloads, and that the "prime minister said she has stopped using onion in dishes".
None of the dishes at the PM's residence in the capital Dhaka on Saturday contained onions, he added.
Local media reported several onion consignments arrived at a major port in Chittagong city on Sunday after the government imported the bulb from Myanmar, Turkey, China and Egypt.
The state-run Trading Corporation of Bangladesh (TCB) is also selling the vegetable at a discounted price of 45 taka per kilo in Dhaka, with long queues forming to purchase the subsidised onions.
"Even if I have to stand another two hours, I will do that. I can save some 250 taka by buying one kilo of TCB onion. I am standing here because I have to save money," one English teacher told AFP.
"I am 41 years old. I have never seen onion prices ever crossing beyond 120 taka."
India's first onion harvest was hit by drought in the spring before heavy monsoon rains affected the second crop. In a bid to curb its own rising prices, the country last week said it would be importing 100,000 tons of onions.
Additional reporting by agencies.
Join our new commenting forum
Join thought-provoking conversations, follow other Independent readers and see their replies