Bangladesh struggles to cope with influx of Rohingya Muslim refugees fleeing brutal crackdown in Burma
Approximately 18,500 persecuted minority living in squalid camps in neighbouring state after suffering government-sponsored violence in homeland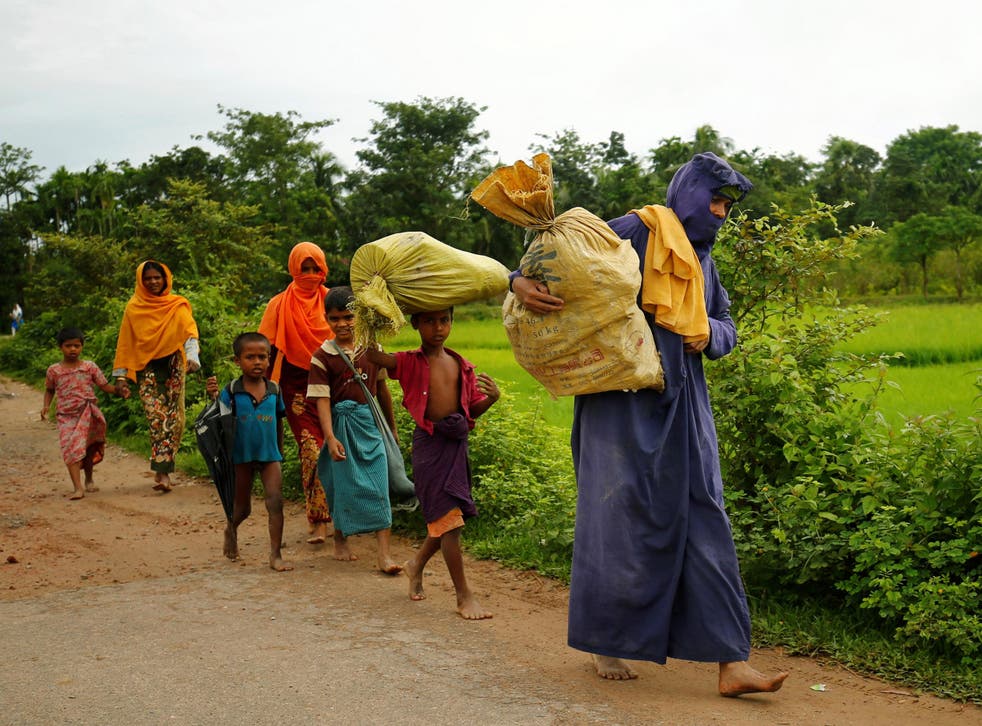 In recent days, thousands of Rohingya Muslims in Burma, have made their way to neighbouring Bangladesh, fleeing an aggressive Burmese military campaign that ravaged dozens of villages in the country's restive state of Rakhine. An official from the International Organisation for Migration told reporters at least 18,500 Rohingya refugees have crossed the border in the past six days, joining the nearly 400,000 Rohingya already housed in squalid camps in Bangladesh.
The Rohingya are quite simply one of the most helpless and forsaken peoples of the world. An ethnic minority disdained by the Burmese public and ignored by the Burmese government, the Rohingya do not have full citizenship rights. About 1.1 million Rohingya live in apartheid-like conditions in northern Rakhine. They need to seek official permission to marry or even travel outside their villages.
Despite the fact that the vast majority of Rohingya families have called Rakhine home for generations, the government views them as "Bengali" interlopers from across the border. Bangladeshi authorities, meanwhile, have struggled to cope with the influx, frequently turn away Rohingya civilians seeking entry and do not view them as formal refugees.
Though international attention falls on them from time to time, the Rohingya remain bureaucratically stateless, persecuted at home and unloved abroad. In 2009, a UN spokeswoman even described the Rohingya as "probably the most friendless people in the world."
The most recent exodus to Bangladesh follows an upsurge in violence in Rakhine. Last week, militants from the Arakan Rohingya Salvation Army (ARSA), an insurgent group allegedly formed by Rohingya living in Saudi Arabia, launched a brazen string of attacks on police posts and sought to break into a military base. Since then, government forces have embarked on a widespread crackdown that led to reports of extrajudicial executions of civilians.
Media access is strictly curtailed in Rakhine, so it's hard to obtain clear accounts of what's taking place. Burmese authorities claimed at least 77 militants, 12 members of the security forces and 14 civilians have been killed since last week. But it's likely the death toll, particularly that of slain civilians, is higher.
Aid workers have told horror stories of desperate refugees staggering to safety despite bullet wounds and burn injuries. Others report rapes and beatings carried out by the Burmese army, which has reportedly set fire to thousands of Rohingya homes as it seeks to flush out the militants.
Analysing satellite imagery, Human Rights Watch documented at least ten areas over a 100 km stretch of land in Rakhine where massive fires are blazing. It noted a similar phenomenon from October to November 2016, the last time major violence flared in the region, triggering an exodus of some 87,000 Rohingya refugees to Bangladesh. A UN official at the time described government reprisals as acts tantamount to ethnic cleansing.
Burmese authorities attribute the fires to the work of "extremist terrorists." Others are less convinced. "Shuffling all the blame on insurgents doesn't spare the Burmese government from its international obligations to stop abuses and investigate alleged violations," said Phil Robertson, Human Rights Watch's Asia director, in a statement.
In Burma- a fractious, underdeveloped, multiethnic country that is home to numerous insurgencies - the Rohingya occupy a special status of neglect and abuse. Over the past decade, the world has seen waves of Rohingya attempting to flee Burma. They have often met grisly fates at the hands of human traffickers and even the coastguards of other nations.
But their struggles generate little sympathy among the majority-Buddhist Burmese population. A round of communal violence in various parts of the country in 2012 cemented widespread anti-Muslim feeling, which was in part stoked by a coterie of ultra-nationalist monks.
The most notorious among them is a saffron-robed cleric named Ashin Wirathu, whose anti-Muslim vitriol is so pronounced it earned him a spot on a Time magazine cover in 2013, with the caption "The Face of Buddhist Terror." On Wednesday, Wirathu appeared before hundreds of Burmese nationalists rallying in the country's largest city, Rangoon, and called for strong military action against the Rohingya for their alleged collusion with extremist groups.
"Only the military's commander in chief can protect the lives and the properties of the people," Wirathu said. "The military is the only one that can give a lesson to tame the Bengali terrorists."
Burma's civilian leaders, including the country's acclaimed Nobel Laureate Aung San Suu Kyi, are barely more sympathetic. Suu Kyi, celebrated for her role in fighting for democratic rights in Burma, has remained conspicuously insensitive to Rohingya grievances. In repeated statements, her office has sought to downplay both the extent of the abuses facing the persecuted minority and accused aid groups and international organisations of exaggerating the scale of the crisis.
Just last week, a commission led by former UN secretary general Kofi Annan filed a report urging the Burmese government to restore citizenship rights to the Rohingya, which were stripped by the military regime in 1982. It's hard to imagine that Suu Kyi, eager not to rock the boat with Burma's long-meddling military, would accede to that demand.
"The current crisis was neither unpredicted nor unpreventable," noted a statement by the International Crisis Group. "The anti-Muslim violence of 2012, and the emergence of the new insurgent group last year were both clear signals that the volatile dynamics of Rakhine state urgently need a political, not just a security, response to address the concerns of all communities in the state."
If that doesn't happen, both the plight of the Rohingya and that of the Burmese state may get worse.
Rohingya mothers face persecution

Show all 10
"There is no evidence that ARSA's goals or members support a transnational jihadist agenda, despite indications that the group may have received some training from members of such outfits. That will not stop those who resent all Muslim groups and grievances from characterising it as such," wrote the Crisis Group, warning of further polarisation. "On the other side, another harsh military response and the continued displacement of scores of thousands to camps in Bangladesh will create conditions ripe for exploitation by transnational jihadists."
The Washington Post
Register for free to continue reading
Registration is a free and easy way to support our truly independent journalism
By registering, you will also enjoy limited access to Premium articles, exclusive newsletters, commenting, and virtual events with our leading journalists
Already have an account? sign in
Register for free to continue reading
Registration is a free and easy way to support our truly independent journalism
By registering, you will also enjoy limited access to Premium articles, exclusive newsletters, commenting, and virtual events with our leading journalists
Already have an account? sign in
Join our new commenting forum
Join thought-provoking conversations, follow other Independent readers and see their replies