Beijing issues smog warning as scientists say pollution 'cuts life expectancy by 15 years'
Experts say air pollution levels are 20 times higher than maximum recommended by World Health Organisation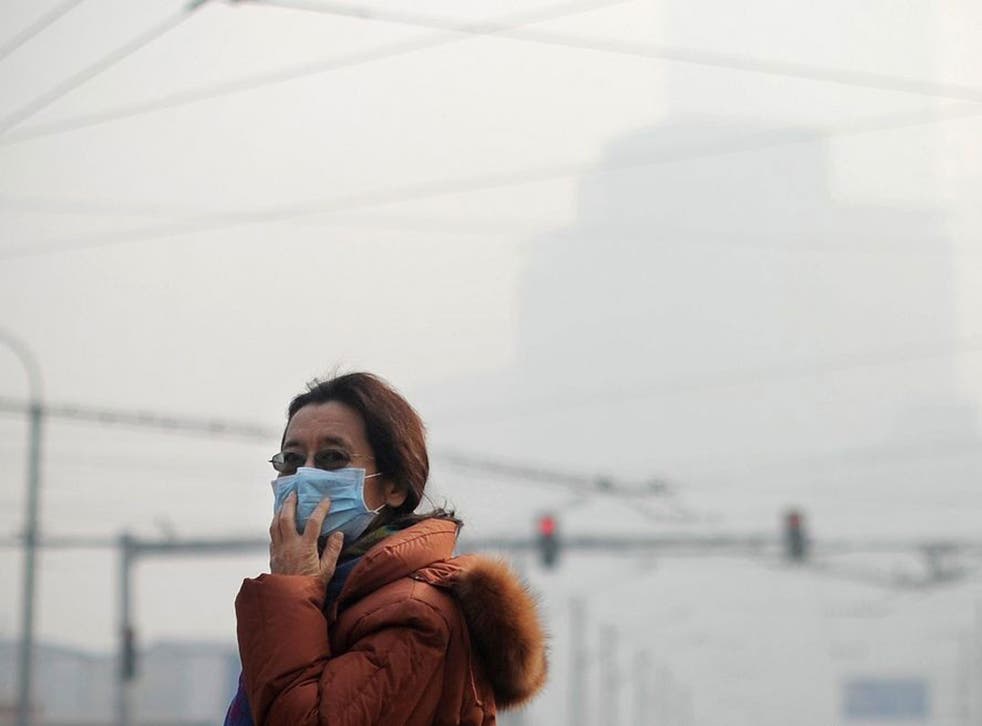 The thick smog engulfing China's capital, Beijing, has been found to reduce residents' life expectancy by an average 15 years, and the city's authorities have ordered people to take immediate protective action.
According to a study published in the British Medical Journal (BMJ), air pollution in Beijing has had "significant effects" on the lifespan of the city's residents.
Visibility in the city reduced to no more than a few hundred yards on Thursday, officials said, as pollution particle readings jumped to more than 20 times the safe limit recommended by the World Health Organisation (WHO).
Beijing's authorities issued guidelines advising children and the elderly to stay indoors, and telling those going to work to wear protective masks.
The WHO recommends that readings of the smallest pollution particles, PM2.5, should reach no more than 25 micrograms per cubic metre. A monitoring post at the US embassy recorded PM2.5 levels at 500 micrograms per cubic metre today.
In a recent study, Yuming Guo and his team of researchers cross-referenced pollutant levels for 8 urban districts in Beijing between 2004 and 2008 with deaths recorded in the same period.
The results of their tests showed that pollution levels cut the life expectancy of its citizens by between 15.1 and 16.2 years.
The BMJ explained that "the year of life lost varied depending on age, sex and other factors". It told The Independent: "Some people had their lives shortened by many, many years, others not at all, and it varied by group. The average years of life lost came out to be (around) 15."
A spokesperson for Greenpeace described this as "evidence of the truly shocking human cost China is paying for its addiction to fossil fuels".
"The country's air pollution problems are driving a silent health crisis on a massive scale, shortening the lifespan of millions and blighting the lives of many more."
The study found that women are more susceptible than men to the PM2.5, and that while older people are more likely to die from pollution, those under 65 were more likely to suffer various illnesses and adverse effects as a result of exposure.
In cities across China, concentrations of PM2.5 are well above the World Health Organisation's recommended level. In the far northeastern city of Harbin, some monitoring sites reported rates of up to 1,000 micrograms in October.
So large and dense is the country's smog that it can sometimes be viewed from outer space.
The Ministry of Environmental Protection has since announced that it is working on new regulations for pollution permits, and The Economic Observer has reported that the State will offer regional governments £1billion in cash rewards this year for cutting the smog.
At the same time, however, the State approved the construction of 15 large coal mining projects, despite claims that the coal industry is partly to blame for the country's toxic atmosphere.
That these new projects will have a coal capacity of more than 100 million tonnes, 6 times greater than a year before, contradicts earlier statements from the Chinese government that it plans to reduce its coal dependency. China's coal production is already nearly equivalent to half of the global total.
Join our new commenting forum
Join thought-provoking conversations, follow other Independent readers and see their replies