Branded a witch: As India suffers spate of attacks one victim of superstition speaks out
Bina Rabha, one of thousands of Indians accused of witchcraft, tells Leila Nathoo how superstition has destroyed her life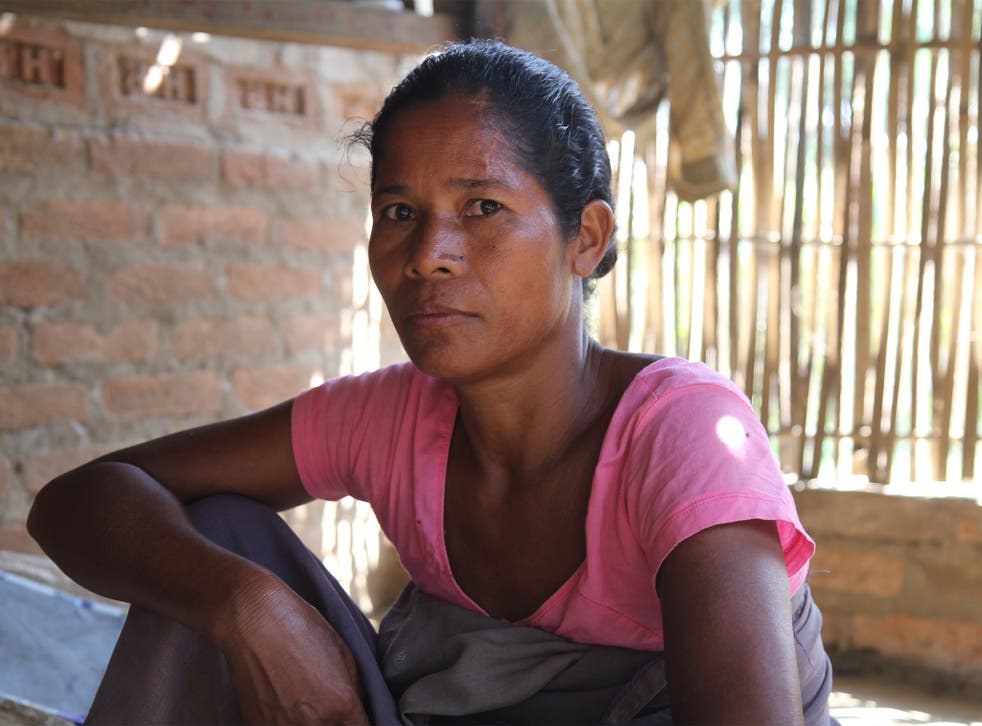 They came for her in the middle of the night. Wielding machetes and with their faces covered, the men left her for dead and killed her husband as he tried to protect her.
"I didn't do anything wrong," says Bina Rabha, a softly spoken woman in her 40s, recounting the attack two years ago at her simple home in rural Assam, in India's north east. "But despite this, we suffered," she says, pointing to scars on her forehead and arms and offering up her disfigured hands.
Like hundreds of women in isolated tribal communities across India, Bina was branded a witch – blamed for the illness of two people in her village and targeted to bring an end to their misfortune. She was lucky to survive the assault.
A recent spate of killings, including beheadings, of supposed witches has highlighted how superstition collides with violence against women in forgotten corners of Asia's third-largest economy.
More than 1,200 people have been murdered across India for allegedly practising witchcraft since 2008, according to government figures. During the same period in the fertile, tea-growing state of Assam, police registered 111 criminal cases linked to witch-hunting.
In poor, far-flung villages such as Tilapara, where Bina Rabha and others live off the land, the absence of education and health services allows age-old beliefs to flourish.
"If people have any kind of disease, or something happens to their crops, they believe some unnatural power has attacked," says Gita Rani Bhattacharya of the Assam Mahila Samata Society, which works with women in the area.
Revered traditional healers or ojhas are often instrumental in encouraging villagers to identify the witch in their midst, or singling out individuals themselves as the source of a curse.
Charges of witchcraft can also be a way of settling personal scores, in the knowledge the claim will motivate the community against the person accused.
"It is a weapon to target certain vulnerable sections of society. It is a tool to target women," says Anurita Hazarika from the North East Network, a women's rights organisation based in the state capital, Guwahati. "Superstition is just an excuse. There are personal enmities, feuds and there are also property disputes," she says.
Women who become victims of violence have usually endured years of verbal abuse and ostracisation in their villages, though there are cases that escalate rapidly. Some may never be attacked, living instead with the stigma of being branded a witch – or daini in Assamese – a label also tarnishing their family and associates.
Bina Rabha says she worries for the safety of her six young children. In June, a group again tried to break into the family's two-room home during the night, but they managed to barricade themselves inside the small hut.
After recovering from the first ambush that killed her husband, Bina reported the crime to the police, but the case came to nothing – there were no witnesses and the suspects had fled the village. When she registered a complaint after the second attempt to storm her home, police arrested two men, who are currently in jail awaiting trial.
"God will give them justice, God will punish those who attacked us," says Bina, whose indigenous tribe has incorporated elements of Hinduism into its belief system. She says she has received threats from relatives of those imprisoned, highlighting the difficulty of prising open close-knit, cut-off communities when a crime has been committed.
"Some such cases will go unreported because of remoteness, or if people really believe in such superstition, they may not think something wrong has happened," says Mukesh Sahay, a senior commander in the Assam force with 30 years' experience tackling the issue.
Mr Sahay was involved in drafting a new law, recently approved by the state government, that makes witch-hunting an offence.
It criminalises the act of calling somebody a witch, mandates rehabilitation and compensation for victims and requires police to take action to prevent witch-hunts.
Many campaigners acknowledge that only education can change mindsets.
"The law alone is not sufficient… Public education is equally, if not more, important," says Mukesh Sahay.
A few miles away from Tilapara in a neighbouring village, the Assam Mahila Samata Society has organised a meeting to discuss witch-hunting and to try to dispel the superstitions. Women stream into the school hall.
"Our forefathers may have believed in witches; now we should be rational," Gita Rani Bhattacharya tells the assembled crowd. "Society is collective strength; let us use it for positivity not negativity," she says.
For Bina Rabha and her family, the damage has been done. No amount of education can change what happened or bring back her husband.
"I am still scared, that's why my son stays near the village to work. He could earn more further away," she says, sitting on the floor of her terrace. "I don't know what will happen, I don't know what to do."
Register for free to continue reading
Registration is a free and easy way to support our truly independent journalism
By registering, you will also enjoy limited access to Premium articles, exclusive newsletters, commenting, and virtual events with our leading journalists
Already have an account? sign in
Register for free to continue reading
Registration is a free and easy way to support our truly independent journalism
By registering, you will also enjoy limited access to Premium articles, exclusive newsletters, commenting, and virtual events with our leading journalists
Already have an account? sign in
Join our new commenting forum
Join thought-provoking conversations, follow other Independent readers and see their replies