British victim of Isis attack in Dhaka 'imprisoned unlawfully' after family's hostage ordeal in Bangladesh cafe
Exclusive: Hasnat Karim had been celebrating his daughter's 13th birthday with his family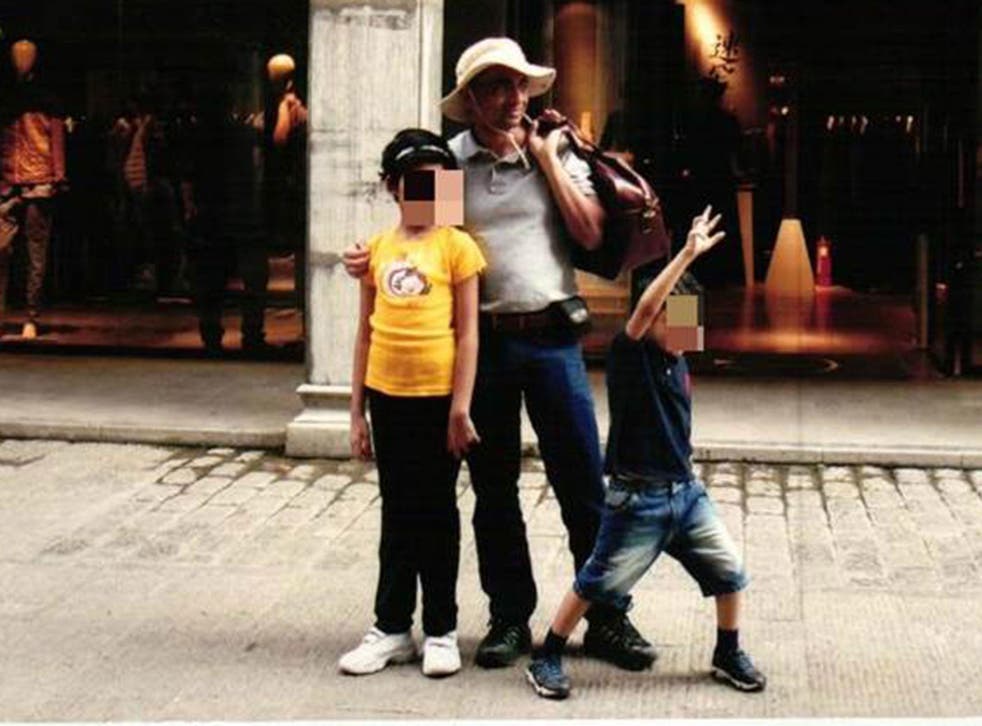 Mystery surrounds the whereabouts of a British man who was among the hostages held by Isis militants during a deadly assault on a café in Bangladesh - only to be arrested by authorities and imprisoned in a secret location for almost a month after the terror attack.
Relatives of Hasnat Karim say he was forced to carry out tasks for the five gunmen after they burst into a café where he was celebrating his daughter's 13th birthday with his family.
The extremists massacred more than 20 mostly foreign hostages and two police officers in a siege that lasted 10 hours, before being shot dead by police.
Bangladesh in mourning after deadly Dhaka cafe siege
Mr Karim, who holds dual British-Bangladeshi citizenship, was freed with his wife and two children after being ordered to recite verses from the Quran, but the father disappeared after being taken for questioning.
Legal representatives filed a petition asking the United Nations Working Group on Arbitrary Detention to investigate the case on Wednesday as Bangladeshi authorities continued to refuse access to lawyers and his family.
Sharmina Parveen, Mr Karim's wife, told The Independent his detention had compounded the agony of her family's ordeal.
She described how the couple had bought a birthday cake for their daughter on 1 July before taking her to the Holey Artisan Bakery in Dhaka for a special dinner.
"We were sitting for only a few minutes when we suddenly heard gunshots and screams coming from the seating outside the restaurant," she said.
"Then suddenly the gunmen entered the restaurant. We were immediately asked if we were Muslim." When we said yes, they asked us to put our heads down and said, 'We love Muslims, you can trust us, we will not harm you'."
The family were made to sit at a table with other hostages in silence at gunpoint before they were made to recite the first chapter of the Quran.
"My husband was nervous when he was reciting the Sura Fatiha and one of the gunmen reprimanded him for not understanding its true meaning," Mrs Parveen said.
The militants' attention was drawn to Mr Karim again when his phone rang. His lawyers said he was ordered to return the call to his uncle and issue an order to police not to advance on the café, claiming they would kill the hostages if any approach was made.
Mr Karim was then allegedly forced to carry out menial tasks and walk in front of the gunmen to form a shield against the snipers stationed outside, matching witness reports of a bald man walking to and fro.
"When the gunmen found out we were my husband's family, that is when they picked him out as a human shield," Ms Parveen said. "I think they chose him because they knew he would not run away if his family were there too.
"I cannot describe to you in words how it felt. They kept taking him away and then bringing him back and every time they took him I had no idea if we would ever see him again.
"I was terrified and nervous but had to remain as calm as possible for my children. I do not think they will ever recover from the terror of that night."
Rodney Dixon QC, an international human rights lawyer representing the family, said requests for Mr Karim to be allowed legal representation and family visits had gone unanswered and that police would not confirm where he is being held.
"We are using the petition to the UN to try to bring pressure to bear and get the Bangladeshi authorities to do what is right," he told The Independent.
"The family has been through a terrible ordeal and for Hasnat to be detained just draws out the agony."
Mr Dixon said there was no evidence Mr Karim colluded in the attack or justification for continuing his interrogation when he had not been charged with an offence.
"He is being kept incommunicado somewhere, we don't know where and no access has been given for lawyers or his family. His fundamental rights are being denied," he added.
"At this stage the key priority is to get him released, his detention is completely unlawful."
Mr Karim, who was born in Bangladesh but moved to the UK as a teenager, completed a civil engineering degree Queen Mary University in London and worked for WS Atkins before taking a master's degree at Leeds University.
He moved to the US for three years in 1993 and then returned to the UK before moving to Bangladesh in the early 2000s.
He became a professor in the business faculty of Dhaka's North South University in 2008 but has since left teaching to join his father's civil engineering firm.
Amnesty International is among the groups concerned over Mr Karim's "enforced disappearance", demanding Bangladeshi authorities confirm his wellbeing and whereabouts since he was not released with other questioned hostages on 3 July.
Champa Patel, the organisation's South Asia Director, said: "The arbitrary response of the Bangladeshi authorities to Hasnat Karim's case risks further undermining the trust of the population in the government's ability to defend their rights to life and liberty.
"The victims of the 1 July attack deserve justice."
Enforced disappearances are considered a violation of international law, typically occurring when state authorities refuse to acknowledge the detention or whereabouts of a prisoner.
A Home Office report on prison conditions in Bangladesh said they were "so poor as to amount to inhuman or degrading treatment" and that cases of torture had been recently reported.
A spokesperson for the Foreign and Commonwealth Office said diplomats had raised Mr Karim's case.
"Our staff in Dhaka are in contact with Bangladeshi authorities following the detention of a Bangladeshi-British citizen and have requested consular access," she added.
"We cannot interfere with the legal system of another country, just as other countries cannot interfere with the justice system in the UK."
In pictures: Bangladesh attacks

Show all 10
The Bangladeshi government has repeatedly denied Isis' presence in the country and sought to blame local groups for a wave of terror attacks.
Mr Karim's family have started a campaign to free him while continuing desperate attempts to contact him in jail.
His wife said she was "extremely anxious and worried" and had been trying to send medication to the Detective Branch headquarters for a heart condition.
"Imagine surviving a gruesome terrorist attack for over 10 hours and then having the nightmare prolonged for over 3 weeks," Ms Parveen added.
"My children keep having nightmares and are crying in their sleep, they asked if the gunmen will come back."
She said her husband has no links to extremism, is not very religious and has little interest in politics.
"He had nothing to do with this horrific attack. He was a hostage and has since been detained by the authorities without any lawful basis.
"My husband has suffered enough. Our two young children have suffered enough. Please let Hasnat come home to us."
Register for free to continue reading
Registration is a free and easy way to support our truly independent journalism
By registering, you will also enjoy limited access to Premium articles, exclusive newsletters, commenting, and virtual events with our leading journalists
Already have an account? sign in
Register for free to continue reading
Registration is a free and easy way to support our truly independent journalism
By registering, you will also enjoy limited access to Premium articles, exclusive newsletters, commenting, and virtual events with our leading journalists
Already have an account? sign in
Join our new commenting forum
Join thought-provoking conversations, follow other Independent readers and see their replies