Burma attacks leave earth scorched
Country's new civilian government faces first major test as spiralling ethnic violence brings the threat of martial law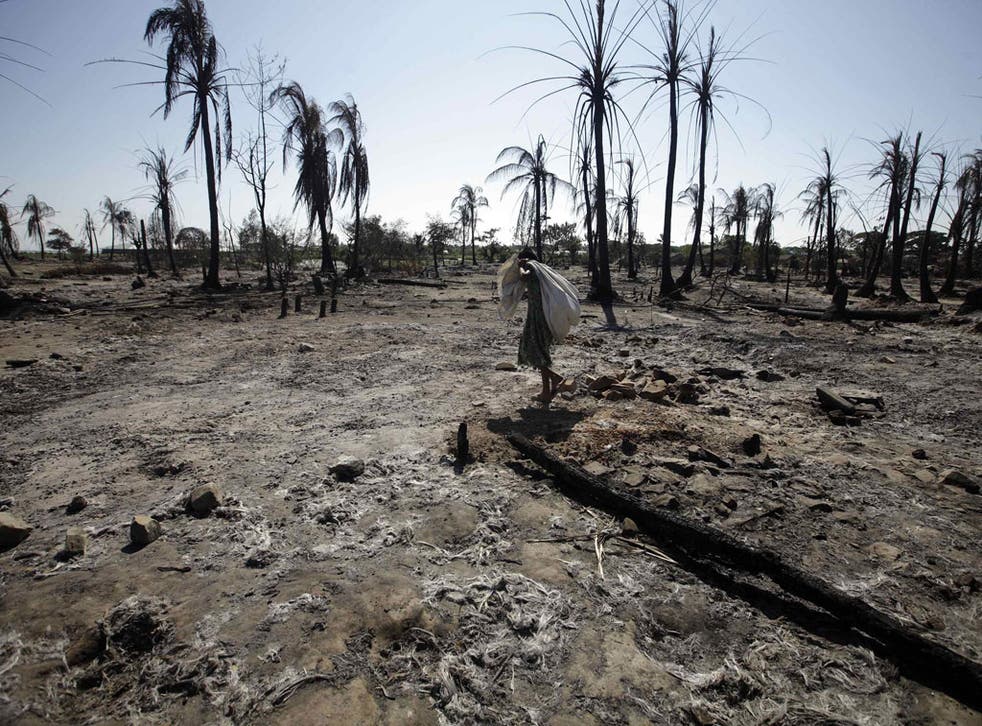 Human rights campaigners have called on the authorities in Burma to step in and protect civilians after satellite imagery showed the extent of destruction as a wave of fresh ethnic violence has swept the west of the country. More than 100 people have been killed in "vicious" attacks that started a week ago and activists believe the true death toll is likely considerably higher.
Images released by Human Rights Watch (HRW) appear to show widespread arson and destruction in a predominantly Muslim area of the coastal town of Kyauk Pyu. The organisation said that by comparing images taken on October 25 with those captured on March 9 this year, it had identified 811 houses and other structures that had been destroyed and burned. Local reports said the arson attacks were conducted on Wednesday, just a day before the images were taken.
"The Rohingya Muslim population is being driven out of neighbourhoods in various parts of [Rakhine] state," Matthew Smith of HRW told The Independent on Sunday, from Malaysia. "From what we can tell, the Rohingya are fleeing overland, or by sea, to the town of Sittwe. We are getting reports of people being stranded at sea and unable to make landfall."
The Rohingya Muslims of western Burma have long faced violence and persecution. Many in Burma consider them "foreigners" and they have very few rights. President Thein Sein has continued the policy of previous rulers by seeking to drive them out. More than 800,000 Rohingya live in wretched conditions in neighbouring Bangladesh.
This summer, at least 90 people died and 75,000 more were forced into refugee camps after clashes between the Buddhist and Rohingya in Rakhine state, sparked by the alleged rape of a Buddhist woman by Muslim men.
Violence has flared again. This time it is unclear what was the precise spark, but activists say that this time, unlike in the summer, the violence being directed at the Rohingya is largely one-way. In what may be an indication of the extent to which the Muslim population is being targeted, some reports from the region said the Burmese military, which had previously been involved in targeting the Rohingya, had this week been acting to protect them.
This week's violence focussed on at least five townships, according to HRW - Minbya, Mrak-U, Myebon, Rathedaung, and Kyauk Pyu. This was the first time violence had reached Kyauk Pyu and most of the other parts of the state.
The crisis is a major crisis for Thein Sein's nominally-civilian government and for the opposition, led by Nobel Peace laureate Aung San Suu Kyi. She and other members of the National League for Democracy have been criticised by some for failing to speak out more strongly against what has happened.
Rohingya organisations outside of the country say what is taking place is nothing less than ethnic cleansing. The Burmese Rohingya Organisation UK (BROUK) has compiled what is says is a list of killings and atrocities, based on eye witnesses. Among them is an incident said to have taken place on Thursday when a boat containing around 120 people from the Rohingya and Kaman Muslim communities tried to flee Kyauk Pyu. It is claimed all the men were killed on the spot and the women raped.
"We have heard that police and security forces provided petrol to the [Buddhist Rakhine]," said the group's president chairman, Tun Khin.
"People talk about their being clashes. But these are not equal sides fighting, it's a state-sponsored ethnic cleansing plan."
Reports suggested there were no new clashes yesterday, a day a day after Burma's home minister said the government was prepared to declare martial law and emergency rule in the region if violence escalated. A committee of parliamentarians, including Ms Suu Kyi, on Friday called for for security reinforcements and swift legal action against those behind fighting.
But Reuters reported that many boatloads of Muslims were still struggling to reach refugee camps and sought safety on islands and in coastal villages. Dozens of rickety wooden vessels, packed with desperate people had reached landfall by last night after two days at sea, but nine boats were still unaccounted for, according to several Rohingya refugee sources.
Earlier this week, the office of UN Secretary General Ban Ki-moon called on Burma's authorities "to take urgent and effective action to bring under control all cases of lawlessness".  It added: "If this is not done, the fabric of social order could be irreparably damaged and the reform and opening up process being currently pursued by the government is likely to be jeopardised."
Campaigners have also called on the authorities to act immediately to stop the bloodshed. "These latest incidents between Muslim Rohingyas and Buddhists demonstrate how urgent it is that the authorities intervene to protect everyone, and break the cycle of discrimination and violence," said Isabelle Arradon of Amnesty International.
Join our new commenting forum
Join thought-provoking conversations, follow other Independent readers and see their replies