Burma election: Aung San Suu Kyi heads Burma's dreams of democracy
The South-east Asian nation heads to the polls next week for a landmark general election 
Peter Popham
Rangoon
Sunday 01 November 2015 20:09 Comments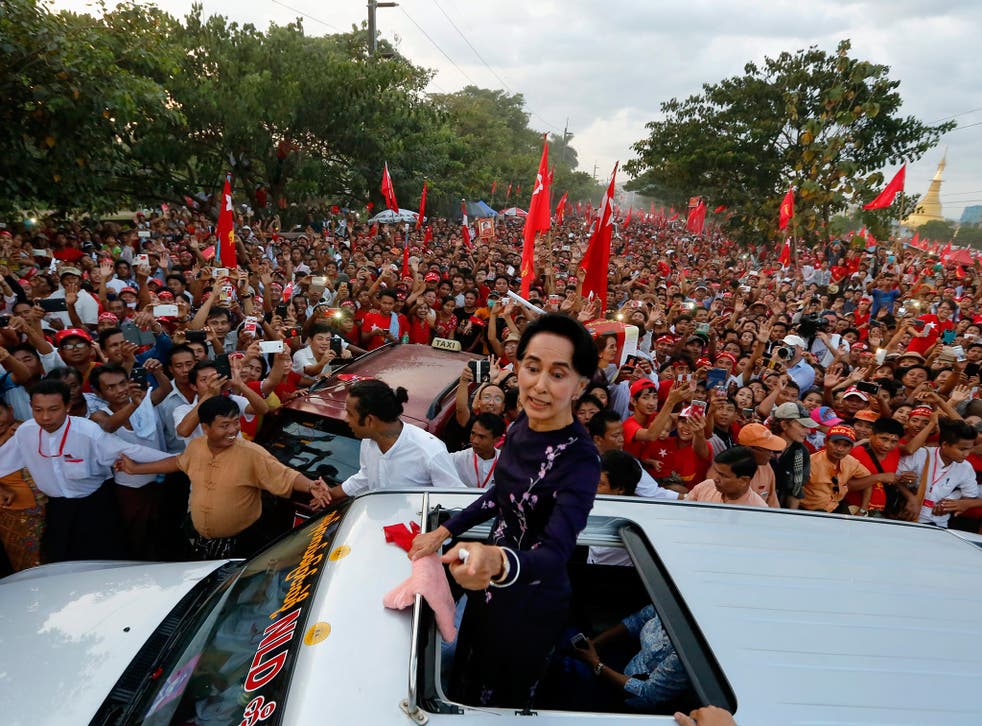 She made them wait for an hour under the hot sun, but when Aung San Suu Kyi finally hit the stage in a dusty parade ground on Rangoon's eastern outskirts, the roar from the vast crowd was deafening.
"People power is our power," she told them, crisp and commanding despite weeks of hectic campaigning. "The coming election is important: this is a big opportunity to change our country, a very rare chance in our history. It's your duty to make this change."
Burma votes in a general election on Sunday 8 November. Ms Suu Kyi cannot become President under the 2008 constitution – she is barred because her sons have non-Burmese citizenship – but if the election is as free and fair as the authorities promise, it could be the democratic watershed the nation has dreamed of for so long.
In 1990, the last time the National League for Democracy (NLD) took part, it won a landslide victory which the military junta simply ignored. In 2010's election, with Ms Suu Kyi still in detention, it declined to participate; the regime-sponsored Union Solidarity and Development Party (USDP) won a comprehensively rigged poll. But today the NLD could be on the cusp of gaining power.
Yesterday's rally, the party's only big pre-election event in the commercial capital, was an awesome demonstration of organisational capacity and sheer numbers. Young and old, rich and poor, from early morning they streamed into the only open space – far from the city centre – the authorities permitted them to use. By the time Ms Suu Kyi came on stage at 4.22pm the crowd stretched into the distance in all directions. Ninety parties are competing in next week's poll, but the NLD is the only one with a following like this, reflecting its origins in the mass uprising of 1988. Thousands of youth members in red T-shirts and bandanas flocked to the ground in open-top lorries, waving banners and bawling out slogans, greeted by sound trucks blaring the party's theme songs. Soon a sea of red flags floated above the parade ground, emblazoned with the party's mascot, the dancing peacock. Volunteers handed out bottles of water while others gathered rubbish in plastic bags. Not one policeman was in evidence, but the event was as cheerful and well-behaved as Ms Suu Kyi could have wished.
Despite the numbers, there was something almost cosy about it: the bond of devotion between Ms Suu Kyi and her supporters only intensified through her years of house arrest, and the emotion has bridged the generations, touching many who were not even born when she disappeared from sight. "I love Mother Suu so much, that's why I'm here," said Thi Thi San, 50, a shop assistant. "I've supported the party since 1998 but we could not mention our love until recently because it was dangerous to do so."
"I love Mother Suu," echoed Aye Chan Myint, a high school student attending the rally with her father. "I would really like to become like her, she is our leader and well-known all over the world." And that tide of warm emotion engulfed the rally. Speaking for nearly an hour without notes, making little jokes and homely asides, Ms Suu Kyi's rapport with the crowd seemed effortless.
As often before, her speech was long on moral exhortations but short on particulars. "If a party wants to win the election, they must do it in the right way," she said. "We really want to win but only by way of people power, in a totally fair and just way. Our duty is to establish good relations with the losers in the election, not to marginalise them. We have no intention of taking revenge. Even if we win 100 per cent of seats, we will invite the minority parties to work hand in hand with us." The implied reference was to the military, still the de facto power in the land and guaranteed to remain so by the constitution.
"Look at U Tin Oo," she told the crowd, referring to the 81-year old party chairman who had spoken before her. "He is a former soldier but he always supported the people. He is a good example of how a soldier ought to be."
Overnight, President Thein Sein, the former general who has ushered in a wide range of reforms in the past five years, making it possible for Ms Suu Kyi to stand for parliament, was quoted as saying that Burma had no need of further change. Ms Suu Kyi challenged that complacent view. "Some people say there is no need for change," she told the crowd. "But look at the people who really don't want to change. We must vote... Don't criticise our candidates, only focus on our flag. Our duty is to serve, your duty is to vote."
U Chit Pwe, an 80-year-old retired government employee standing near the entrance of the rally, had seen it all before: he was 13 when Burma became independent and began an ultimately disastrous 10-year experiment with democracy. But he is in no doubt that the military dictatorship that followed was much worse. "It was so sad," he recalled. "Everything collapsed. You could never believe the junta – they said one thing and did another. Of course I'm worried about the political parties fighting, but I believe the NLD can bring peace, change the constitution, and implement law and order and justice." Suu Kyi can count on millions of believers like him. She is the leader to beat.
Register for free to continue reading
Registration is a free and easy way to support our truly independent journalism
By registering, you will also enjoy limited access to Premium articles, exclusive newsletters, commenting, and virtual events with our leading journalists
Already have an account? sign in
Join our new commenting forum
Join thought-provoking conversations, follow other Independent readers and see their replies