Burma elections: Aung San Suu Kyi's party nominates little-known politician to be president
When he becomes president, U Htin Kyaw will notionally be the most powerful man in the country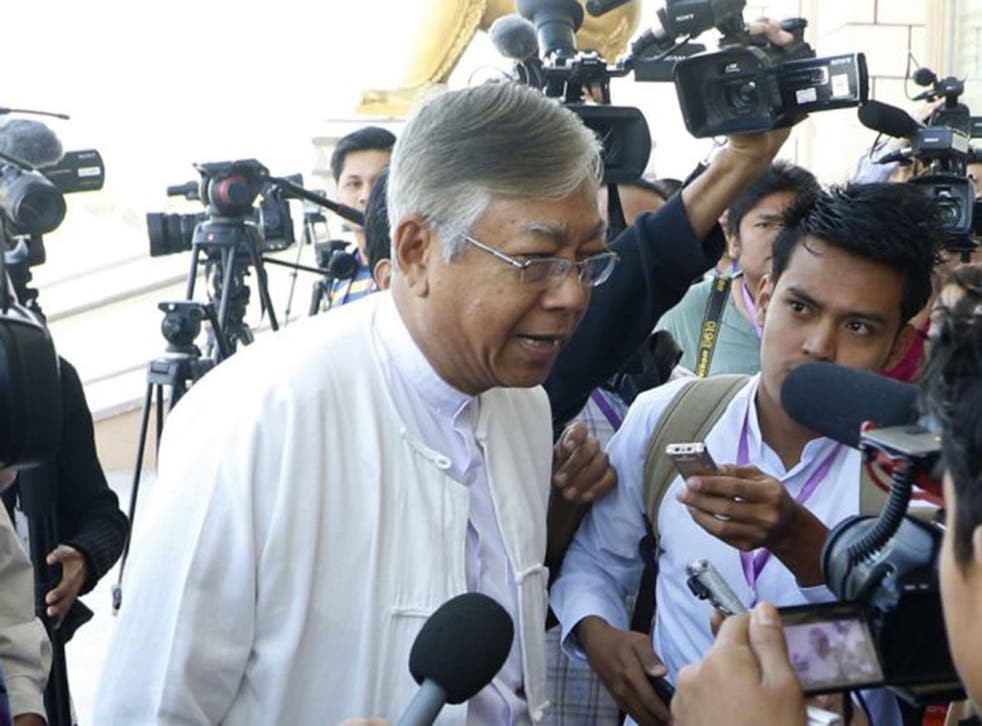 Four months after winning a landslide victory in Burma's general election, Aung San Suu Kyi's party, the National League for Democracy (NLD), has nominated a greying apparachik known to few outside the party elite to be the nation's next president.
His name is U Htin Kyaw, pronounced roughly "OoTin Jaw". Tall, slightly stooped, aged 69, his claims to distinction are that his father was a famous poet and his wife is an NLD MP. On his own account there is little on the record. A graduate in computer science from London University, he is executive director of the Daw Khin Kyi Foundation, named after Suu Kyi's mother. Above all, he is unstintingly loyal to the woman they call the Lady. And for Suu Kyi, it is the loyalty that counts.
When he becomes president – and given the party's numerical strength, it is beyond question that he will be elected president by MPs next week – U Htin Kyaw will notionally be the most powerful man in the country: this is an executive presidency, not a decorative one. But Suu Kyi has made it abundantly clear that he will be her proxy, her puppet. "I will be above the president," she says. "I will take all the decisions." President Htin Kyaw will merely carry them out.
So why is this man bound for the top job? Simply because Suu Kyi is barred from it.
Clause 59(f) of the constitution crafted by the military regime and passed in a dubious referendum in 2008 bars any person with a foreign spouse or children from becoming president. Suu Kyi's British husband, Michael Aris, died in 1999, but her grown-up children Alex and Kim hold US and British passports respectively.
Much of the interregnum since the election has been filled by Suu Kyi's attempts to persuade the military to suspend this clause. But after three recent meetings with Senior General Min Aung Hlaing, the army chief, the third one long and reportedly tense and inconclusive, Suu Kyi had to admit defeat. U Win Thein, a co-founder of the party, said "She will be president sooner or later." But not now.
U Htin Kyaw has been given a courteous welcome by newly elected NLD MPs. "Our president" is the caption to an affectionate caricature of him posted on Facebook by one of the new cadre of NLD MPs. He is, after all, one of them. But it will be a uniquely anomalous set-up.
When the idea of a proxy president was first discussed last year, some saw analogies with India, where Congress president Sonia Gandhi – heir of the Nehru-Gandhi dynasty – ruled for ten years to 2014 in tandem with the Cambridge-educated economist Manmohan Singh. That dysfunctional relationship ended with the Congress suffering the biggest electoral rout in its history. But Suu Kyi denied that she was planning anything of the sort. She has made no bones of the fact that it is she who will be in charge.
Aung San Suu Kyi walks free

Show all 3
That leaves open the question of what official role she will fill. It is widely speculated that she will become foreign minister – the only available portfolio that would admit her to the shadowy but powerful 11-person National Defence and Security Council, which has the right to declare martial law and sideline the elected government. But as foreign minister she would be expected to travel frequently. If that happens, how will she keep tabs on President Htin Kyaw when she is on the other side of the world?
Two problems lie at the root of this absurd opening to Burma's brave new democratic era. One is the military's deep-rooted fear and loathing of Suu Kyi, whom they kept locked in her home for 15 years and in 2003 tried to assassinate. Hence the refusal to budge on the problematic clause in the constitution, one allegedly written with the express purpose of keeping her from power.
The other is Suu Kyi's inability to delegate. Her compulsion to micromanage has extended recently to personally scrutinising details of the accommodation and rubbish collection arrangements of new MPs. Last year she barred all in the party but herself from making statements to the media. Newly elected MPs were forbidden to say a word in public. Becoming president, her consuming ambition, would vindicate her years of suffering and sacrifice. But it also reflects her failure to create collegial arrangements at the top of her party.
The consequences of this are often administrative chaos. Suu Kyi has had many weeks to make up her mind about her choice of presidential nominee. Yet the party's preparations for the big announcement were woeful: it took six hours from the announcement before they released a potted biography of the man, during which time CNN published a photo of the wrong Htin Kyaw – a well-known and much younger human rights activist – and the idea took hold that Burma's next president was by profession a chauffeur.
U Htin Kyaw is expected to be elected to the presidency next week, and will take office at the end of the month.
The Lady and the Generals: Aung San Suu Kyi and Burma's struggle for freedom by Peter Popham is published by Rider on 10 March, price £20 hardback
Register for free to continue reading
Registration is a free and easy way to support our truly independent journalism
By registering, you will also enjoy limited access to Premium articles, exclusive newsletters, commenting, and virtual events with our leading journalists
Already have an account? sign in
Register for free to continue reading
Registration is a free and easy way to support our truly independent journalism
By registering, you will also enjoy limited access to Premium articles, exclusive newsletters, commenting, and virtual events with our leading journalists
Already have an account? sign in
Join our new commenting forum
Join thought-provoking conversations, follow other Independent readers and see their replies