Burma elections: Aung San Suu Kyi steers clear of 'stateless' minority the Rohingya
The Rohingya are a controversial topic in Burma and Ms Suu Kyi is not expected to visit the areas where most of their camps are located
David Doyle
Sittwe
Friday 16 October 2015 23:05 Comments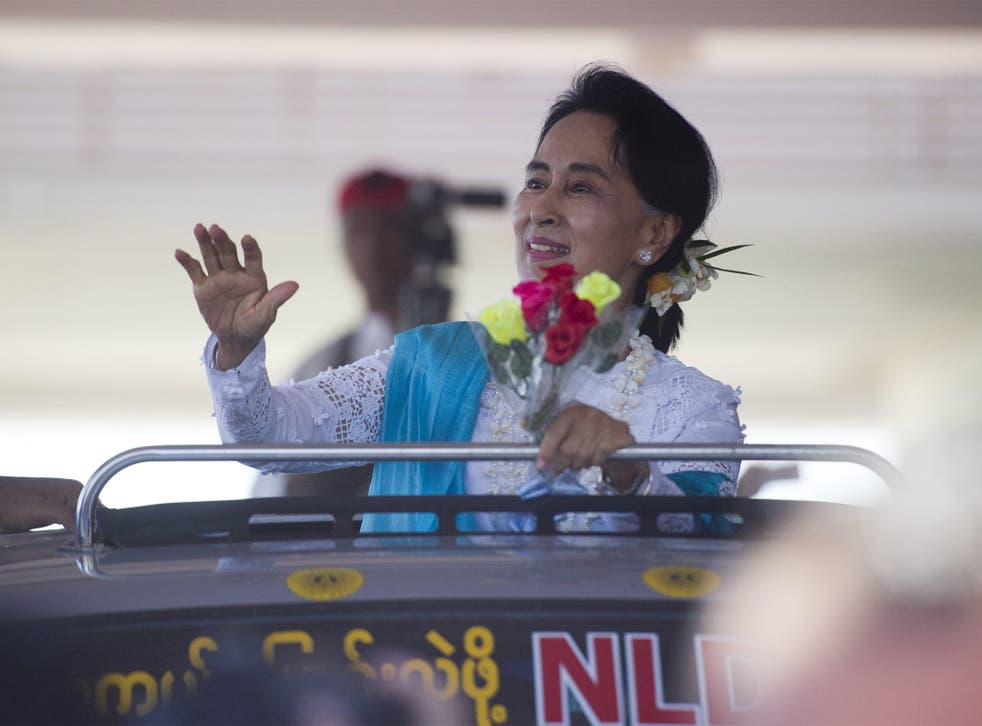 Hundreds of people wearing flags turned out to greet Aung San Suu Kyi as she touched down in Rakhine state on Friday - her first visit to the conflict-hit area in more than a decade.
The leader of the opposition National League for Democracy party is on a three-day visit to Rakhine ahead of landmark elections next month, billed as the country's first free and fair national vote after decades of military rule.
And while crowds of supporters dressed in NLD red greeted her off the plane, the trip could prove difficult for the woman affectionately known as "the Lady".
The state is home to the Rohingya, a Muslim minority group who have been left effectively stateless, and disenfranchised by the Burmese government. More than 100,000 Rohingya have been forced into displacement camps since violence broke out between them and Rakhinese Buddhists in 2012.
The Burmese government claims the Rohingya are illegal Bangladeshi immigrants and withdrew their identity cards earlier this year, barring them from voting.
For many in the Dar Paing camp in the state capital of Sittwe, a visit from Ms Suu Kyi would have been welcome to raise awareness of their plight, but the Rohingya are a controversial topic in Burma and Ms Suu Kyi is not expected to visit the north of Rakhine or Sittwe, where most of the Rohingya camps are located.
"I am upset to know that Aung San Suu Kyi came here to Rakhine State but not to this area," said Reyhana, who sleeps eight to a room with several generations of her family. "She should have had a look at the situation of the Rohingya."
Ms Suu Kyi has faced criticism for her silence over the plight of the Rohingya, with international figures such as the Dalai Lama calling on the Nobel Peace Laureate, to speak out. However, in Burma increasingly confident ultranationalist monks already accuse the NLD of being too sympathetic to the Muslim cause, with some having warned that her visit to Rakhine could incite protests.
Shalom, who lives in the Dar Paing camp, said: "I am a bit angry with Aung San Suu Kyi that she is keeping silent about the Rohingya. I don't know how I can trust her."
But most camp residents said they believed political pressure within the country, which is predominantly Buddhist, made speaking out difficult for Ms Suu Kyi.
"Hate speech has been created by the government, so Muslims are discriminated against by Buddhists," said Mohammad Allam. "If Aung San Suu Kyi talked about Rohingya Muslims, maybe the Buddhist community will get angry. That is why she is silent."
For many in the camps though, "the Lady" remains their only hope.
Yunis, 32, recently saw his home destroyed in storms that brought major flooding to Rakhine. He is now living under tarpaulin on the edge of the camp with his family.
"Spending one day here is like spending a year," he said. "We survive on food handouts and my children are sick... Aung San Suu Kyi would not keep us in [the displacement] camps. She would do something for my people."
Others are less optimistic. Moor Amin has paralysis down one side of his body and cannot afford to get treatment. He has no hope the situation will improve whatever the election result.
"Only Allah can help me – not Aung San Suu Kyi," he said.
Register for free to continue reading
Registration is a free and easy way to support our truly independent journalism
By registering, you will also enjoy limited access to Premium articles, exclusive newsletters, commenting, and virtual events with our leading journalists
Already have an account? sign in
Join our new commenting forum
Join thought-provoking conversations, follow other Independent readers and see their replies