Burma: More than 100 Rohingya Muslims massacred in Rakhine state, reports claim
Burmese security forces and Buddhist vigilantes allegedly behind the slaughter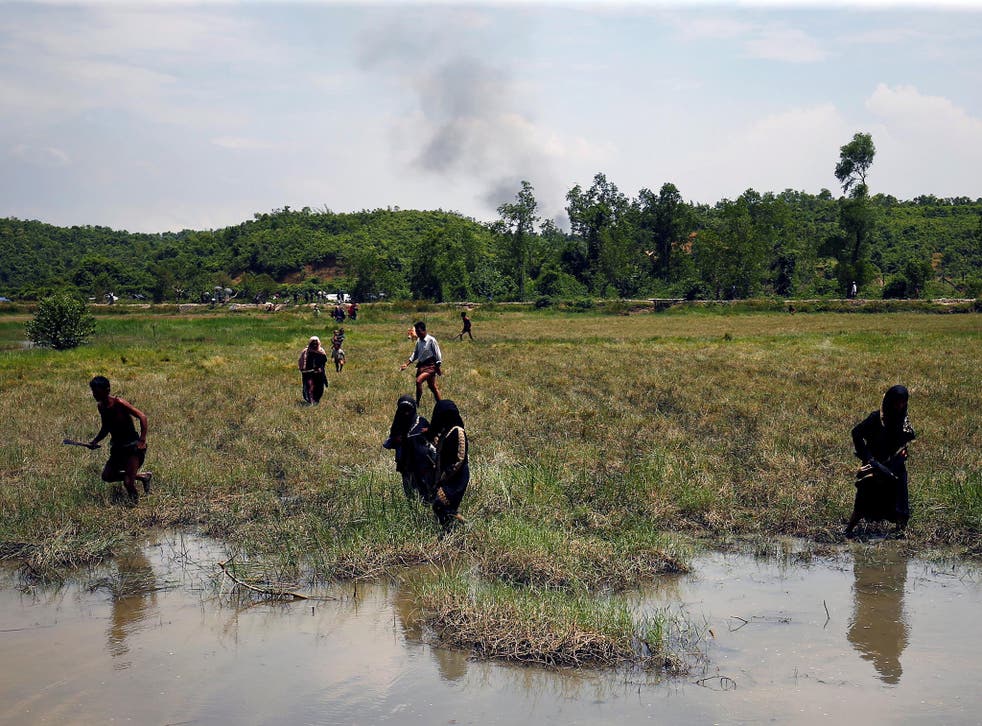 More than 100 Rohingya Muslims are alleged to have been killed in a massacre by Burmese security forces and Buddhist vigilantes.
The attack is said to have occurred in the Rathedaung area of Rakhine state on Sunday, when security forces cordoned off the village of Chut Pyin.
Women and children are said to be among the 130 people killed.
Rohingyas - a Muslim ethnic minority of about 1.1 million - suffer discrimination and violence from other sectors of Burma's predominantly Buddhist population of more than 52 million.
Tensions had boiled over some days before the alleged massacre when Rohingya insurgents attacked a police post, ABC reported.
Chris Lewa, director of the Arakan Project pressure group, told the broadcaster: "So far reports—I think quite credible—mention about 130 people including women and children killed.
"That happened on Sunday when suddenly security forces cordoned [off] the whole area, together with Rakhine villagers. It seems like this has been a major massacre in Rathedaung."
Mass graves were dug in a village south of Chut Pyin, while security forces burned other bodies, the broadcaster reported.
A series of coordinated attacks by Rohingya insurgents on security forces in the north of Burma's Rakhine state has led to a huge military crackdown.
Burma has itself evacuated thousands of Buddhists from the area.
The clashes have killed some 400 people, largely insurgents, but also 13 security troopers, two government officials and 14 civilians, the Burmese military said.
About 38,000 Rohingya, many sick and some with bullet wounds, have managed to slip across the border with Bangladesh since Friday, according to the UN.
​Charu Lata Hogg, an associate fellow in Chatham House's Asia programme, told The Independent: "Thousands of people, men, women and children are desperately trying to flee a very insecure environment in Rakhine state.
"The fact that access is extremely limited and there are no independent monitors makes the situation very difficult to assess.
Rohingya Muslims fleeing Burma recall the horrors they left
"No journalists are being allowed in and the UN is focused on humanitarian effort and relief provision rather than human rights monitoring.
"However, even as it's impossible to assess numbers being attacked, killed or subject to other egregious human rights violations, its clear that the situation is rapidly escalating.
"The fact that the UK has raised this as an issue affecting international peace and security at the Security Council is a testament to this crisis."
World news in pictures

Show all 50
The treatment of Burma's roughly 1.1 million Rohingya is the biggest challenge facing national leader Aung San Suu Kyi, accused by some Western critics of not speaking out for a minority that has long complained of persecution.
The Burmese government has repeatedly denied claims the ethnic group is facing genocide in the country's remote Rakhine state. It previously brushed away evidence of human rights violations as fake news and "propaganda".
Earlier this week Ms San Suu Kyi said the "terrorist" attacks were "a calculated attempt to undermine the efforts of those seeking to build peace and harmony in Rakhine state".
The Burmese embassy in the UK has been contacted for comment.
Additional reporting by agencies
Register for free to continue reading
Registration is a free and easy way to support our truly independent journalism
By registering, you will also enjoy limited access to Premium articles, exclusive newsletters, commenting, and virtual events with our leading journalists
Already have an account? sign in
Register for free to continue reading
Registration is a free and easy way to support our truly independent journalism
By registering, you will also enjoy limited access to Premium articles, exclusive newsletters, commenting, and virtual events with our leading journalists
Already have an account? sign in
Join our new commenting forum
Join thought-provoking conversations, follow other Independent readers and see their replies