Challenger rejects Sri Lanka poll as soldiers surround his hotel
Defeated general says victorious President is guilty of electoral abuses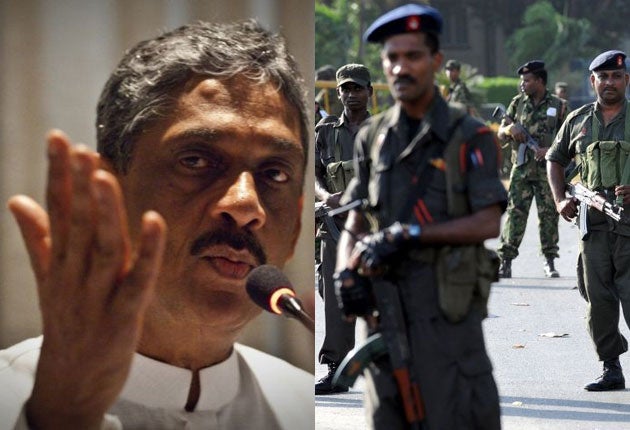 The main challenger in Sri Lanka's hard-fought presidential election has rejected the result, vowing to launch a legal challenge against the government.
On a tense and often chaotic day during which heavily armed government troops surrounded his hotel, former army chief Sarath Fonseka said President Mahinda Rajapaksa had misused government resources, prevented people from voting and overseen a series of electoral abuses.
He also accused the government of seeking to remove his security detail in order to kill him. Despite this, General Fonseka said he would continue to fight to build a new democracy in Sri Lanka, declaring: "It's do or die."
The 59-year-old former general said the political coalition supporting him had written to the election commissioner asking for the results to be pronounced void. "We asked him not to release the results as we are going to go to the courts," General Fonseka said. "Our strength is people and their franchise has been disregarded."
Yet at exactly the same time the presidential challenger was revealing his decision to appeal, the election commissioner was declaring that Mr Rajapaksa had secured a comfortable re-election, capturing 58 per cent of the vote against General Fonseka's 40 per cent.
As he emerged from the commissioner's office, garlanded with flowers, a smiling Mr Rajapaksa told The Independent: "As you can see, it has gone very well. We must enjoy [the victory] without hurting anybody." He dismissed the allegations leveled by General Fonseka and said his priorities for the country were "everything... development".
Later, speaking at his official residence, he insisted that General Fonseka was free to leave the hotel in which he had been holed up and that the troops were on duty to prevent disruptive action he claimed was being planned by dozens of army deserters allegedly taken into the building by his rival.
"He has gone into the hotel, he can go out," the president said. Late yesterday evening, the former army chief was indeed seen leaving the building.
Mr Rajapaksa claimed his 18-point margin of victory was not remarkable, that he had always known he would win. He rejected allegations from both the opposition and election analysts that he had improperly used state resources, especially the media. He had required 50 per or more to secure a second six-year term.
Yet while the election saw little disruption or violence, a reportedly distraught election commissioner, Dayanada Dissanayake, said there had been a number of incidents of malpractice.
According to the Associated Press, shortly before he announced the result Mr Dissanayake said state media had violated guidelines that he had drawn up and that government institutions had behaved in a way that embarrassed him. He pleaded to be allowed to resign from his position, saying: "I request to be released. I cannot bear this anymore."
Precisely how the stand-off will play out in the days ahead is unclear, but General Fonseka will know that for him to somehow reverse this result and secure a recount or a fresh poll will require little short of a miracle.
Earlier his opposition coalition had talked of calling its supporters to the streets in the event of a "stolen election", but yesterday said they had resisted making such a call. "I'm not asking people to come to the streets. We have to organise," said General Fonseka. "Wait and see – we might surprise you."
A pressing challenge for Mr Rajapaksa – already last night receiving courtesy visits from overseas ambassadors and phone calls of congratulation from foreign leaders – will be how to reach out to the two-fifths of the population who voted against him.
While it appeared Mr Rajapaksa received little support from among the Tamil minority – some of whom backed General Fonseka – many within the Sinhala majority have been critical of the president, accusing him of overseeing corruption, nepotism and the harsh suppression of dissent, particularly in the media.
"After this election, everyone should now join together in building the country," said Mr Rajapaksa, in an apparent nod to such concerns. "From today onward, I am the president of everyone, whether they voted for me or not."
Join our commenting forum
Join thought-provoking conversations, follow other Independent readers and see their replies