China backs Burma's efforts to 'safeguard stability' as pressure mounts over Rohingya Muslim crisis
Around 370,000 Rohingya refugees have fled the violence in Rakhine state to Bangladesh
Samuel Osborne
Tuesday 12 September 2017 09:33 Comments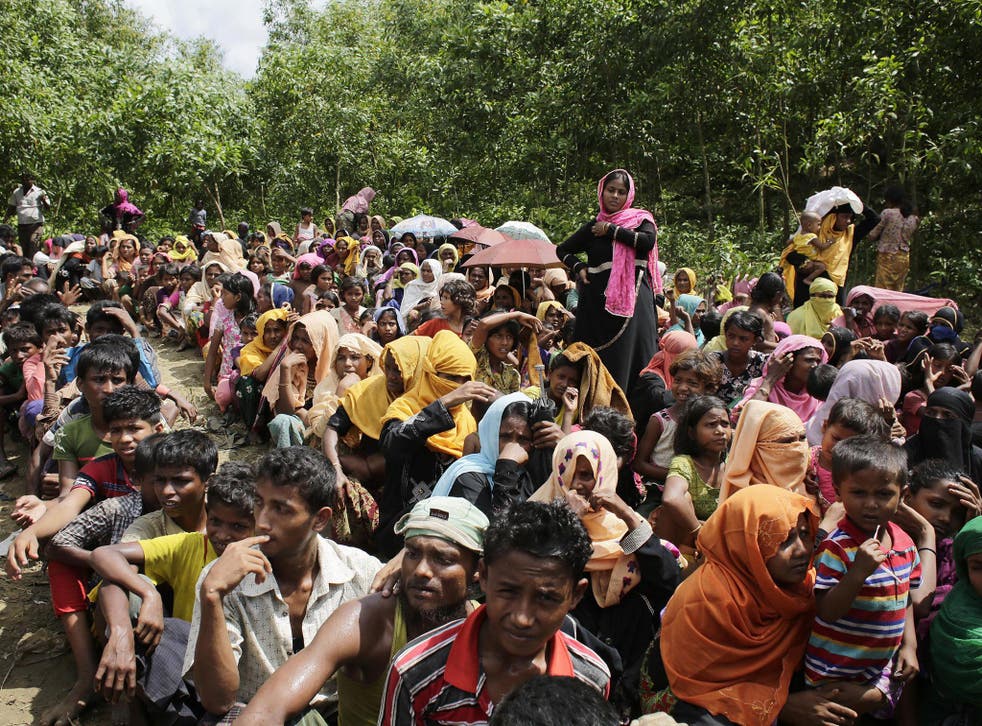 China has said it backs Burma's efforts to "safeguard stability" as pressure mounts to end violence which has sent more than 300,000 Rohingya Muslims fleeing to Bangladesh.
Around 370,000 Rohingya refugees have arrived in Bangladesh since 25 August, up from the previous estimate of 313,000, the International Organisation for Migration has said.
The top UN human rights official has denounced Burma, also known as Myanmar, for conducting a "cruel military operation" against the Rohingya, branding it "a textbook example of ethnic cleansing".
The government of the Buddhist-majority country says its security forces are fighting Rohingya militants behind a surge of violence and they are doing all they can to avoid harming civilians.
Video shows Rohingya flee burning villages in Myanmar
Chinese foreign ministry spokesman Geng Shuang said China condemned the violence in Rakhine state.
According to The Straits Times, he said: "We support Myanmar's efforts in upholding peace and stability in the Rakhine state. We hope order and the normal life there will be recovered as soon as possible."
He added: "We think the international community should support the efforts of Myanmar in safeguarding the stability of its national development."
The government says about 400 people have been killed in the fighting in Rakhine State, western Burma.
Rohingya refugees – in pictures

Show all 15
The United States said the violent displacement of Rohingya Muslims showed Burma's security forces were not protecting civilians.
Washington has been a staunch supporter of Burma's transition from decades of harsh military rule, which is being led by Nobel peace laureate Aung San Suu Kyi.
"We call on Burmese security authorities to respect the rule of law, stop the violence, and end the displacement of civilians from all communities," the White House said in a statement.
Burma's foreign ministry said shortly before the US statement was issued that Burma was also concerned about the suffering. It said its forces were carrying out their legitimate duty to restore order in response to acts of extremism.
"The government of Myanmar fully shares the concern of the international community regarding the displacement and suffering of all communities affected by the latest escalation of violence ignited by the acts of terrorism," the ministry said in a statement.
Burma's government regards the Rohingya as illegal migrants from neighbouring Bangladesh and denies them citizenship, even though many Rohingya families have lived there for generations.
Unverified reports from refugees and rights groups paint a picture of widespread attacks on Rohingya villages in the north of Rahkine State by the security forces and ethnic Rakhine Buddhists, who have burned numerous Muslim villages.
Authorities deny the accusations and say nearly 30,000 Buddhist villagers have also been displaced, fleeing to towns to the south.
Attacks by a Rohingya insurgent group, the Arakan Rohingya Salvation Army (ARSA), on police posts and an army base in the north of Rakhine State on 25 August provoked the military counter-offensive refugees say is aimed at pushing Rohingya out of the country.
A similar but smaller wave of attacks by the same insurgents last October also led to what critics said was a heavy-handed response by the security forces that sent 87,000 Rohingya fleeing to Bangladesh.
On Sunday, Burma rebuffed a ceasefire declared by ARSA to enable the delivery of aid to thousands of displaced and hungry people in the north of Rakhine state, declaring simply that it did not negotiate with terrorists.
Bangladesh is seeking help as it struggles to cope with the latest influx Rohingya refugees, who have joined more than 400,000 others already there.
Additional reporting by agencies
Register for free to continue reading
Registration is a free and easy way to support our truly independent journalism
By registering, you will also enjoy limited access to Premium articles, exclusive newsletters, commenting, and virtual events with our leading journalists
Already have an account? sign in
Join our new commenting forum
Join thought-provoking conversations, follow other Independent readers and see their replies