China warns Donald Trump will 'suffer complete humiliation' after US warship passes disputed territory
'A US ship wantonly provoking trouble is single-minded to the point of recklessness'
Harry Cockburn
Wednesday 24 January 2018 16:03 Comments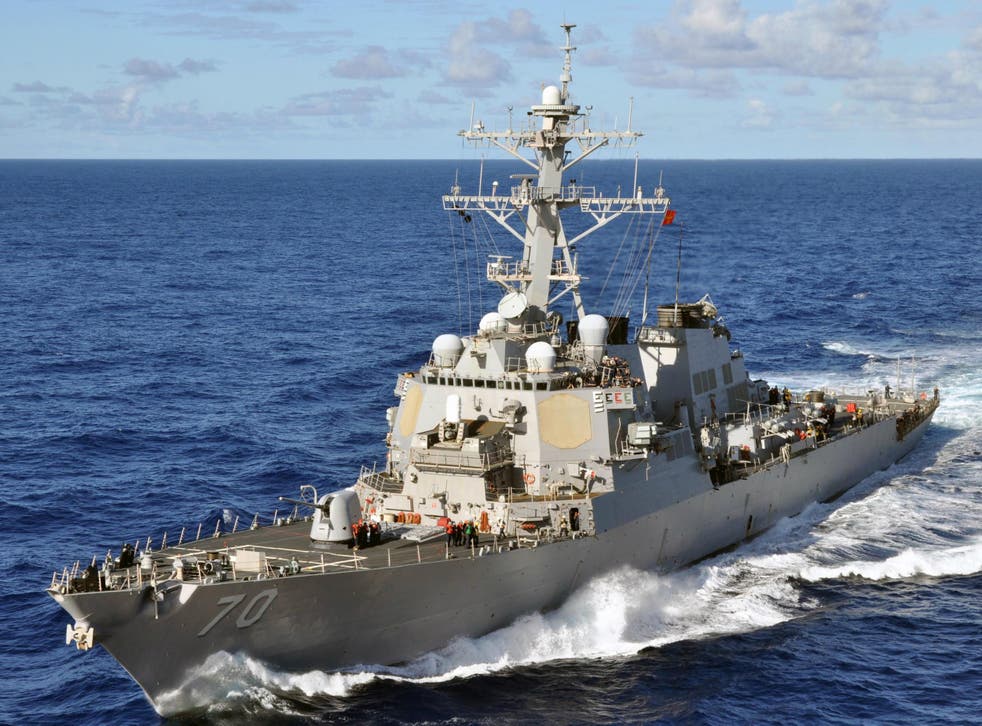 China has warned the US it will "suffer complete humiliation" after an American warship sailed past one of its islands in the disputed South China Sea territory.
The USS Hopper, a guided-missile destroyer, did not obtain permission from the Chinese government, before making its way past Huangyan Island, which is also known as Scarborough Shoal.
The ship reportedly came within 12 nautical miles of the island in the South China Sea, which is a disputed territory claimed by China, Taiwan, and the Philippines - a US ally.
The Pentagon said the warship's proximity to the landmass was planned as part of "routine" operations in international waters.
But The Global Times - the Chinese Communist Party's official media outlet - said the US was "wantonly provoking trouble" and warned America would "suffer complete humiliation", if it continued "provocations" in the area.
"China has exercised restraint against US provocations in the South China Sea, but there are limits," the newspaper's editorial read. "If the US doesn't stop its provocations, China will militarise the islands sooner or later."
Another official state media outlet, The People's Daily, wrote: "Against this backdrop of peace and cooperation, a US ship wantonly provoking trouble is single-minded to the point of recklessness.
"If the relevant party once more makes trouble out of nothing and causes tensions, then it will only cause China to reach this conclusion: in order to earnestly protect peace in the South China Sea, China must strengthen and speed up the building of its abilities there."
World news in pictures

Show all 50
China has claimed the island as its own, saying a 1279 Yuan dynasty map and surveys carried out during Kublai Khan's rule established the island as Chinese, with fisherman using it as a stop-off point.
However, the disputed territory is closest to is the island of Luzon in the Philippines.
In 2012, a standoff between Taiwan and The Philippines saw a clamp down on Filipino fisherman landing on the island. The issue was resolved in 2016 when the Philippines' President Rodrigo Duterte met with Taiwanese officials and came to an agreement in which the fishermen regained access.
The Scarborough Shoal got its name after an East India Company boat named the Scarborough ran aground there in 1784 on the way to China.
Register for free to continue reading
Registration is a free and easy way to support our truly independent journalism
By registering, you will also enjoy limited access to Premium articles, exclusive newsletters, commenting, and virtual events with our leading journalists
Already have an account? sign in
Join our new commenting forum
Join thought-provoking conversations, follow other Independent readers and see their replies