China could deploy floating nuclear power stations in contested waters of South China Sea
US has warned that China's 'massive land reclamation projects in the South China Sea and increasing militarization of these outposts fuels regional tension and raise serious questions about China's intentions'
Ben Blanchard
,
Ian Johnston
Friday 22 April 2016 16:32 Comments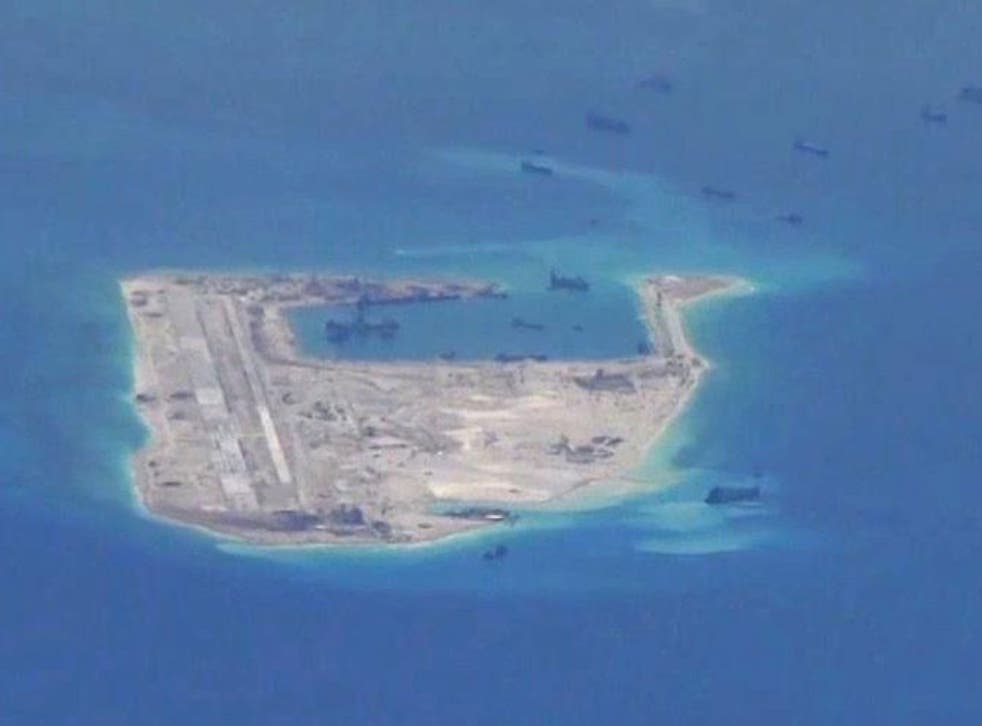 China is getting closer to building maritime nuclear power plants that could "sail" to disputed islands in the South China Sea and provide electricity for new defence facilities, airports and harbours, according to a report.
Almost the entire South China Sea – believed to have huge deposits of oil and gas – are claimed by Beijing. However Brunei, Malaysia, the Philippines, Taiwan and Vietnam also have claims to parts of the waters, through which about £3.5 trillion in trade flows every year.
Tensions have increased over China's military and construction activities on the islands such as the Spratlys, some of which it has occupied. It has built runways and even artificial islands on reefs to bolster its claims to the waters. However Beijing says most of the construction is meant for civilian purposes, like lighthouses.
The Global Times, an influential tabloid published by the ruling Communist Party's official People's Daily, said the nuclear platforms could "sail" to remote areas and provide a stable power supply.
China Shipbuilding Industry Corp, the company in charge of designing and building the platforms, is "pushing forward the work", said Liu Zhengguo, the head of its general office.
"The development of nuclear power platforms is a burgeoning trend," Mr Liu told the paper. "The exact number of plants to be built by the company depends on the market demand."
Demand is "pretty strong", he added, without elaborating.
There has been speculation that the territorial dispute in the South China Sea could spark a new world war.
On Thursday, US Deputy Secretary of State Antony Blinken said during a visit to Vietnam: "The United States and Vietnam share interest in maintaining peace and stability in the region. So does China.
"But its massive land reclamation projects in the South China Sea and increasing militarisation of these outposts fuels regional tension and raise serious questions about China's intentions.
"The United States will defend our national interest and support our allies and partners in the region."
A Chinese Foreign Ministry spokeswoman, Hua Chunying, played down the Global Times' article as a media report.
"I've not heard here of the relevant situation," Ms Hua told a daily news briefing, without elaborating.
In January, two Chinese state-owned energy companies, China National Offshore Oil Corporation (CNOOC) and China General Nuclear Power Corporation (CGN), signed a strategic cooperation framework pact on offshore oil and nuclear power.
CGN has been developing a small modular nuclear reactor for maritime use to provide power for offshore oil and gas exploration and production. It expects to begin building a demonstration project in 2017.
Xu Dazhe, head of China's atomic safety commission, told reporters in January the floating platforms were in the planning stage and must undergo "strict and scientific demonstrations".
Chinese naval expert Li Jie told the Global Times that the platforms could power lighthouses, defence facilities, airports and harbours in the South China Sea, adding: "Normally we have to burn oil or coal for power."
It was important to develop a maritime nuclear power platform as changing weather and ocean conditions presented a challenge in transporting fuel to the distant Spratlys, he added. (Reuters/staff)
Register for free to continue reading
Registration is a free and easy way to support our truly independent journalism
By registering, you will also enjoy limited access to Premium articles, exclusive newsletters, commenting, and virtual events with our leading journalists
Already have an account? sign in
Join our new commenting forum
Join thought-provoking conversations, follow other Independent readers and see their replies