China Sea crisis: Japan to bolster military base on island idyll that could become front line in event of war
Special report: Kim Sengupta reports from the disputed seas around China, where Japan is building radar, anti-aircraft guns and missile silos to counter what it sees as Chinese aggression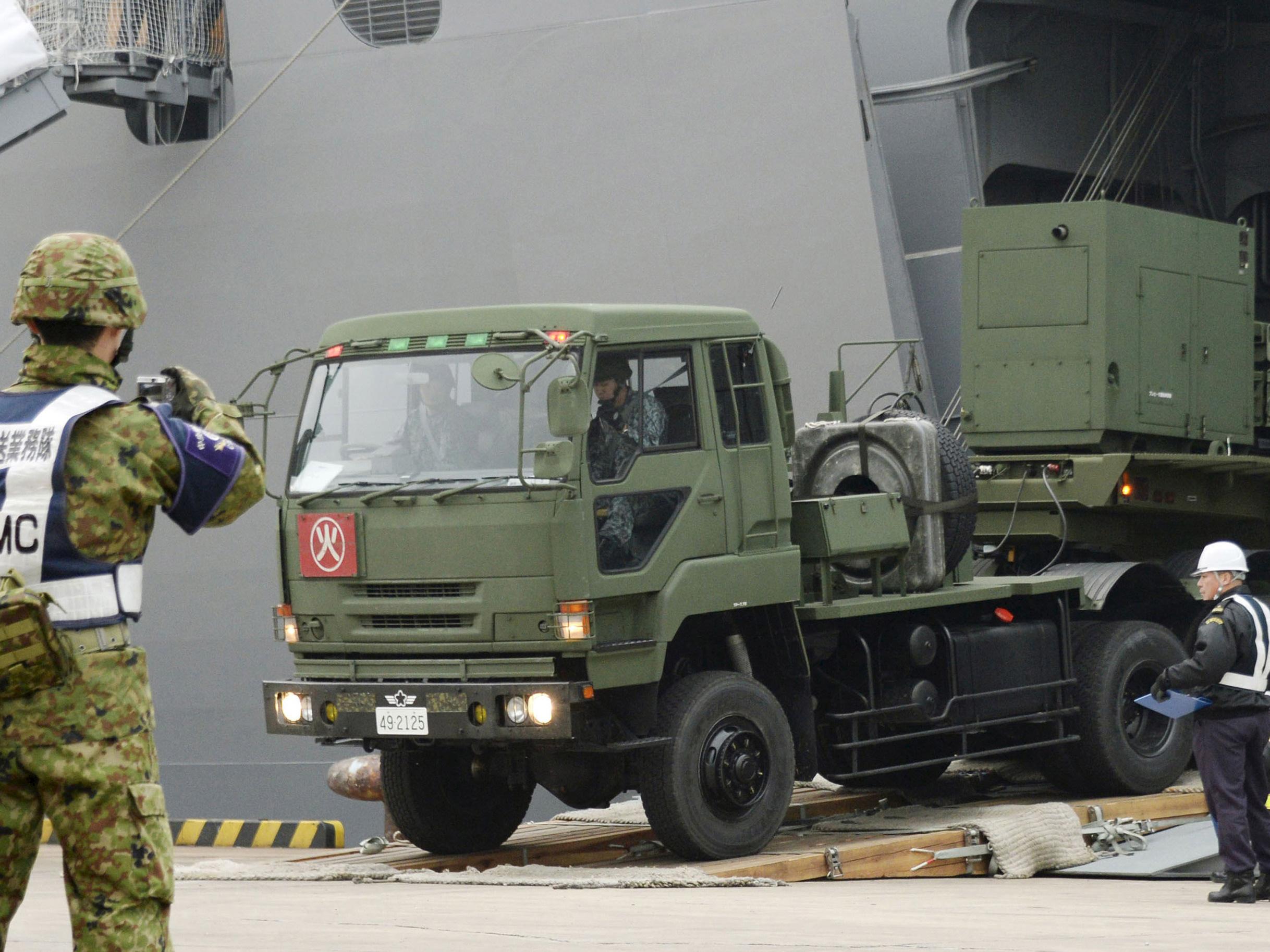 If war is to break out, then Ishigaki would be the front line. This is the island where Japan feels the most under threat from China and the place it will be installing missiles and troops amid clashes at sea, accusations and recriminations.
While international attention is on whether Games diplomacy in South Korea, with the presence of Kim Jong-un's sister and henchmen present for the Winter Olympics, will lead to peace breaking out, tension between China and its neighbours have continued to grow.
Throughout last year, while Donald Trump and Kim Jong-un traded public insults, Beijing has been quietly bolstering its presence on the extraordinary chain of artificial isles it has been building in waters near and far taking advantage of what it calls "the strategic window of opportunity."
Three airfields have been put into its seven bases in the disputed Spratley chain. There, and elsewhere, aerial photographs from the Centre for Strategic and International Studies in Washington reveal facilities awash with fortified shelters for warships, hangers for aircraft and radar, underground bunkers and missile emplacement positions.
The Chinese calls a series of archipelagos the "first island chain of defence" stretching in an arc from the South China Seas to Russia's Kurils. For Japan the most vulnerable point is the Senkaku, to which Beijing has laid claims with surrounding isles, in particular Ishikagi 90 nautical miles away seen as the obvious targets.
Hundreds of fishing boats from China, escorted by coastguard ships, or, at times, warships have been in the seas leading, at times, driving back Japanese fishermen leading to clashes with Japanese coast guards. There has been a recent spate of incursions into airspace by Chinese warplanes and the appearance for the first time, a few weeks ago, of a nuclear attack submarine in these waters.
The Japanese government are now finalising the deployment of missiles batteries, anti-aircraft and anti-ship, radar installations and around 600 troops to Ishigaki.
World news in pictures
Show all 50
Final details are likely to emerge next month. The Independent understands the surface to air missiles are likely include American made MIM-104 Patriots capable of taking down Chinese ballistic missiles with enemy vessels being targeted by SSM-1s which carry up to 500lbs of high-explosives and have range of over a hundred miles. There are future plans for a joint missile system involving Japan and Western Europe to be installed in a project involving the British, French and Italian MBDA and Mitsubishi Electrics.
The issue is of China's supposed attempt at ocean hegemony has led to international reaction.
The US Defence Secretary General James Mattis stressed during a visit to Tokyo that the Washington is fully committed to backing Japan over the Senkakus. On a broader basis, the US has been sending warships through the China Seas to underline the right to freedom of navigation. The British Defence Secretary, Gavin Williamson, has announced that HMS Sutherland, an anti-submarine ship, will be sailing through the South China Seas. The navies of America, India, Japan and Australia, will be holding naval manoeuvres.
The tiny Senkakus were used in the past by a small Japanese community scratching a living out of bonito fishing and collecting albatross feathers. But they were then abandoned had been lying unpopulated for 78 years with basically scientific and geographical exploration groups the only visitors.
Shinzo Abe says Japan will work with South Korea and US on pressuring North to stop nuclear tests
That these five islets and three barren rocks, with a total area of just seven kilometres, has become a potential flashpoint for a conflict between two modern industrialised states may be reminiscent of the Jorge Luis Borges's view that Britain and Argentina going to war over the Falklands was "like two bald men fighting over a comb".
In fact, there was little interest in the islands, apart from its fishing grounds, until an international survey in 1969 concluded large undersea deposits of oil and natural gas. The following year both China - which calls the islands Diaoyu - and Taiwan began their claims of ownership.
The steady growth of Chinese presence in the seas, say the Japanese, has damaged the country's fishing industry. Many of Beijing's coast guard vessels are rebranded warships and some of the crews of Chinese fishing boats, it is claimed, are not fishermen at all, but peoples' militia in disguise out to provoke. The confrontation means that Ishigaki fishermen like Yukihidi Higa can no longer catch the red snappers and groupers they used to off the Senkakus.
"Of course it has affected my earnings, I can no longer go there because of the Chinese and their big ships" he stated. " But they are not just taking the fish, most of the coral from the sea has been stripped over the years, this is not good for marine life."
The missile deployment comes at a time of great controversy in Japan as premier Shinzo Abe seeks to revise Japan's post-Second World War pacifist constitution mandated, he holds, by a strong election victory. Last month, his cabinet approved an increase of 1.3 per cent in the annual military budget raising it to a record $ 45.8 billion for the year.
The military deployment is also going to be a key factor in Ishigaki's municipal election next month. "This is certainly going to be part of my campaign. It is of course a very important topic and it needs to be discussed fully and the city will have to agree on providing the land " said Yoshitaka Nakayama, the mayor.
"I am in favour of the deployment by our Self Defence Forces (SDF). We have seen the Chinese behave very aggressively, they are coming into our territorial waters, our fishermen have been prevented from fishing, our coastguards are having lots of problems, we have seen their planes fly into our airspace. Putting the missile systems here will act as a warning, it may stop Chinese aggression and a conflict in the future."
The military was a key issue in the election in Nago, the capital of the Okinawa prefecture, last week in the defeat of the incumbent Mayor Susumu Inamine, by Taketoyo Toguchi, a candidate backed by Mr Abe's Liberal Democratic Party (LDP).
The Mayor had been an opponent of a US Marines base remaining in Okinawa. Mr Toguchi wanted them to stay and backed a plan by Washington and Tokyo to relocate it from a central urban area to one less populated.
For Yoshiyuki Toita, the secretary general of the Yaeyama Defence Association the result showed "that attitudes are changing: people are beginning to see the dangers posed by China, which is following an expansionist policy. If the Japanese government and the SDF do nothing it will send the wrong message and the Chinese will feel even bolder."
The defence associations across Japan are private groups which claim to be independent of government. Mr Toita, however, is a member of Mayor Nakayama's campaign and will be spreading his message in support of the military deployment." This is about security. We have achieved good things here in Ishigaki and we must protect this community and Japan."
Many are apprehensive, however, that the achievements may be put at risk by militarisation. Subtropical Ishigaki, with its mountains and mangrove forests, beaches and birdlife, has, somewhat surprisingly for a place not widely known, topped TripAdvisor's "Destinations on the Rise" in the Travellers' Choice awards.
"We have definitely seen a steady rise in tourism and this growth has taken place despite this place being so remote. The new airport has been a great plus factor" said Hiro Uehara, the owner of a bar and restaurant.
"We are getting Japanese, Australians and people from the West now. But would the foreigners want to come if this place turns into a place with missiles and soldiers and so a target for the Chinese government if there is trouble? We are also getting lots of Chinese tourists, would they come in the future? What about the safety of our children? No, there are too many military bases in Okinawa. We don't want another one."
Around a dozen coast guard ships are the current line of defence. Captain Kenichi Kikuchi, in command of the Taketomi, wanted to stress that they do their utmost to avoid confrontations. "We are careful , we are careful because we do not want to escalate matters and also have to mind that the Chinese Navy ships as well their coastguard vessels tend to be large" he said. " But we also do our duty and deal with problems when they arise and make sure we are not outnumbered by the Chinese."
It is not all confrontation; there is also cooperation, he pointed out, describing how the coast guard helped rescued six Chinese fishermen two years ago after their boat had capsized following a collision with a Greek ship. What will happen when the missiles and troops are deployed? "That is a decision for the Japanese government and the Self Defence Forces. They will decide what is right. But it could become very interesting."
Join our commenting forum
Join thought-provoking conversations, follow other Independent readers and see their replies