China 'could replace the US' in Trans-Pacific Partnership trade deal, says Australian diplomat
Indonesia also named as a potential new member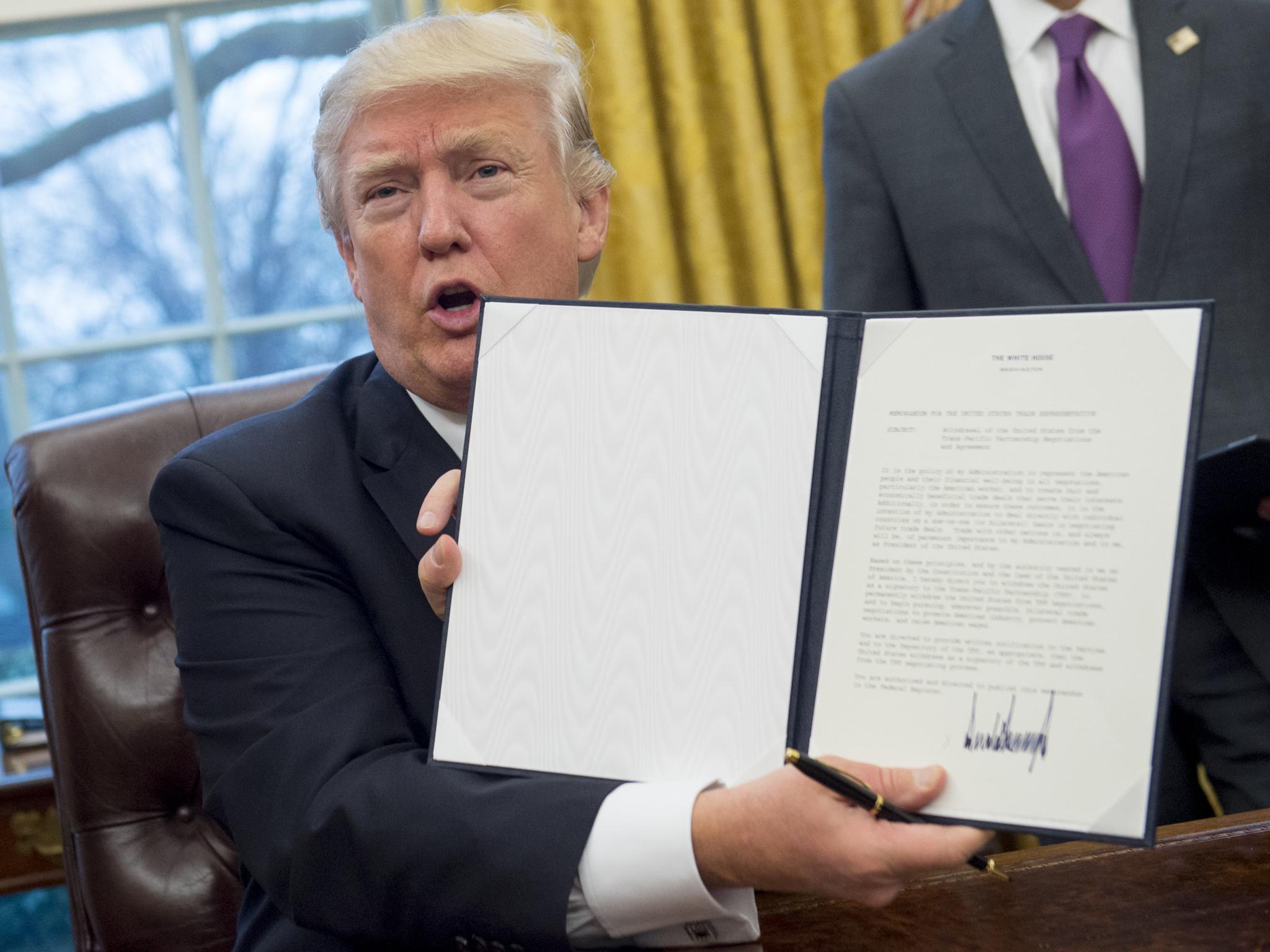 China could replace the United States as a member of the Trans-Pacific Partnership (TPP) after President Donald Trump confirmed he would pull his country out of the proposed trade agreement.
Mr Trump signed an executive withdrawal order on Monday after strongly opposing the 12-nation pact during his campaign. The deal had not been ratified and Democratic presidential candidate Bernie Sanders had also campaigned against it.
Australian diplomat Alexander Downer told the BBC's Today programme his government had approached a number of other countries in the group and discussed bringing in China to replace the US.
The former foreign minister, and now high commissioner to London, said: "Our trade minister and our Prime Minister have spoken to a number of TPP countries and I think it's possible we could push ahead with a 12-minus-one agreement.
"Alternatively we could add other countries to it. One possibility is to add Indonesia, another possibility is to add China."
Mr Trump said his decision was a "great thing for the American worker". He had called the TPP "a potential disaster for our country" and plans to "negotiate fair bilateral trade deals that bring jobs and industry back on to American shores".
His executive order was a defection from Republicans in Congress who supported the trade deal, including House Speaker Paul Ryan.
Barack Obama had worked with the GOP leader to pass legislation to grant the President authority to negotiate the TPP. And ranking Senate Republicans were quick to criticise Mr Trump's decision to pull away from the pact.
"President Trump's decision to formally withdraw from the Trans-Pacific Partnership is a serious mistake that will have lasting consequences for America's economy and our strategic position in the Asia-Pacific region," said Arizona Sen John McCain.
Mr Trump also plans to renegotiate the North American Free Trade Agreement, the pact between the US, Canada, and Mexico introduced by George H W Bush and pushed through Congress by Bill Clinton.
The TPP is a proposed agreement among 12 Pacific Rim countries that would cut tariffs and deepen economic ties between the signatories.
The member states that signed the deal in February 2016 are the US, Japan, Malaysia, Vietnam, Singapore, Brunei, Australia, New Zealand, Canada, Mexico, Chile and Peru.
The agreement was initially designed to create an alternative to the new single market resembling that of the EU.
TPP backers hoped it would help promote economic growth while geopolitically, it was believed a deal would bring China's neighbours closer to the US and reduce their dependence on Chinese trade.
In the US, free trade deals like the TPP have been unpopular with the working-class voters who are thought to have elevated Mr Trump to the White House.
Mr Sanders argued that trade agreements like it "have ended up devastating working families and enriching large corporations". Anti-TPP campaigners in the US have pointed out that by making it easier to shift jobs abroad, the agreement could have led to huge job losses at home.
Join our commenting forum
Join thought-provoking conversations, follow other Independent readers and see their replies