China's growing social media army mobilises against animal TV show
Tens of thousands of critics have taken to Weibo, China's version of Twitter
Jamie Fullerton
Wednesday 25 March 2015 19:59 Comments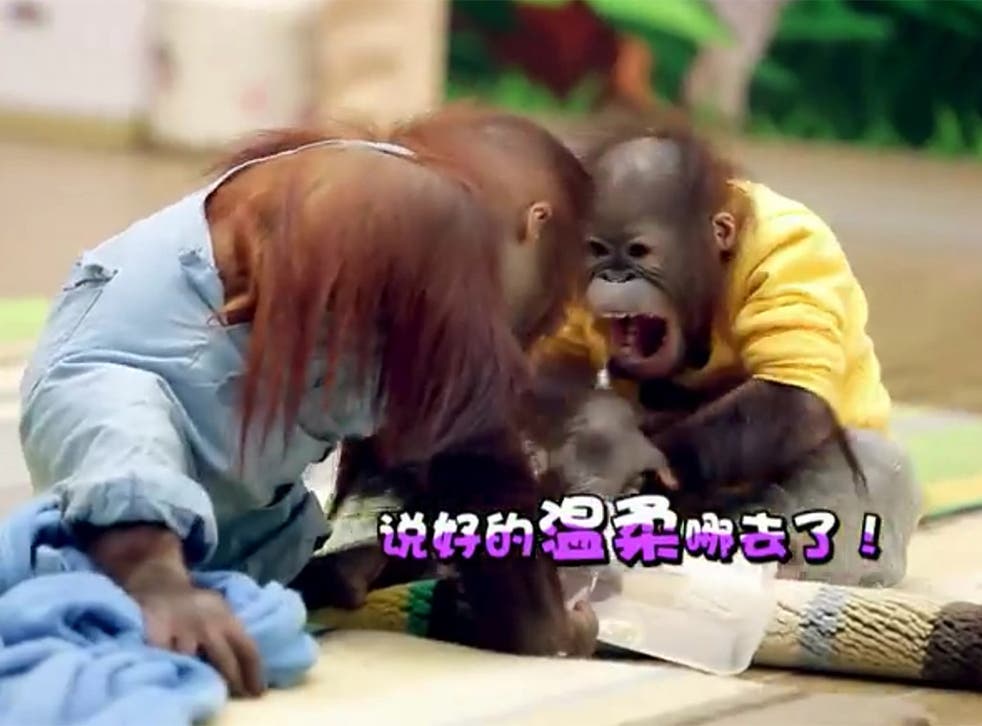 Producers of China's first "animal reality show" have been hit by a furious online backlash from a growing army of social-media activists.
Tens of thousands of critics have taken to Weibo, China's version of Twitter, to demand the cancellation of Wonderful Friends, which airs weekly on Hunan TV and features animals dressed in clothes and being forced into potentially dangerous situations.
Public protests in China are illegal without a permit and are often snuffed out by authorities, but the backlash against Wonderful Friends suggests that the voice of China's younger internet users is still growing louder despite a recent government crackdown on freedom of speech on social networks. The series, the first episode of which drew 20 million viewers, was filmed at Chimelong Safari Park in Guangzhou province and features celebrities working as zookeepers, among them the singer and actor Li Yuchun, who is an ambassador for the wildlife charity, WWF.
Participants mingle with animals including bears, chimpanzees, elephants, whales and pandas. The World Association of Zoos and Aquariums objected to the "harmful" stunts that included chimps and orangutans being forced to wear clothes. It called, alongside 18 other organisations, for an end to the series. The TV company had created "stressful and harmful situations" to create entertaining storylines, it alleged.
In one scene a baby chimp was placed near its father to demonstrate that the older animal would treat the infant as a stranger. The baby becomes distressed and bites a human star and the chimp's father appears anxious and throws a rock at the TV crew.
In another scene two orangutan brothers meet for the first time and start fighting.
And a baby chimp, dressed in jeans and a pullover, is introduced to a bear cub in another. The cub takes a swipe at the chimp, which chases it with a club. Producers added a thought bubble above the chimp's head: "No more talk. Let's fight."
With hundreds of tiger farms across the country and circus-style shows still common, China's reputation for animal rights is woeful. But the familiarity of the alleged abuse on Wonderful Friends has not discouraged Weibo users from attacking the show. One wrote: "With wild animal performances you only see a cute one on stage, but don't you know that dozens are dying in the wild? We should call an end to this type of show." Another wrote: "Please respect their animal nature and stop giving them your 'selfish love'."
Yan Dianya, of Wonderful Friends, said: "The programme calls for public attention to animal loving and protection, and it is our responsibility to also address debates on animal issues. The crew has neither violated any animal-protection laws and regulations, nor done harm to the animals."
Chen Min, of the science website Guokr.com, said: "The phenomenon and controversy of online animal protection protest has really caught on in the last two years."
Additional reporting by Jiehao Chen
Register for free to continue reading
Registration is a free and easy way to support our truly independent journalism
By registering, you will also enjoy limited access to Premium articles, exclusive newsletters, commenting, and virtual events with our leading journalists
Already have an account? sign in
Join our new commenting forum
Join thought-provoking conversations, follow other Independent readers and see their replies