China's Xi Jinping loves football so much he's put it on the national curriculum - but can he secure the World Cup?
Officials – from central government to the lowliest provinces  – are falling over themselves to demonstrate their own love for the game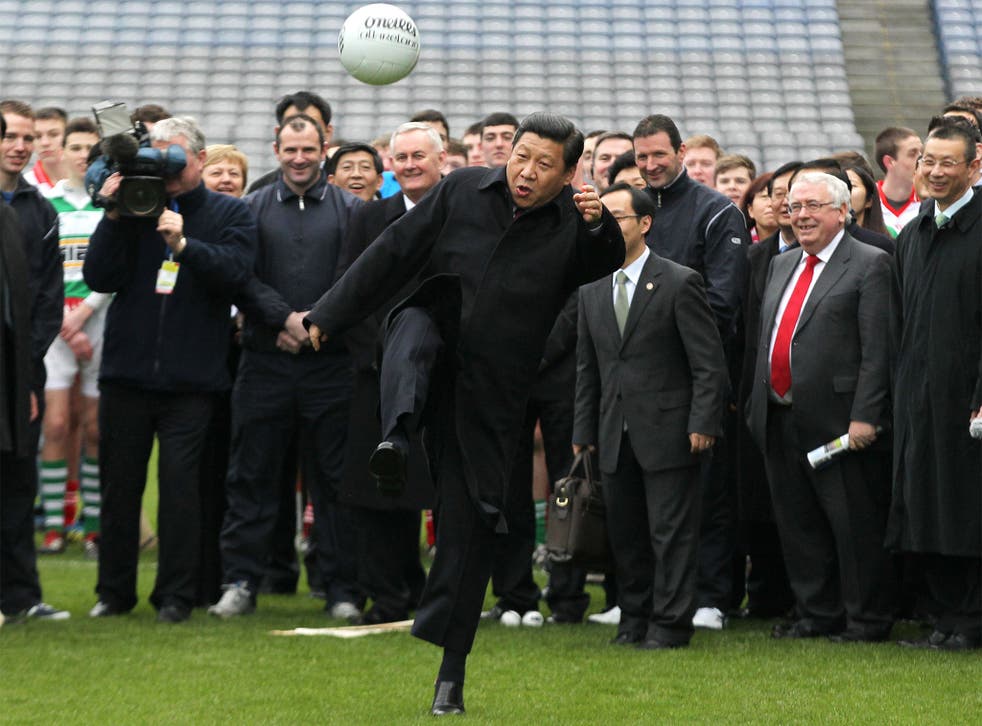 For years, football in China has been a source of national embarrassment. It is the sport many Chinese care most about but is also the one that infuriates them most. For years, the most impressive ability of the men's team has been its knack of finding ways to disappoint.
Then came President Xi Jinping. Before he even took office, President Xi made clear his love of the game. Explaining his personal ambitions for China in 2011, he listed three, all football-related: to qualify for the World Cup, to host the event and, finally, one day to win it.
Since then, President Xi has become China's most powerful and feared leader in decades. And now, officials – from central government to the lowliest provinces – are falling over themselves to demonstrate their own love for the game and to find ways of improving their country's play.
In just the past few months, a high-level government working group has been set up to tackle the problem. Officials have declared football a compulsory part of the national curriculum. About 20,000 football-themed schools are to open by 2017 with the goal of producing more than 100,000 players. Study-abroad programmes have been rolled out, as well as initiatives to lure 35 international stars to China in the next year.
All the attention and angst, of course, is about something bigger than football. The sport taps into deep Chinese insecurities that – no matter what great leaps the country has made or grudging deference it has earned through economic or military might – China remains an inferior power.
In pictures: Football academy in China

Show all 20
As an editorial in China's Southern Metropolis Daily newspaper framed it: dreams have power, and the constant jarring reality of Chinese football threatens nothing less than the Chinese ability to dream of being a more powerful nation.
Most Chinese believe football was invented here, citing records from the 3rd century BC of a sport involving a hair-filled leather kickball.
To understand why football and its constant defeating sting are so rooted in the Chinese psyche, you have to understand the country's past, says Xu Guoqi, a Harvard- educated historian at the University of Hong Kong.
First, take into account centuries of feelings of emasculation at the hands of Western powers and the Japanese. (Curiously, the hand-wringing mainly involves the men's team; the women's team often performs well to little fanfare.)
"For decades, Chinese interest in sports as a whole has not been about personal joy or pleasure but about politics," Mr Xu said. "It's seen as a path to ruling legitimacy, geopolitical standing, projection of power."
So just how bad is China's football? Last year, the men's team was ranked 97th – a few spots behind the tiny Caribbean nation of Antigua and Barbuda (population 90,000), and just ahead of the Faroe Islands (population 49,500).
In the past three decades, the men's team has made it into the World Cup tournament only once (in 2002, when the team quietly exited without scoring a single goal).
Anger over China's perennial failures has incited riots – notable in a country where protests are illegal and met with brutal force. Fearful of that rage, the national team has at times posted online apologies after particularly bad games. Its most ignominious was perhaps a 2013 loss to Thailand's weak and even lower-ranked team. A Chinese mob blocked the team bus from leaving afterwards and shouted obscenities at the players.
The puzzling thing is that China has all the necessary ingredients for a strong team, including a nationwide love for the sport and a vast population (1.4 billion) from which to draw talent. The new policies are aimed at widening that pool.
There is a precedent for government-orchestrated sporting success. When, in the run-up to the 2008 Beijing Olympics, sports mattered politically, China's Soviet-era training methods netted a record haul of gold medals.
As a game, however, football works quite differently, many believe. For all the sport's deep-seated problems, it is still much harder to rig, train or even dope your way to a championship. It is a social sport that requires both teamwork and individual creativity.
Some blame Chinese society, given how few parents in China's competitive education system will allow their children to spend precious study hours kicking a ball. Others point to pervasive corruption among football officials.
A few sports analysts blame the political system. Speaking anonymously for fear of publicly criticising the Communist Party, they point out that few authoritarian nations have ever found World Cup success.
"Xi is an ambitious man," said Mr Xu. "If he pulls this off, he would be the hero of China."
© Washington Post
Join our new commenting forum
Join thought-provoking conversations, follow other Independent readers and see their replies