China sends aircraft carrier 'Liaoning' through Taiwan Strait as tensions remain high
Warship returns home after training exercises in the South China Sea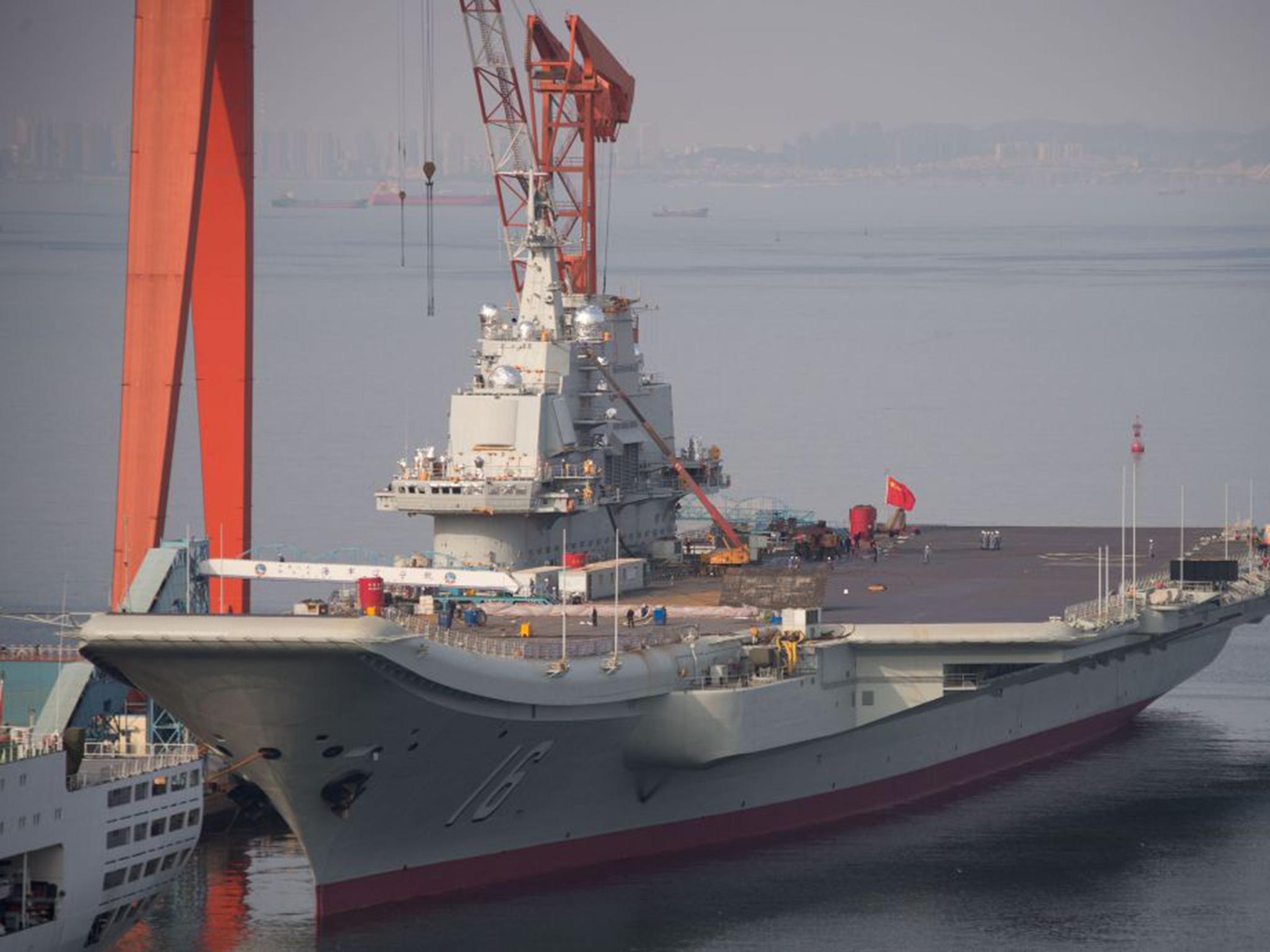 China has sailed its only aircraft carrier through the Taiwan Strait following exercises in the South China Sea, prompting the island to scramble its navy and air force to monitor it.
Taiwan's defence ministry said the Liaoning was travelling northwest along the centre line dividing the strait, along with its battle group. The Liaoning is a 55,000-ton carrier based on a Russian Admiral Kuznetsov-class hull, though extensively renovated by the Chinese.
Relations between China and Taiwan have deteriorated since the election of independence-leaning President Tsai Ing-wen, while the strategically vital South China Sea has been at the centre of tensions between countries throughout the region.
Taiwan regularly dispatches planes and ships to keep a watchful eye on Chinese force movements. The heavily trafficked 100-mile-wide Taiwan Strait separates Taiwan from southeastern China. The Liaoning's route was not inside Taiwanese waters, Reuters reported.
The carrier was on its way back from its first journey to the western Pacific, where it carried out a training exercise. Based on a Soviet-built platform and commissioned in 2012, the Liaoning earlier this month carried out what Beijing called routine combat drills in the South China Sea which Beijing claims almost in its entirety and has fortified with man-made islands.
That followed China's November declaration that the carrier and its complement of J-15 fighter jets was combat ready, setting off jitters in an already tense region.
The Liaoning set off for the Western Pacific last month, passing through the Miyako Strait, south of Okinawa, and then the Bashi Channel separating Taiwan from the Philippines as it entered the South China Sea.
Japanese and Taiwanese surveillance aircraft and ships closely monitored the Liaoning along its journey, seen by some as a sign of how China plans to use the carrier to demonstrate its willingness to back up its territorial claims with military muscle.
China and Taiwan split amid civil war in 1949 and Beijing has never renounced its threat to use force if it considers that necessary to prevent the island's permanent independence from the mainland. China considers Taiwan as its sacred and inviolable territory, while Washington acknowledges Beijing's position that there is only "one China".
"Looking ahead in 2017, the development of cross-strait relations faces increased levels of uncertainty and the challenge of risk has risen," Ma Xiaoguang, spokesman for China's Taiwan Affairs Office, told reporters on Wednesday.
Having been thoroughly overhauled in China, the Liaoning represents a new degree of sophistication in the Chinese armed forces that includes ballistic missile submarines and prototype stealth fighters. China announced in 2015 that it was building additional carriers entirely with domestic technology.
In December it was reported the US was to build up a "credible combat power" in northern Australia in response to Chinese assertiveness in the South China Sea – including a number of F-22 Raptor stealth fighters, the most advanced warplanes in the world.
Admiral Harry Harris, the US Pacific commander, said: "Significant challenges are posed by a revanchist Russia and an increasingly assertive China. Both Moscow and Beijing have choices to make. They can choose to disregard the rules-based international order, or they can contribute to it as responsible stakeholders. The US obviously prefers that they choose to respond responsibly.
"No one, including me, wants conflict. I've been loud and clear that I prefer cooperation so that we can collectively address our shared security challenges.
"But I've also been loud and clear that we will not allow the shared domains to be closed down unilaterally, no matter how many bases are built on artificial features in the South China Sea."
Additional reporting by AP.
Join our commenting forum
Join thought-provoking conversations, follow other Independent readers and see their replies