China confirms death of Uighur man whose daughter says was held in Xinjiang camps
Mr Abdulghafur's daughter hopes to seek legal action
Clea Skopeliti
Monday 05 October 2020 09:42 Comments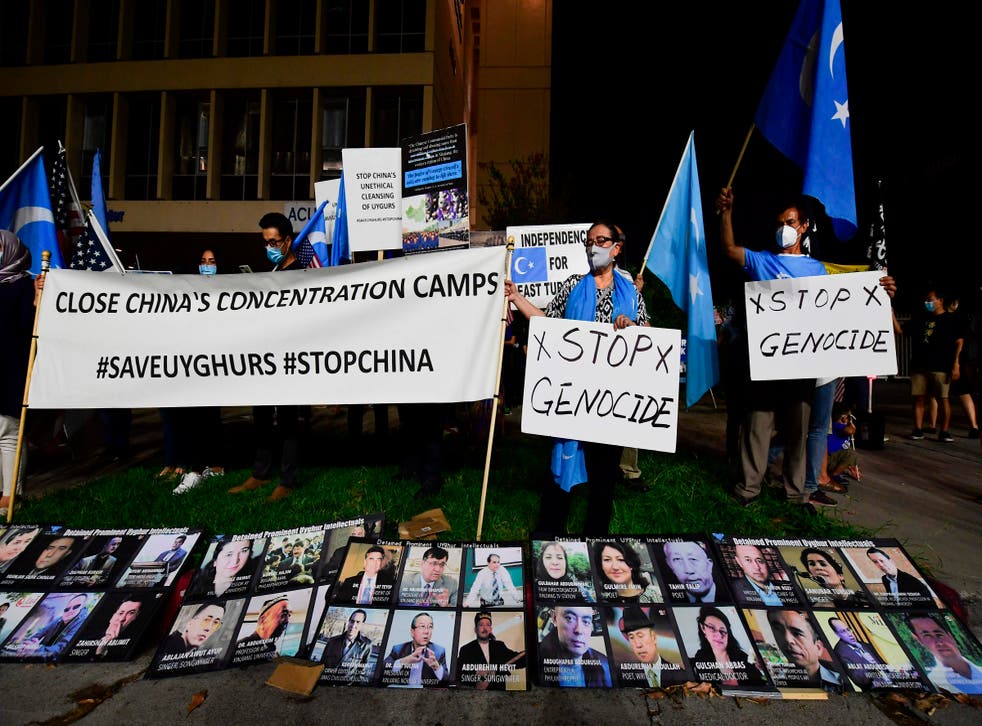 The Chinese government has officially confirmed the death of a missing Uighur man whose daughter believes had been held in a Xinjiang internment centre since 2017.
In a rare move for the ruling Chinese Communist Party, the government told the United Nations Working Group on Enforced or Involuntary Disappearances (WGEID) that Abdulghafur Hapiz had died in November 2018 of "severe pneumonia and tuberculosis". The letter, which was sent in response to the WGEID submitting inquiries about his disappearance in April 2019, was seen by The Guardian.
A total of almost eight million people have been through the internment camps in Xinjiang, according a white paper published by China in mid-September that also defended the camps as  "vocational training centres". 
Experts, backed by a growing body of evidence including the demolition of the region's mosques and accusations of forced sterilisation, say the government's policies towards ethnic minorities are an example of cultural genocide. 
Mr Abdulghafur's daughter, Fatimah Abdulghafur, who lives in Australia, told the newspaper she disputed the Chinese government's account of her father's death.
"I don't believe it," Ms Abdulghafur said. "If he died of anything it would have been diabetes."
"I know my father's health and I've been talking about his health issues. He had a (tuberculosis) shot."
Ms Abdulghafur, a poet and activist, said the last time she heard from her father was in April 2016. He left her a voice message on WeChat, the Chinese social media and messaging app, saying: "I have something urgent to tell you please call me". He didn't pick up when she called him back.
She believes he was sent to the internment camps in March 2017, and has been fighting for his release, and information about his whereabouts, since then.
Ms Abdulghafur said the rare government response was important to the Uighur community because it provides the possibility of legal recourse, and hope to others whose family members have disappeared. 
"This is an official letter from the government given to the UN, so I can take this letter to maybe an international court to say this is my evidence, and let the Chinese government show their evidence," she told the same newspaper.
"To me it's a major personal success. I'm not sure who can help me but I'm searching."
The WGEID also asked after Ms Abdulghafur's 63-year-old mother and two younger siblings, who have also disappeared, and Abdulghafur said she was told her mother was "leading a social, normal life".
Ms Abdulghafur said she believes this too is a lie, and that her mother is living under house arrest.
China's oppression of ethnic minorities in Xinjiang appears to be growing, with a report by the  Australian Strategic Policy Institute recently finding that the government had built nearly 400 camps in the region, including dozens in the last two years. Despite the government claiming they are "winding down" their re-education programme, satellite imagery revealed 14 camps are currently under construction.
The CCP has repeatedly denied allegations of human rights breaches, claiming the policies are in place to alleviate poverty and combat terrorism.  
Register for free to continue reading
Registration is a free and easy way to support our truly independent journalism
By registering, you will also enjoy limited access to Premium articles, exclusive newsletters, commenting, and virtual events with our leading journalists
Already have an account? sign in
Join our new commenting forum
Join thought-provoking conversations, follow other Independent readers and see their replies