China has built nearly 400 internment camps in Xinjiang, study finds
Researchers reveal newly-built and expanded 're-education' detention centres in region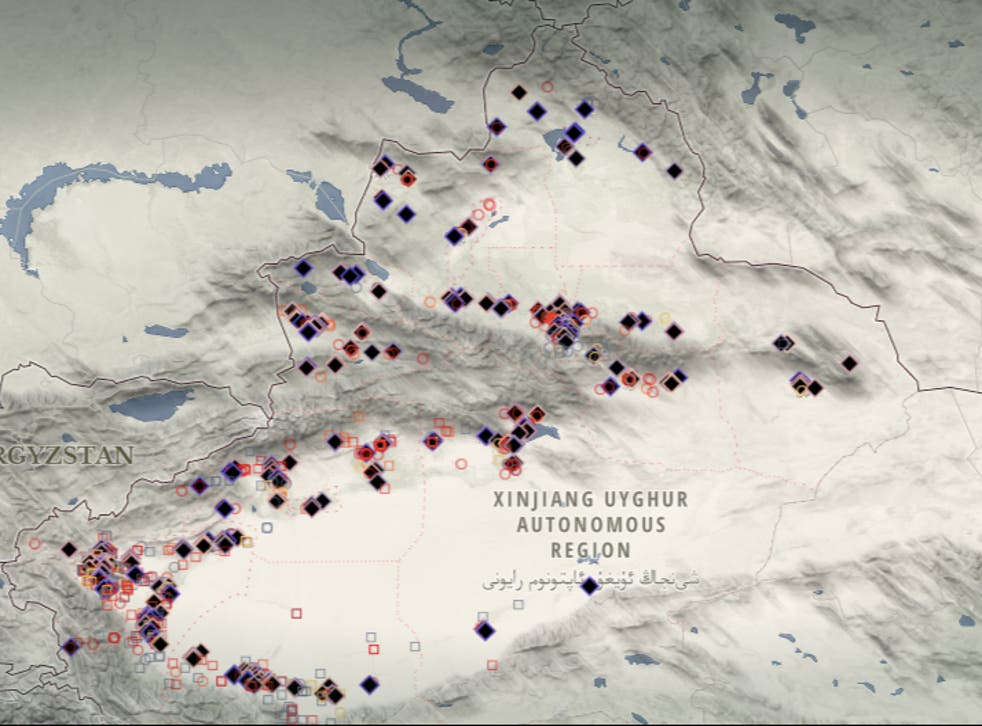 China has built nearly 400 internment camps used to detain Uighurs and other Muslim minorities in the Xinjiang region, an Australian think tank has found.
Chinese authorities had previously said their "re-education" system was winding down, claiming those held there had "graduated", but satellite imaging obtained by the Australian Strategic Policy Institute (ASPI) revealed 14 camps are still under construction.
A total of 380 detention centres have been identified across the region since 2017, over 100 more camps than previous investigations had revealed. Several existing facilities have expanded, about half of which are higher security facilities.
According to the think tank's Xinjiang Data Project, this may suggest a "shift in usage from lower-security, 're-education centres' towards higher-security prison-style facilities".
The database, mapped and analysed by researchers at the institute's International Cyber Policy Centre, is the most comprehensive data on Xinjiang's detention system in the world.
Nathan Ruser, a researcher at ASPI, said: "The evidence in this database shows that despite Chinese officials' claims about detainees graduating from the camps, significant investment in the construction of new detention facilities has continued throughout 2019 and 2020.
"At least 60 facilities have seen new construction in the months leading up to and since that claim, and 14 facilities remain under construction, according to the latest satellite imagery available."
One of the centres is a new 60-acre detention camp in Kashgar that includes 13 five-storey residential buildings, covering about 100,000 sq m of floor space. The camp, completed as recently as January, is surrounded by a 14m-high wall and watchtowers.
The institute also found that new buildings were added to the region's largest camp last year, in Dabancheng near Urumqi, stretching over 1km.
Satellite data showed about 70 camps had their internal fencing or perimeter walls removed, including eight camps that showed signs of being decommissioned. Nine in 10 "desecuritised" sites are lower-security ones.
Researchers said that examining night-time satellite imagery from Xinjiang was a particularly effective method in compiling the database as it showed newly illuminated areas outside towns where detention centres were being built, while daytime images gave a clearer picture of construction.
Beijing insists the "re-education" camps help the people detained there, claiming the Uighur Muslims and ethnic Kazakhs held in them had found "stable employment and improved the quality of their life" with the help of the Chinese government.
But the predominantly Muslim ethnic minorities from the region say their family members are arbitrarily detained in the camps and prisons, where they are made to study Mandarin, law, vocational skills and deradicalisation.
Chinese authorities have denied journalists, human-rights groups and diplomats access to the camps, casting doubt on the freedom Beijing claims those detained have. Human-rights groups have said at least a million people have been incarcerated every year.
The report comes as the US passed a bill threatening sanctions over the alleged use of forced labour in the Xinjiang region.
The US House of Representatives voted overwhelmingly to declare that any goods produced in Xinjiang are presumptively made with the forced labour of detained Uighur Muslims and other ethnic minorities, and are therefore banned from being imported to the US.
China has reacted angrily, saying the bill "maliciously slandered the human-rights situation in Xinjiang".
Foreign ministry spokesperson Wang Wenbin told reporters: "The so-called problem of forced labour is totally a lie, fabricated by some organisations and personnel in the United States and the West."
Register for free to continue reading
Registration is a free and easy way to support our truly independent journalism
By registering, you will also enjoy limited access to Premium articles, exclusive newsletters, commenting, and virtual events with our leading journalists
Already have an account? sign in
Register for free to continue reading
Registration is a free and easy way to support our truly independent journalism
By registering, you will also enjoy limited access to Premium articles, exclusive newsletters, commenting, and virtual events with our leading journalists
Already have an account? sign in
Join our new commenting forum
Join thought-provoking conversations, follow other Independent readers and see their replies