Chinese tourists flock to Japan for the sushi, the shopping and the fresh air...despite tensions
Millions go to sample their neighbour's blue skies and clean air
Anna Fifield
Sunday 22 February 2015 01:00 Comments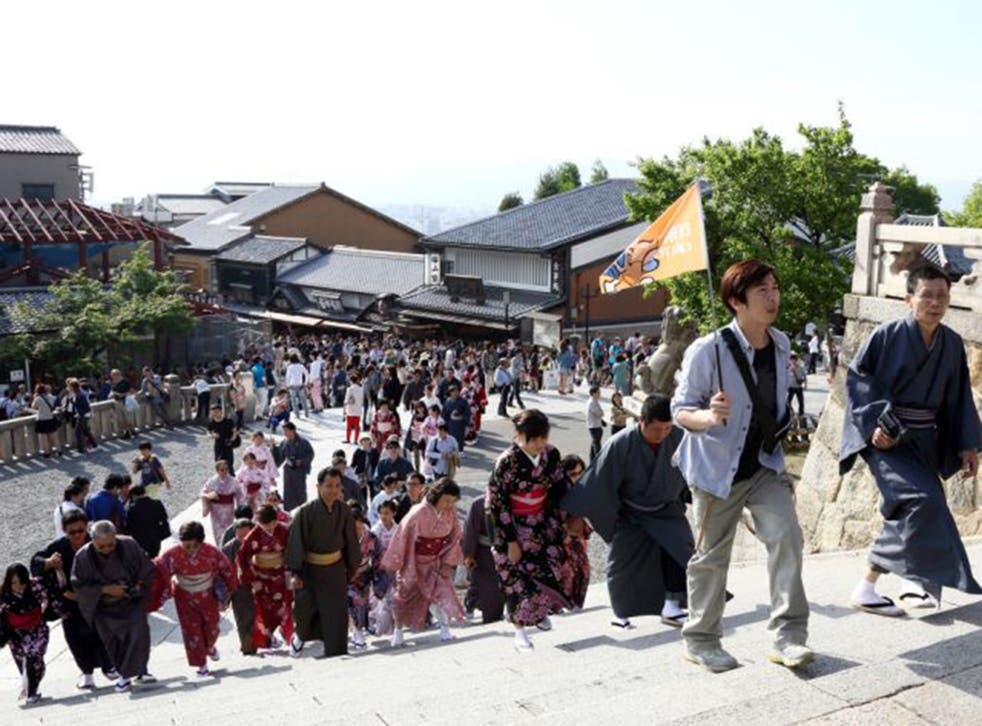 Chinese tourists come to Japan for the sushi and for the shopping. But, increasingly, they're also coming for one thing that money can't buy: fresh air.
"The blue sky and the clean air are great. They're something we don't have at home," said Xu Jun, an agent for a steel trading company from Guangzhou, a huge manufacturing city in southern China that is blighted by pollution. Mr Xu was visiting the northern Japanese island of Hokkaido this month.
Over the previous two weeks, the Xu family had been to outdoor hot springs, taken an ice-breaker ship along the frozen coast and spotted some of the island's famous wild red-crowned cranes.
They, like several million other Chinese, are beating a path to the Land of the Rising Sun.
The number of tourists coming to Japan from China went up 83 per cent in 2014, compared with the year before that. That put China in third place, behind only Taiwan and South Korea, as a source of visitors.
This is despite the political tensions between the two countries over disputed territories, and an official Japanese attempt to play down its wartime aggression against neighbouring countries, including China.
Tokyo is perennially popular, with its glitzy shopping districts and Disneyland resort, but in winter, about half the Chinese tourists visiting Japan go to Hokkaido, a sparsely populated island renowned for its wide-open spaces and top-notch seafood.
Visitor numbers have skyrocketed since the 2008 release of the Chinese movie If You Are the One, which showcased Hokkaido's natural beauty.
"The first thing Chinese people do after they land is to breathe deeply," said He Wenfan, of the Japan Tourism Board's Chinese-language website. "People say, 'I can finally breathe!' "
In pictures: Air pollution in China

Show all 30
They came in droves to Sapporo, Hokkaido's capital, earlier this month for the city's snow festival, where Japan's underemployed soldiers had built massive sculptures – think "Star Wars" and cartoon characters – out of blocks of ice. At seemingly every sculpture and at every food stall selling steaming bowls of ramen noodle soup, Chinese could be heard.
Connie Tsoi and her husband came to Sapporo to see the snow festival. Asked if she'd ever been to China's own well-known festival, in the northern city of Harbin, Ms Tsoi scrunched up her face and waved around the cheese tart she was eating. "No! Never!" she said. "It's so dirty. Japan is so much cleaner, and the people here are so nice."
Hokkaido's ski resorts of Rusutsu and Niseko enjoyed another influx in recent days during the Chinese New Year holidays.
One of the draws for Chinese tourists is the decline in the value of the Japanese yen against the Chinese yuan, which once made the country prohibitively expensive. "The taxis and the food are a little bit more expensive than China – maybe 20 per cent more expensive – but everything else is about the same," said Yuan Xiang of Shanghai, who was spending all of his first visit to Japan in Hokkaido.
Of all the visitors, the Japan Tourism Agency estimates that Chinese tourists are the biggest spenders. They shelled out about a quarter of the £11bn that foreign tourists spent in Japan last year – or about £1,300 each.
The 2011 Fukushima earthquake and tsunami had an impact on tourism, but political issues are just as seismic. Flare-ups over a string of disputed islands, and politicians' visits to the Yasukuni shrine, which China and Korea see as honouring Japanese war criminals, take their toll on tourism. "We suffer a noticeable drop every time, so we are nervous every summer," said He Wenfan, referring to the period in August marking the end of the Second World War, a traditional time for politicians to visit Yasukuni. (Prime Minister Shinzo Abe did not visit the shrine last year, instead sending an offering with an aide.)
Shopping at a multi-story electronics store here, Mr Xu certainly wasn't letting the political tensions cramp his vacation style.
"It doesn't bother me," he said, while perusing £500 cameras in the store, which accepts Chinese debit cards, is staffed with Chinese-speaking clerks and was packed with Chinese tourists buying everything from rice cookers to beauty products.
In a country still struggling to emerge from two decades of on-again, off-again recession, this foreign money is welcome. But it is often accepted through gritted teeth.
Japan is a nation famous for its culture of exacting politeness and adherence to a multitude of rules encompassing life etiquette and buffet behaviour. And Chinese tourists, well, seldom appear to let such rules constrain them.
A common complaint is that the Chinese are too loud and that they are not considerate of the people around them.
"They take home as much free stuff as possible once they hear it's free, like brochures," Tokie Shimomura, a tourist desk volunteer in Sapporo, said of Chinese visitors. "They let their children climb up on a train seat with their shoes on. Japanese people would stop them or have them take off their shoes."
This bad reputation abroad isn't escaping notice at home. China's president, Xi Jinping, last year told his compatriots to improve their manners when travelling.
In "Ramen Alley," a narrow strip of tiny restaurants here, Chinese tourists come to slurp up bowls of Sapporo's special noodle soup, which comes with a large square of butter sitting on top of a mound of corn.
In one eight-seat joint, the owner rattled off a list of complaints about Chinese customers, like the ones who come in to drink beer and then pull out their own snacks, often leaving the wrappers strewn over the floor.
But he, like other business owners, has to put up with it. "The tourism business wouldn't survive without Chinese customers, so we don't want to complain about them," he said, speaking on the condition of anonymity to avoid antagonising those very customers.
"It's 50/50, give and take. We appreciate them coming, but we wish that they would come with a little more cultural awareness."
© The Washington Post
Register for free to continue reading
Registration is a free and easy way to support our truly independent journalism
By registering, you will also enjoy limited access to Premium articles, exclusive newsletters, commenting, and virtual events with our leading journalists
Already have an account? sign in
Join our new commenting forum
Join thought-provoking conversations, follow other Independent readers and see their replies