Christians hold protests over attack which killed 85 in Peshawar church
Pakistan's interior minister hints at plans to protect places of worship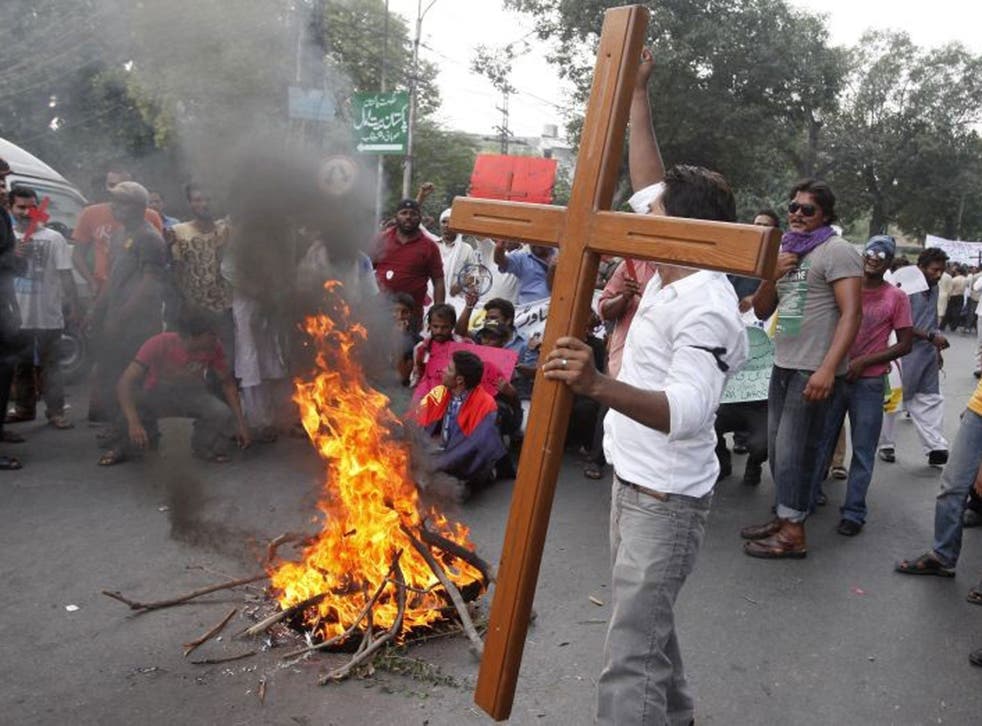 Angry and scared, Pakistan's beleaguered Christian community has demanded proper protection from the government as the death toll from the attack on an historic Peshawar church reached 85.
As mourners continued to bury the dead from Sunday's double suicide blast assault, Christians protested in cities across the country, blocking roads and burning tyres as they called on the authorities to act.
"People are so angry. They are asking for protection from the government," said Sohail Johnson of the Sharing Life ministry in Lahore, who had travelled to Peshawar in the aftermath of the attack. "We all feel insecure in Pakistan. The law enforcement agencies and the government have failed us. We are not even able to celebrate our Sunday service for two or three hours."
Hundreds of Christians had just left a service inside the All Saints Church and were gathering on the lawns outside for a free meal when two suicide bombers approached the crowds and detonated their devices. People were torn apart by the explosives, which are believed to have included ball bearings.
By Sunday night, the death toll had reached 78 but officials feared it would rise further because many of the more than 140 wounded people were very seriously hurt. As it was, another seven people died overnight. Among those killed was a police officer on duty at the church.
Pakistan's interior minister, Chaudhry Nisar Ali Khan, told parliament that he would be meeting with senior members of the country's Christian community in the coming days. He said he would discuss a new plan to protect places of worship.
But Pakistan's long-persecuted Christian community will need much convincing. Following the attack on Sunday morning, it has reacted with unprecedented fury.
"Our people have been killed. Nobody seems to bother about us. No one apprehended the killers," Aqeel Masih, one of the protesters on a road in Islamabad, told the Associated Press. He said that while politicians had been quick to condemn the killings, he feared most Pakistanis will forget about the bloodshed within a few days.
A faction of the Pakistani Taliban claimed responsibility for the church attack, saying it had been carried out in revenge for US drone strikes in Pakistan's tribal areas. "Until and unless drone strikes are stopped, we will continue to strike wherever we will find an opportunity against non-Muslims," Ahmed Marwat, a spokesman for Jandullah group of the Taliban, told reporters.
The attack has come as prime minister Nawaz Sharif is seeking to promote talks with the Taliban as part of a broader, regional peace process. In the aftermath of Sunday's attack, many have questioned his wisdom.
"What dialogue are we talking about? Peace with those who are killing innocent people," said Paul Bhatti, head of the All Pakistan Minorities Alliance whose brother, a government minister, was killed by the Taliban in 2011. "They don't want dialogue. They don't want peace."
While many Pakistanis condemned the Sunday bombings, Christians have often faced violence and discrimination within Pakistan. Many Muslims consider them low-caste and they struggle to get decent jobs. Many have to work as cleaners or rubbish collectors.
In a statement, the Bishop of Peshawar, Humphrey Peters, said the recently-elected provincial government bore some responsibility. "They have failed to provide security to minorities in the province," he said.
Join our new commenting forum
Join thought-provoking conversations, follow other Independent readers and see their replies