India's most powerful judge accused of sexual harassment
'I did not have the courage to make this complaint...because I was terrified of the consequences'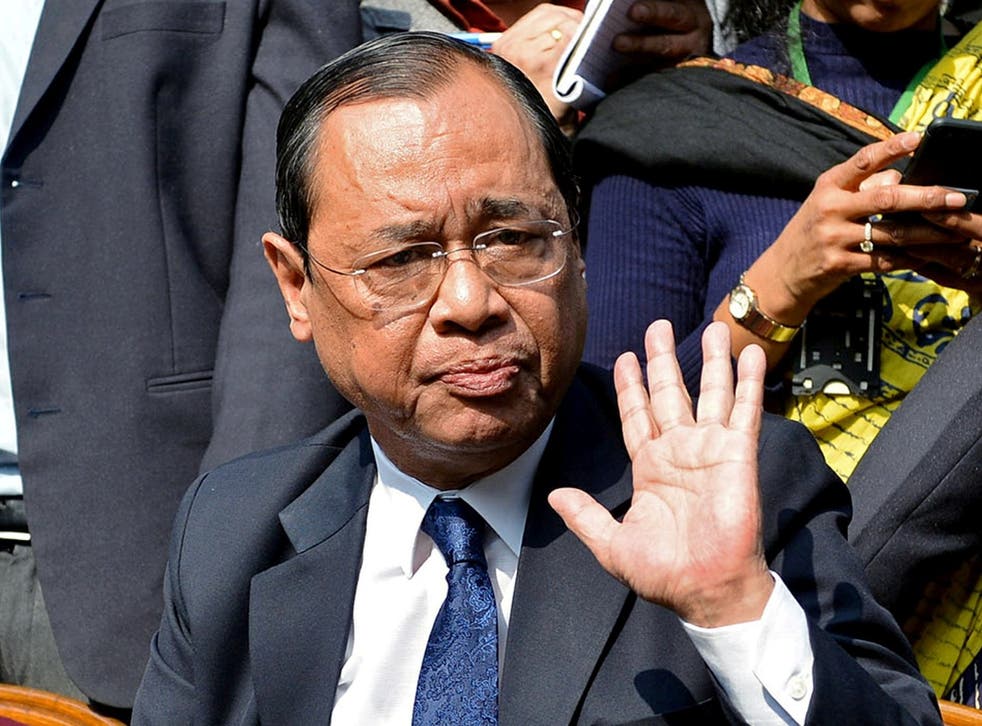 A former worker at India's Supreme Court has said that Ranjan Gogoi, the country's most powerful judge, sexually harassed her before firing her after she rejected his advances.
The woman sent copies of a sworn affidavit to 22 Supreme Court judges on Friday, accusing Mr Gogoi, the court's chief justice, of touching her without her consent in his office on 10 and 11 October 2018.
The woman, who cannot be named under Indian law, describes the chief justice's alleged advances in the document.
"He then put his arms around my waist from the front, he said, 'I want this from you'. When I had stood up I had put my hands behind my back," she wrote.
"He hugged me around the waist, and touched me all over my body with his arms and by pressing his body against mine, and did not let go.
World news in pictures

Show all 50
"He told me 'hold me'. He did not let go of me despite the fact that I froze and tried to get out of his embrace by stiffening and moving my body away," she added.
"Since he did not stop forcibly hugging me, I was forced to push him away from me with my hands. When I pushed him away, he hit his head against a book shelf/cabinet on my left."
The woman said that Mr Gogoi then warned her not to tell anyone about the harassment.
Later, the court assistant was fired, according to Scroll India.
The reason given was that she had taken a day off work without approval.
The woman's husband and brother-in-law, both senior constables in the Delhi Police, were also suspended from their jobs in December 2018, over a matter that had been settled in 2012.
Her other brother-in-law, another Supreme Court employee, was also dismissed from his job, according to The Wire India.
"I have been victimised for resisting and refusing the unwanted sexual advances of the [chief justice] and my entire family has also been victimised and harassed due to that," the woman wrote in her affidavit.
The document has been met with outrage in India and a special hearing of the Supreme Court was convened on Saturday to discuss it.
Mr Gogoi denied the accusations and alleged that they were part of a larger conspiracy to destabilise India's entire judiciary.
He did not elaborate on his claims.
"This is unbelievable," he said.
"I should not stoop low even in denying it. There is some bigger force behind the woman with a criminal track record, making sexual harassment charges."
Multiple Indian Bar Associations sided with the prominent judge and in statements issued on Saturday, suggested the woman had falsified her account.
"Such baseless allegations are enough to ruin the reputation of a judge," the National Green Tribunal Bar Association said.
The Bar Council of India also suggested that the allegations were "false and cooked-up."
The Supreme Court opted not to issue a gag order for the Indian media in relation to the case.
But on Saturday it asked the press to show restraint in its coverage of the claims, to avoid undermining the reputation and independence of the judiciary.
Support free-thinking journalism and attend Independent events
"I did not have the courage to make this complaint earlier because I was terrified of the consequences to me and my family," the woman wrote in the cover letter which accompanied her affidavit to the 22 judges.
"I am left with no option but to appeal to your lordships to take cognisance of this matter."
Additional reporting by agencies