Delhi launches its first driverless metro train
With the newly inaugurated metro, the Delhi Metro Rail Corporation will enter the league of seven per cent of the world's Metro networks, which can operate without drivers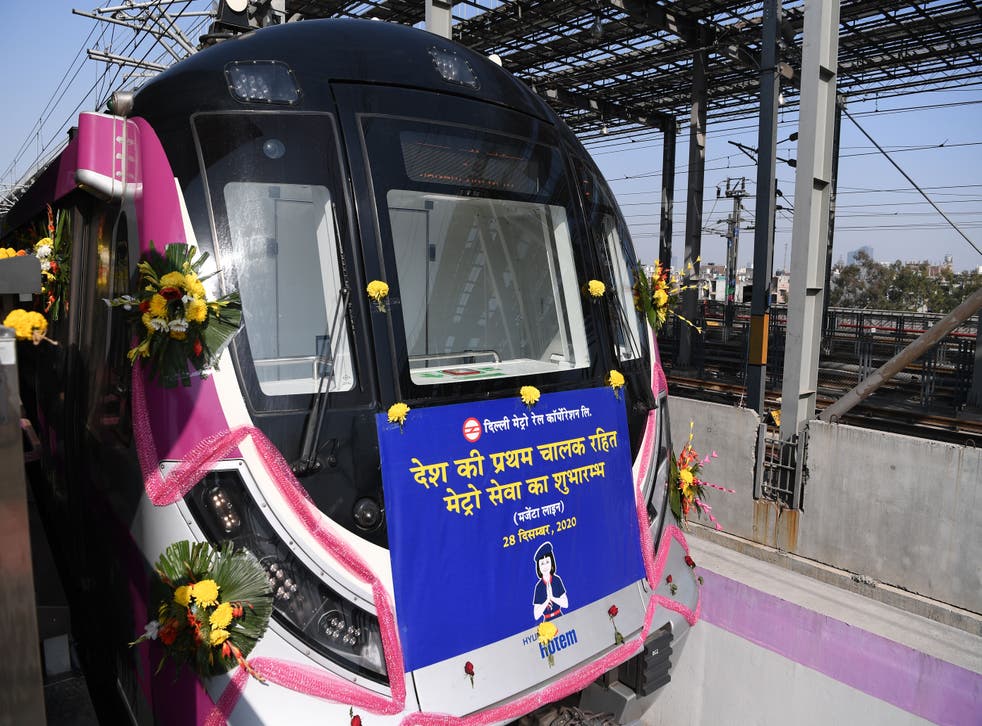 Leer en Español
Indian prime minister Narendra Modi on Monday inaugurated the country's first driverless metro in its capital city Delhi.
"The inauguration of the first driverless metro train shows how fast India is moving towards smart systems," Prime Minister Modi said during the virtual function.
As the metro kicked off from the station at about 1pm, India entered into the league of seven per cent of the world's metro network that can operate without drivers, said a release from the Delhi Metro Rail Corporation (DMRC).
Crediting the former prime minister and late leader of his own Bharatiya Janata Party (BJP), Atal Bihari Vajpayee, Mr Modi said: "The first metro in Delhi was started with the efforts of Atal (Bihari Vajpayee) ji. When our government was formed in 2014, only five cities had metro services and today 18 cities have metro rail service. By 2025, we will take this service to more than 25 cities."
According to the official release from DMRC, "the driverless trains will be fully automated which will require minimum human intervention and will eliminate the possibilities of human errors". The new trains with six coaches up can be boarded by 2,280 passengers.
"The fully automated trains will reduce human intervention in operations and offer more reliability and safety for the commuters," said DMRC, adding that it will bring more flexibility in the train operations since a number of trains can be regulated based on demand dynamically without dependence on the availability of crew.
The Delhi Metro currently operates on a network of about 390km with 285 stations spanning 11 lines. According to DMRC, before the pandemic about 6 million passengers commuted daily using the metro in Delhi and the National Capital Region.
The metro line has rapidly expanded across the country. While in 2014, only 248km of metro lines were operational in five cities, presently 702km of metro lines are operational in 18 cities in India. Mr Modi said the government was trying to expand the network to 1700km.
Register for free to continue reading
Registration is a free and easy way to support our truly independent journalism
By registering, you will also enjoy limited access to Premium articles, exclusive newsletters, commenting, and virtual events with our leading journalists
Already have an account? sign in
Register for free to continue reading
Registration is a free and easy way to support our truly independent journalism
By registering, you will also enjoy limited access to Premium articles, exclusive newsletters, commenting, and virtual events with our leading journalists
Already have an account? sign in
Join our new commenting forum
Join thought-provoking conversations, follow other Independent readers and see their replies