Desmond Tutu joins Malala to condemn Aung San Suu Kyi over Burma's treatment of Rohingya Muslims
'If the political price of your ascension to the highest office in Myanmar is your silence, the price is surely too steep'
Will Worley
Friday 08 September 2017 15:27 Comments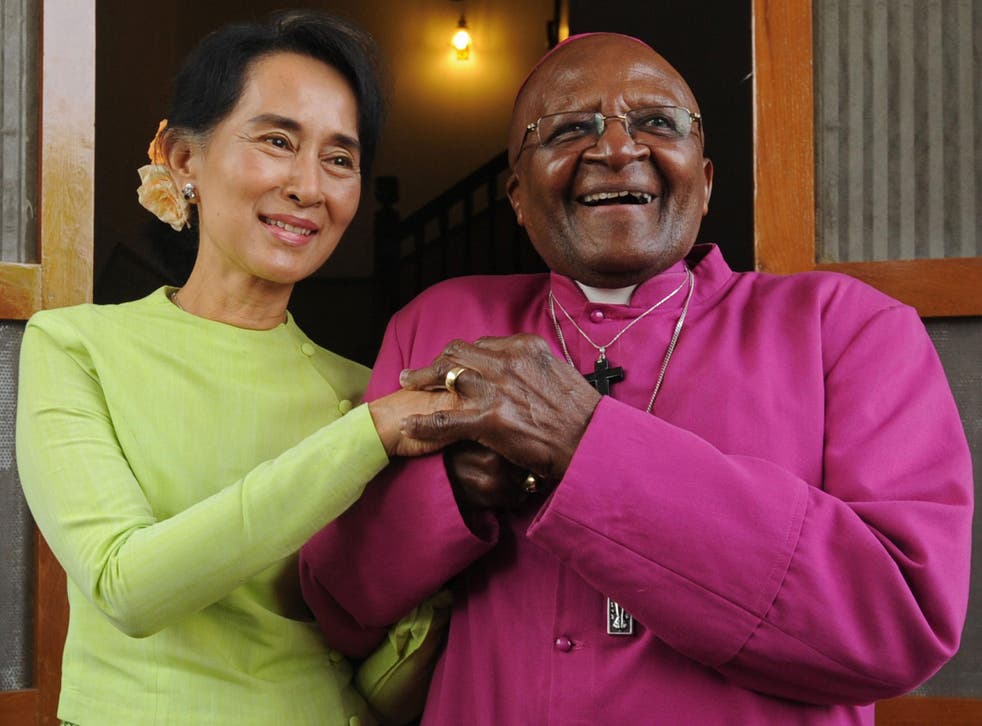 Desmond Tutu has joined Malala Yousafzai in condemning fellow Nobel laureate Aung San Suu Kyi over the treatment of the Rohingya Muslim minority in Burma.
Mr Tutu called for Ms Suu Kyi's intervention to help end the crisis.
The South African, a veteran of the fight against apartheid, said Ms Suu Kyi's "silence" was "too steep" a price to pay for her position and called on her "to be courageous and resilient again".
More than 160,000 Rohingya Muslims have fled Burma, also known as Myanmar, into neighbouring Bangladesh since an army crackdown was launched on militants from the minority group on 25 August.
There have been widespread allegations of atrocities against civilians, including the beheading of children and burning of villages.
Video shows Rohingya flee burning villages in Myanmar
Ms Suu Kyi, who is Burma's State Counsellor but spent years under house arrest for opposing the country's military junta, has refused to condemn the army's actions and blamed "misinformation" for fuelling tensions.
Mr Tutu, who retired in 2010, said he was breaking a vow to "remain silent on public affairs out of profound sadness" for the plight of the Rohingya.
Addressing his "dearly beloved younger sister", Ms Suu Kyi, in an open letter, Mr Tutu spoke of her previous civil rights work.
But he went on: "The images we are seeing of the suffering of the Rohingya fill us with pain and dread.
"We know that you know that human beings may look and worship differently – and some may have greater firepower than others – but none are superior and none inferior; that when you scratch the surface we are all the same... discrimination doesn't come naturally; it is taught.
"My dear sister: If the political price of your ascension to the highest office in Myanmar is your silence, the price is surely too steep. A country that is not at peace with itself, that fails to acknowledge and protect the dignity and worth of all its people, is not a free country.
"It is incongruous for a symbol of righteousness to lead such a country; it is adding to our pain.
"As we witness the unfolding horror we pray for you to be courageous and resilient again. We pray for you to speak out for justice, human rights and the unity of your people. We pray for you to intervene in the escalating crisis and guide your people back towards the path of righteousness."
Ms Suu Kyi was awarded the Nobel Peace prize in 1991, which recognised her as Burma's "modern symbol of freedom" after her decades-long campaign for democracy in the military state.
But despite her ascent in Burmese political life, she has remained largely silent on the Rohingya minority, who are not recognised as citizens of the country.
Though they have been present in Buddhist-majority Burma since pre-colonial times, the Rohingya are often referred to as "Bengalis", alluding to the myth they are illegal immigrants from Bangladesh.
Rohingya refugees – in pictures

Show all 15
Earlier this week, Malala also called on Ms Suu Kyi to act to "stop the violence" against the minority group.
"Over the last several years, I have repeatedly condemned this tragic and shameful treatment," she said.
"I am still waiting for my fellow Nobel laureate Aung San Suu Kyi to do the same. The world is waiting and the Rohingya Muslims are waiting."
She also called on the Rohingya to be given citizenship and for neighbouring countries to support the refugees.
Leaders of Muslim-majority countries have also condemned the violence. President Erdogan of Turkey has branded it a "genocide" and the governments of Malaysia and Thailand have said they are prepared to receive Rohingya refugees.
Register for free to continue reading
Registration is a free and easy way to support our truly independent journalism
By registering, you will also enjoy limited access to Premium articles, exclusive newsletters, commenting, and virtual events with our leading journalists
Already have an account? sign in
Join our new commenting forum
Join thought-provoking conversations, follow other Independent readers and see their replies