Did PM misread the spin in Sri Lanka? Island's cricket hero says David Cameron is 'misled' over Tamil north
The sport's greatest wicket-taker, Muttiah Muralitharan, said: 'I see there is improvement'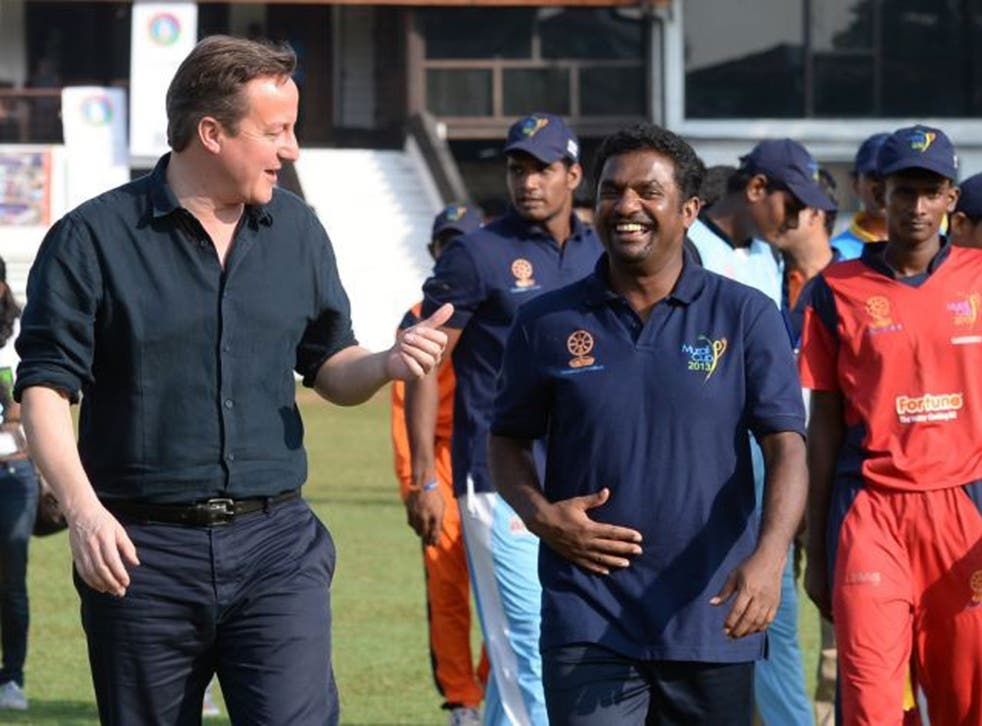 Sri Lanka's most famous cricketer and symbol of the country's post-civil-war reconciliation triggered acute embarrassment for David Cameron yesterday when he said that the Prime Minister had been "misled" over the plight of the Tamil people.
Mr Cameron's historic trip to the north of Sri Lanka on Friday, in which he became the first world leader to meet Tamil refugees and visited a newspaper whose journalists had been assassinated by government forces, prompted a showdown with the country's president, Mahinda Rajapaksa, at the Commonwealth summit.
But criticism came from more unexpected quarters yesterday as Muttiah Muralitharan, Sri Lanka's most prominent Tamil and Test cricket's greatest wicket-taker, suggested undue attention was being given to the Tamil northern region.
Murali, as he is known to fans, met Mr Cameron at an event at Colombo Cricket Club to promote Foundation of Goodness, a charity that uses cricket to promote reconciliation between Tamil and Sinhalese populations. Speaking to reporters before he met the premier, Muralitharan bowled Mr Cameron a political googly when he said: "He must have been misled by other people. People speak without going and seeing the things there. I go on and off. I see from my eyes there is improvement.
"I can't say the Prime Minister is wrong or not. He's from England, he hasn't seen the site, he hasn't visited these places – yesterday only."
Muralitharan's charity is backed by Sir Ian Botham and Andrew Flintoff, and runs games between teams from the north and south of the island.
The off-spinner, who retired from test cricket in 2010 with 800 test wickets, added: "My opinion is, there were problems in the last 30 years in those areas. Nobody could move there. In wartime, I went with the UN, I saw the place, how it was. Now I regularly go and I see the place and it is about a 1,000 per cent improvement in facilities.
"Cricket is the main game to narrow the bridge between the people. But facilities-wise, schools are built, roads are built. Businesses are started. So many things have happened.
"Thanks to the Sri Lankan army, they are putting a lot of effort there. When we started the Murali Cup we didn't have any [grounds] in use. In two months, they put five in use. We are maintaining those grounds. So many things are happening."
He also suggested that too much attention had been given to the plight of the Tamils.
"This country is 20-odd million people. In the north, there are only one million people. They are getting more attention than the south at the moment."
But Mr Cameron insisted that he had seen with his own eyes the trauma of Tamils. The Prime Minister was the first world leader to visit the Tamil city of Jaffna since Sri Lanka won independence in 1948.
Questioned at his end-of-summit press conference about Murali's comments, Mr Cameron said: "It was an enormous pleasure to meet Muttiah Muralitharan. I've watched him bowl out England team after England team. He's an inspirational figure and the work that he does through his organisation brings people together.
"I think he acknowledged that I was right to come and right to visit. Of course, I was told all sorts of things yesterday in the north and there are very strong views in this country.
"I would say what matters is not everything I was told but what I myself have said, and I think I've given a fair reflection of some of the things that need to happen in terms of reconciliation, in terms of progress, in terms of human rights, free speech, and I think it's important to raise these issues."
Mr Cameron demanded that Sri Lanka open a full inquiry by March into alleged war crimes carried out by government forces at the end of the civil war in 2009 or Britain will lead demands for an international probe led by the United Nations High Commissioner for Refugees.
But the Sri Lankan government immediately rejected that call. The irrigation minister, Nimal Siripala de Silva, told a press conference: "Britain cannot do this alone. We are confident we can go before the UNHCR and make our case that Sri Lanka has done enough."
At the Colombo cricket ground, Mr Cameron faced Muralitharan at the crease. The Prime Minister's first attempt, from an admittedly underpowered Murali ball, was hit for four, but the spinner stepped up his delivery, leaving Mr Cameron, a keen cricket fan, thrashing his bat wildly into thin air.
Join our new commenting forum
Join thought-provoking conversations, follow other Independent readers and see their replies