China hits back at Donald Trump's White House over South China Sea 'takeover' claims
Chinese Foreign Ministry spokeswoman Hua Chunying says 'the United States is not a party to the South China Sea dispute'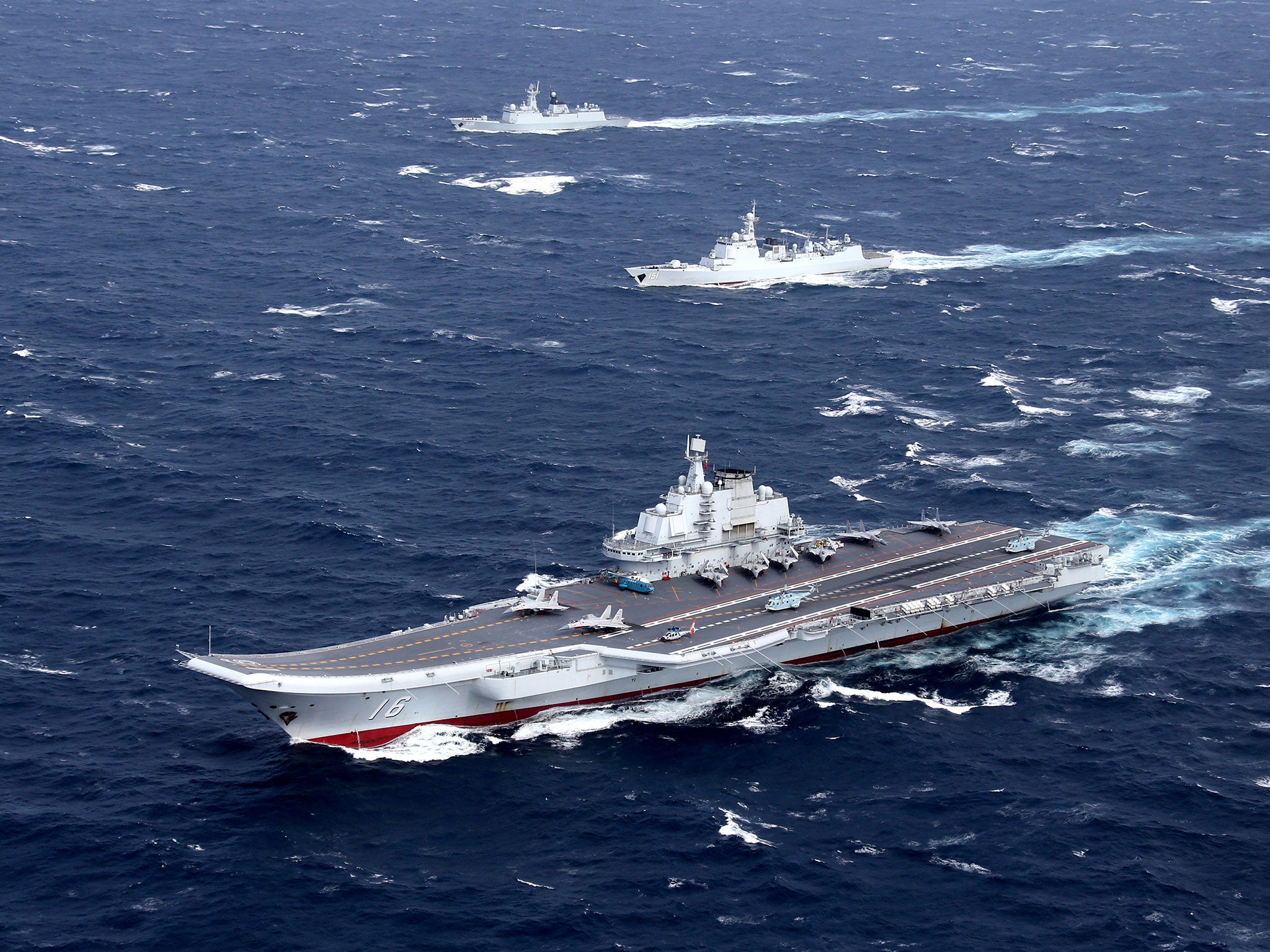 China says it has "irrefutable" sovereignty over disputed islands in the South China Sea after the White House vowed to defend "international territories" in the strategic waterway.
White House spokesman Sean Spicer signalled a sharp departure from years of cautious US handling of China's assertive pursuit of territorial claims in Asia.
"The US is going to make sure that we protect our interests there," Mr Spicer said when asked if Mr Trump agreed with comments by his nominee for Secretary of State, Rex Tillerson. Earlier this month Mr Tillerson said China should not be allowed access to islands it has built in the contested South China Sea.
"It's a question of if those islands are in fact in international waters and not part of China proper, then yeah, we're going to make sure that we defend international territories from being taken over by one country," Mr Spicer said.
Chinese Foreign Ministry spokeswoman Hua Chunying said that "the United States is not a party to the South China Sea dispute".
China claims most of the South China Sea, while Taiwan, Malaysia, Vietnam, the Philippines and Brunei claim parts of the sea that commands strategic sea lanes and has rich fishing grounds along with oil and gas deposits.
World news in pictures
Show all 50
China's sovereignty over the Spratly Islands in the South China Sea was "irrefutable" Ms Hua said. But China was also dedicated to protecting freedom of navigation and wants talks with nations directly involved to find a peaceful solution.
"We urge the United States to respect the facts, speak and act cautiously to avoid harming the peace and stability of the South China Sea," Ms Hua said.
"Our actions in the South China Sea are reasonable and fair. No matter what changes happen in other countries, what they say or what they want to do, China's resolve to protect its sovereignty and maritime rights in the South China Sea will not change," she added.
Mr Tillerson's remarks at his Senate confirmation hearing prompted Chinese state media to say at the time that the US would need to "wage war" to bar China's access to the islands, where it has built military-length air strips and installed weapons systems.
Mr Tillerson was asked at the hearing whether he supported a more aggressive posture toward China and said: "We're going to have to send China a clear signal that, first, the island-building stops and, second, your access to those islands also is not going to be allowed."
Rex Tillerson calls China's actions in the South China Sea 'illegal'
The former Exxon Mobil Corp chairman and chief executive did not elaborate on what might be done to deny China access to the islands.
But analysts said his comments, like those of Mr Spicer, suggested the possibility of US military action, or even a naval blockade. Such action would risk an armed confrontation with China, an increasingly formidable nuclear-armed military power. It is also the world's second-largest economy and the target of Trump accusations it is stealing American jobs.
Mr Spicer declined to elaborate when asked how the United States could enforce such a move against China, except to say: "I think, as we develop further, we'll have more information on it."
Mr Tillerson narrowly won approval from a Senate committee earlier this week and is expected to win confirmation from the full Senate.
Military experts said that while the US Navy has extensive capabilities in Asia to stage blockading operations with ships, submarines and planes, any such move against China's growing naval fleets would risk a dangerous escalation.
Aides have said that Mr Trump plans a major naval build-up in East Asia to counter China's rise.
China's foreign ministry said earlier this month it could not guess what Mr Tillerson meant by his remarks, which came after Trump questioned Washington's longstanding and highly sensitive "one-China" policy over Taiwan.
Washington-based South China Sea expert Mira Rapp-Hooper at the Center for a New American Security called the threats to bar China's access in the South China Sea "incredible" and said it had no basis in international law.
"A blockade - which is what would be required to actually bar access - is an act of war," she added.
"The Trump administration has begun to draw red lines in Asia that they will almost certainly not be able to uphold, but they may nonetheless be very destabilizing to the relationship with China, invite crises, and convince the rest of the world that the United States is an unreliable partner."
Bonnie Glaser at the Center for Strategic and International Studies think tank called Mr Spicer's remarks "worrisome" and said the new administration was "sending confusing and conflicting messages."
Dean Cheng, a China expert at the conservative Heritage Foundation, said Mr Spicer's remarks showed the South China Sea was an important issue for the Trump administration.
He said it was significant that neither Mr Spicer nor Mr Tillerson had been specific as to what actions would be taken and this left open the possibility that economic measures - instead of military steps - could be used against China and firms that carry out island building.
Reuters
Join our commenting forum
Join thought-provoking conversations, follow other Independent readers and see their replies