Donald Trump would have '10 minutes to react' if a North Korean nuclear missile strikes the US mainland
Experts estimate people in New York and Washington would have less than 40 minutes to prepare before being hit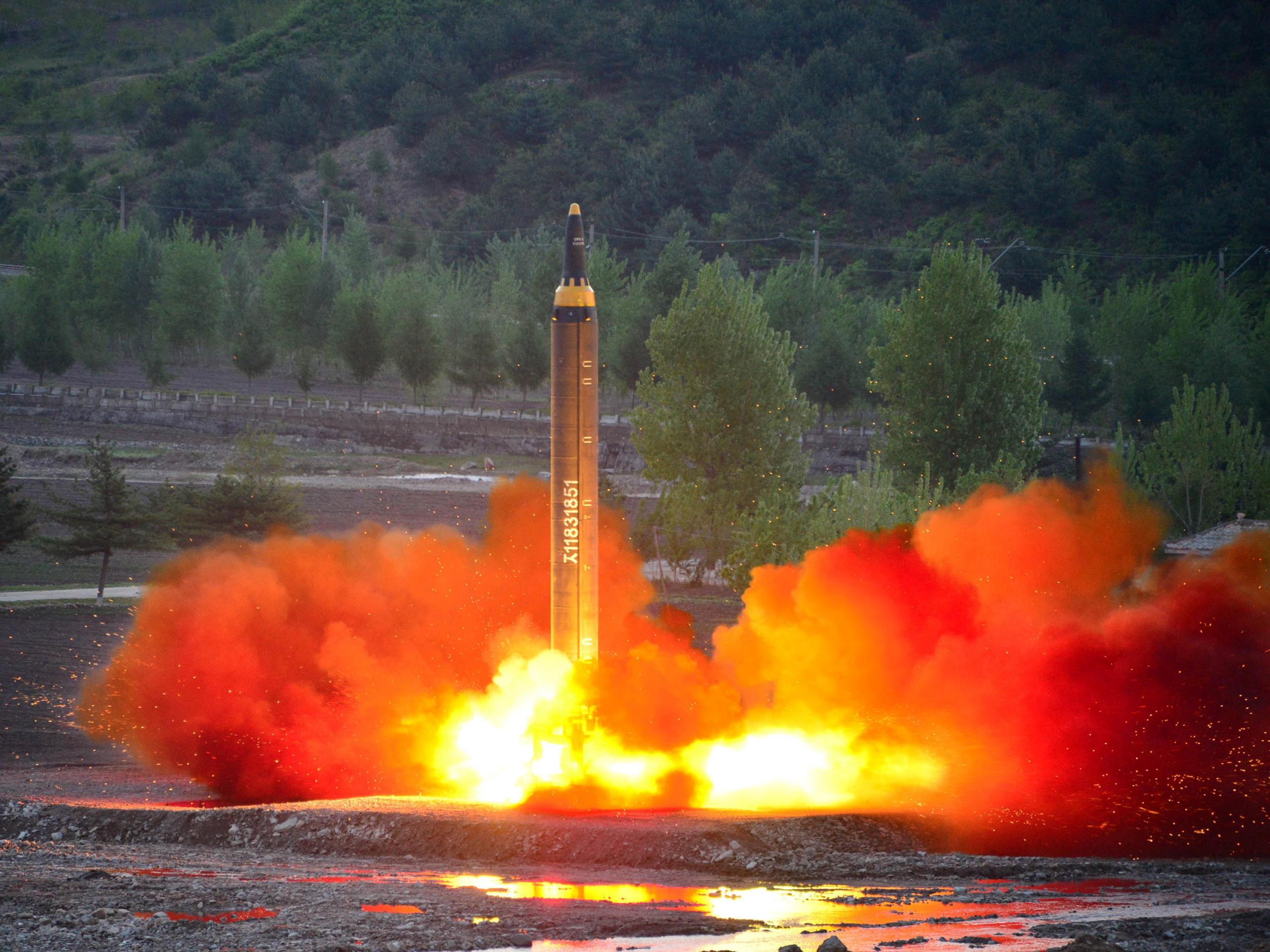 Donald Trump would have 10 minutes to decide whether to launch a retaliatory attack against North Korea should Pyongyang ever be able to fire a missile that could reach the US mainland, experts said.
In the event of an incoming missile, the US President will have little time to ponder over what he could or should do.
"The timelines are short," said David Wright, a senior scientist and co-director of the Global Security Program of the Union of Concerned Scientists.
"Even for long-range missiles, there are a lot of steps that go into detecting the launch and figuring out what it is, leaving the President with maybe 10 minutes to decide whether to launch a retaliatory strike," he said.
If Mr Trump did decide to hit back, land based intercontinental ballistic missiles (ICBMs) could be in the air within five minutes and submarine-based missiles in 15 minutes.
Once these are launched, they cannot be recalled.
But as far as experts can tell, North Korea still does not have the capacity to launch a missile that could reach the US, although Pyongyang is saying otherwise.
On Sunday, North Korea tested its most powerful missile yet with some suggesting the missile, if proven in further tests, could reach Alaska and Hawaii if fired on a normal, instead of a lofted, trajectory.
Observers remained sceptical when Pyongyang claimed the missile can carry a heavy nuclear warhead.
On Thursday, President Trump told South Korea's presidential envoy that Washington was willing to try to resolve the North Korean nuclear crisis through engagement but under the right conditions, South Korea's foreign ministry said.
Mr Trump said "a major, major conflict" with North Korea is possible but that he wanted to resolve the crisis diplomatically. This comes after Admiral Harry Harris, the top US military officer in the Pacific warned against a sense of complacency in the face of increasing tensions on the Korean Peninsula.
Speaking to the Associated Press, Mr Wright and Rocket analyst Markus Schiller, of German company ST Analytics, described what would happen in the immediate aftermath of a North Korea attack on the US.
According to the experts, a missile launched from North Korea could hit West Coast cities such as Seattle and Los Angeles in under 30 minutes and San Francisco in 33 to 34 minutes.
New York and Washington, which are less than 11,000 kilometres away, could be hit within 30 minutes according to Mr Shiller and 38-39 minutes for Mr Wright.
In pictures: North Korea military drill
Show all 8
To overcome the distance problem, North Korea is developing submarine-launched ballistic missiles and it tested its first one last year. But experts say it will take years before these could be used in an attack.
For those living in the South Korean capital Seoul, there would be even less time to prepare should Kim Jong-un decide to target its neighbours.
Mr Schiller and Mr Wright have estimated people would have between zero and six minutes, from the moment the missile is launched to the time it reaches its target, to find cover. That time would increase to 10-11 minutes before a missile could reach Tokyo.
The experts say Pyongyang cannot, as it has claimed, reduce Seoul to a sea of ashes before a counterattack, but it could make considerable damage to the city, which reportedly has porous defences.
North Korea could also hit the South with chemical or biological warheads, making the city of Busan, a major port sometimes used by US Navy, a potential nuclear target.
There are also concerns of the possibility of a "swarm attack" of several incoming missiles at the same time on South Korea and Japan with medium-range Scud ER missiles, which were tested in March.
Mr Schiller used caution when describing nuclear scenarios. He said it remains unknown whether Pyongyang actually has a working nuclear warhead, "not just some nuclear device that goes boom in a tunnel, under laboratory conditions".
Join our commenting forum
Join thought-provoking conversations, follow other Independent readers and see their replies