Donald Trump corrected by his own security adviser over who will pay to protect South Korea
H R McMaster backtracked on Donald Trump's earlier claims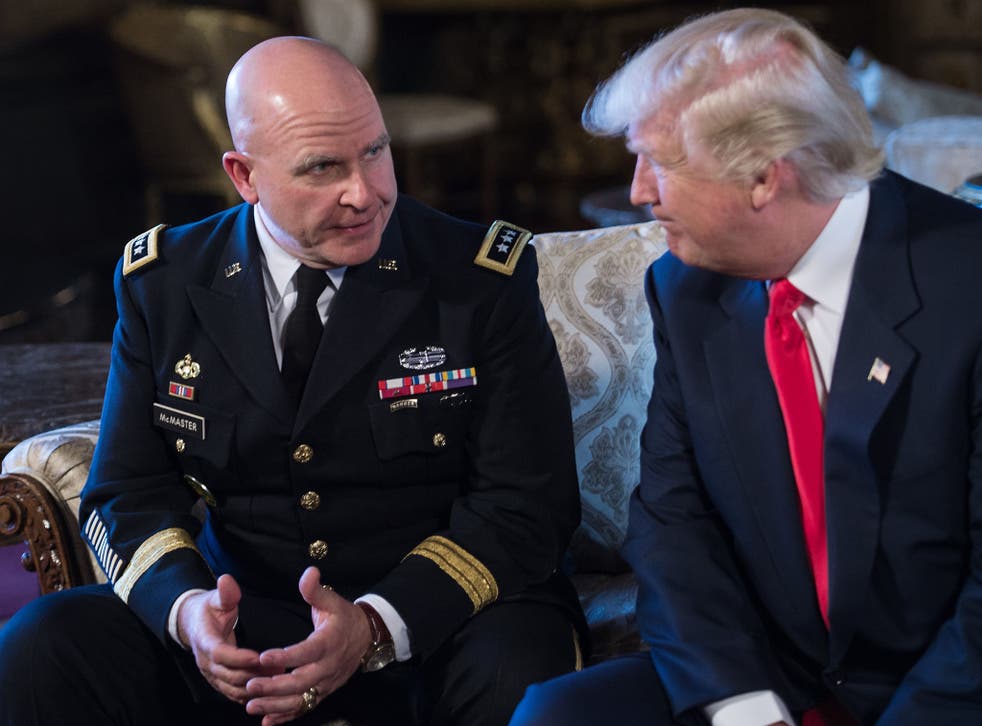 Donald Trump's national security adviser assured South Korea that the US would pay for its missile defence system days after the President said the US would not cover the cost.
General H R McMaster said on a phone call to his South Korean counterpart, Kim Kwan-jin, that the US would honour its 2016 agreement to foot the $1 billion bill for the Terminal High-Altitude Area Defense system (THAAD) anti-missile system.
Yet on Thursday Mr Trump told Reuters he wanted South Korea to pay for the protection.
"I informed South Korea it would be appropriate if they paid. It's a billion-dollar system," he said.
"It's phenomenal, shoots missiles right out of the sky."
South Korean officials said it was up to the US to pay, as per their agreement.
In pictures: North Korea military drill

Show all 8
"There is no change in South Korea and the United States' position that our government provides the land and supporting facilities and the U.S. bears the cost of THAAD system's deployment, operation and maintenance," the country's defense ministry said in a statement.
The U-turn comes shortly after the US sent a fleet of battleships and a nuclear-powered submarine to waters off the North Korean coast and conducted joint military operations with South Korea in a show of defiance against northern dictator Kim Jong-un.
North Korean state-run media said as recently as Saturday that their goal was to build a nuclear missile which could reach US shores, and spent last week carrying out launches of such missiles on their eastern coast.
The latest missile test flew about 44 miles and failed, falling onto an inlet which is part of North Korea.
Mr Trump has already changed his stance on whether China should help to tackle North Korea. He first insisted China should pay up, but after he met this month with Chinese President Xi Jinping, he tweeted that the US could handle the situation on its own if necessary.
China is South Korea's biggest trading partner and it is opposed to the THAAD missile system.
In an interview with CBS' "Face the Nation," Mr Trump said neither he nor, he believed, President Xi, would be happy if North Korea conducted a nuclear test.
Donald Trump warns 'major, major conflict' with North Korea is 'absolutely' possible
Asked if that means military action, he responded: "I don't know. I mean, we'll see."
The President has made a string of demands on foreign countries and allies to pay more money towards defence and national security.
He repeatedly insisted that Mexico would pay the estimated $21 billion for the border wall along the US-Mexican border – a key campaign pledge – but President Enrique Pena Nieto refused and consequently cancelled his first scheduled trip to the White House.
Mr Trump also claimed during the campaign that Nato was "obsolete", but this message was countered by his Vice President Mike Pence as he engaged in diplomatic tours. Mr Trump then reversed his claim.
Donald Trump says NATO is no longer obsolete
Mr Trump said he wants Nato members to all pay 2 per cent of their GDP towards the alliance, but members responded the target was not mandatory.
German Chancellor Angela Merkel denied Mr Trump's claim that she had received an "invoice" for Nato costs from him.
Agencies contributed to this report.
Join our new commenting forum
Join thought-provoking conversations, follow other Independent readers and see their replies