Donald Trump to go on tour of Asian countries 'to confront Kim Jong-un'
US President to visit Japan, South Korea, China, Vietnam and the Philippines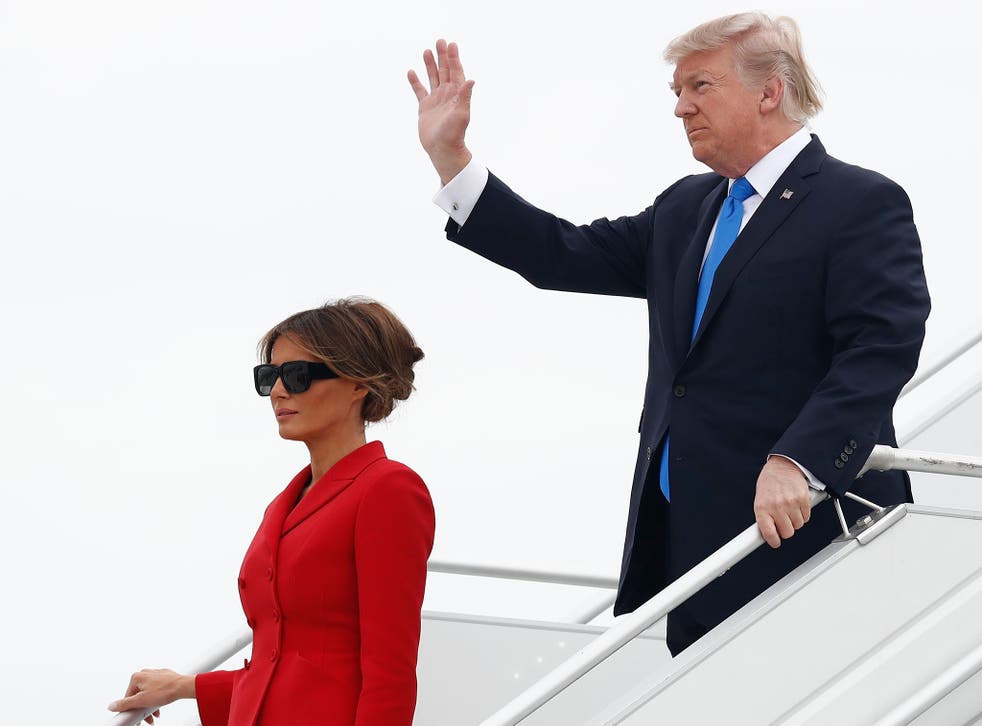 Donald Trump will travel to Asia in November for the first time since becoming President, in a tour planned to "confront the North Korean threat".
The President has been applying pressure on his allies in the region to impose tougher sanctions on North Korea in the face of a series of missile tests conducted by Pyongyang.
He will visit Japan, South Korea, China, Vietnam and the Philippines, attending two major summits, the Asia-Pacific Economic Cooperation forum in Vietnam and the Association of Southeast Asian Nations conclave in the Philippines.
Mr Trump's attendance at the Manila summit had been in doubt until recent days, with officials saying he was reluctant to show support for Philippine President Rodrigo Duterte, who has been responsible for a number of anti-American outbursts.
Chinese government orders all North Korean firms to close in China
A US official said Asian leaders who met the President at the United Nations General Assembly in New York last week helped persuade him to attend in unity with key Asian allies.
An Asian diplomat welcomed Mr Trump's decision to visit Manila "because that reassures the region that Asia policy is not just about North Korea, it's about Southeast Asia as well."
The diplomat said the US' decision to withdraw from the Trans-Pacific Partnership trade deal early this year had raised questions about the administration's commitment to the region. But visits by senior officials, including the secretaries of state, defense and commerce, and Mr Trump's planned trip, showed Washington intended to remain engaged.
Philippine Foreign Secretary Alan Peter Cayetano said Mr Duterte was looking forward to meeting the US President, adding that the relationship between the two countries was so resilient that ties would always recover, regardless of disagreements.
Mr Trump, who has been locked in an increasingly bitter war of words with North Korean leader Kim Jong-un, will have the opportunity to bolster allied resolve for what he calls the "complete denuclearisation" of Pyongyang.
He has denounced Mr Kim as a "rocket man" on a suicide mission for test launches of ballistic missiles and for nuclear weapon tests, and warned North Korea would face total devastation if it threatened the US. The North Korean leader has blasted Mr Trump as "mentally deranged."
Donald Trump's international Presidential trips

Show all 22
"The president's engagements will strengthen the international resolve to confront the North Korean threat and ensure the complete, verifiable, and irreversible denuclearization of the Korean Peninsula," the White House said when announcing the trip.
The President's visit to China will reciprocate a trip to the United States made in April by Chinese President Xi Jinping.
President Trump has applied heavy pressure on China to rein in North Korea. While his efforts have had limited success thus far, he went out of his way to thank Mr Xi on Tuesday for his efforts.
"I applaud China for breaking off all banking relationships with North Korea - something that people would have thought unthinkable even two months ago. I want to thank President Xi," Mr Trump said at a news conference with Spanish Prime Minister Mariano Rajoy.
China's tougher stance on North Korea follows a Security Council resolution passed after Pyongyang's latest test.
The resolution, adopted unanimously in September, restricted the supply of fuel into the country and imposed a ban on North Korean textile imports.
China accounts for around 90 per cent of North Korea's trade, and the isolated state is highly dependent on Chinese oil imports.
Join our new commenting forum
Join thought-provoking conversations, follow other Independent readers and see their replies